Marriott Hotels rolls out newest property as Travel Brilliantly campaign progresses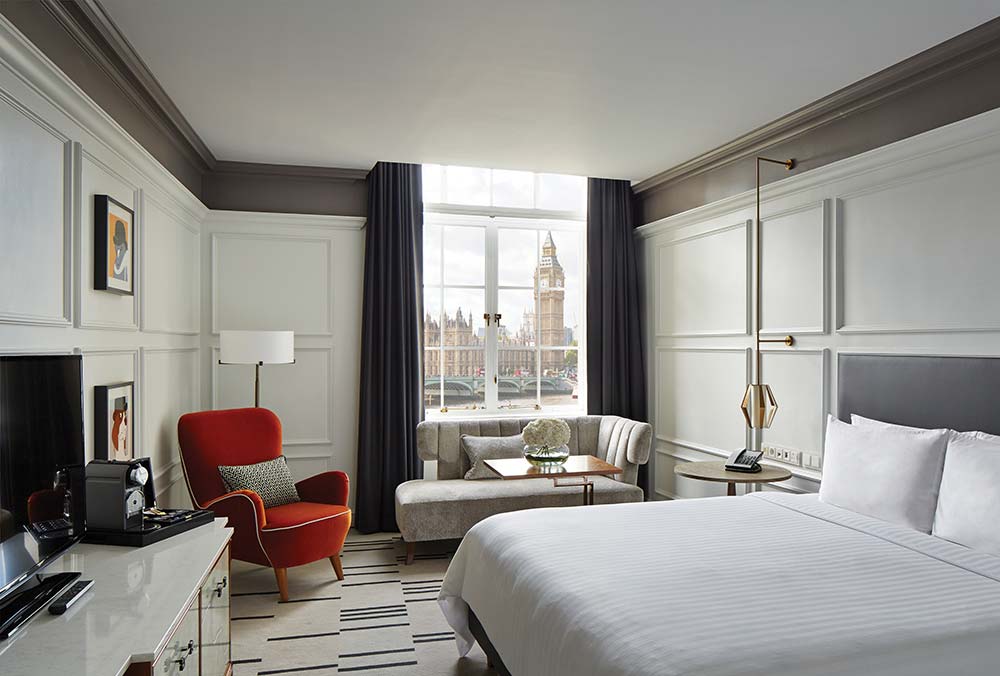 The new look for the London Marriott Hotel County Hall is part of a huge plan to renovate all properties in the group worldwide and is one of seven in the Marriott Hotels' portfolio in Europe to have undergone significant renovations so far.
It's set within the iconic County Hall building, which opened in 1922 as the headquarters of the local government in London but was turned into a hotel in 1998.

"London Marriott Hotel Country Hall embodies where we are taking the brand, as it represents a premium residential feel with localized flavour," said Mike Dearing, managing director, Marriott Hotels. "But we are definitely not looking for a prototypal approach; each hotel has its own character."

Refurbishment of County Hall was carried out by RPW Design, a high-end hospitality specialist in London, which also worked on the equally luxurious recent redesign of Marriott London Park Lane.

"The idea at Park Lane was to make it one of the jewels in the Marriott Hotels crown – and of course raise room rates to be more comparable with others in its locality at the same time," said Ariane Steinbeck, managing director, RPW Design. "The owner was happy for us to do whatever it took to bring the hotel up to those standards."
Travel Brilliantly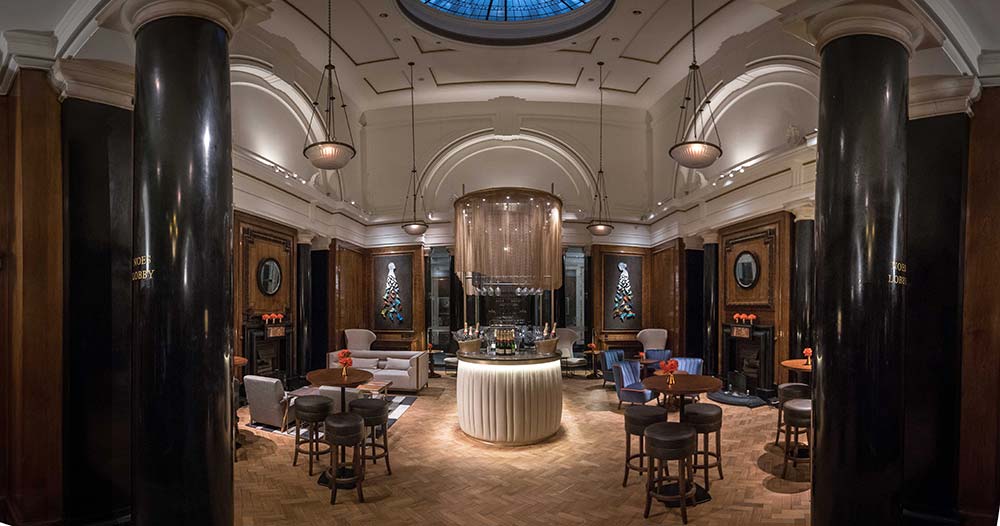 When in 2012 Arne Sorenson took on the role as chief executive of Marriott International, the largest publicly traded hotel company in the world, he instigated an analysis and reimagining of the flagship Marriott Hotels brand.

The company launched the Travel Brilliantly campaign, billed as "a transformational journey" to help the brand look at how to cater to the needs of Millennial travellers in particular, with the aim of "integrating innovative technology and dynamic social spaces" within its hotels.

Changes at the hotels have also since been partly inspired by comments from guests and consumers via the Travel Brilliantly website.

With the merged Marriott and Starwood proposition, there are now more than 5,700 hotels with 1.1 million rooms under 30 brands in more than 110 countries, so making Marriott Hotels stand out is seen as even more of a key objective.

In North America, there are 350 Marriott Hotels, with 40 transformed and a commitment from 100 more owners so far to carry out renovation work.

In Europe, there are 97 Marriott Hotels, with other examples of the new thinking including Rotterdam Marriott Hotel and the Amsterdam Marriott Hotel.

Upcoming renovations include London Marriott Hotel Regents Park, Wailea Beach Marriott Resort & Spa, Chicago Marriott Downtown Magnificent Mile and Washington Marriott Georgetown.

"We have a long-term strategy to get them all on brand," said Osama Hirzalla, vice president, brand marketing and ecommerce, Marriott International. "It's a constant journey, as we are evolving all the time."
Testing, testing
As part of its ongoing research and development into how properties and the brand will look in the future, Marriott Hotels has been trialing concepts and designs at the new M Beta at Charlotte Marriott City Center, which was unveiled in October.

Hailed as an innovation lab and the world's first hotel in "live beta", it allows Marriott Hotels to test hotel concepts with real guests as it goes along.

Some of the things on test include hosted arrival instead of a traditional desk check-in and keyless entry. The idea is to allow for rapid prototyping, with guests invited to test and give feedback in real-time.

"We took that property [Charlotte Marriott City Center] onto our own balance sheet to allow us to be able to innovate and try things," said Dearing. "We really don't invest in the hotels ourselves unless we see real strategic value - and this was one of those circumstances."

Marriott Hotels also recently signed a partnership with TED, the nonprofit organization devoted to spreading ideas in the form of short, powerful talks.

Talks will be screened on a new TED TV channel rolling out to 175 hotels in North America by the end of this year.

There will also be a series of live talks held within Marriott Hotels properties by TED Talks Fellows, seen as being some of the brightest young thinkers and businesspeople across the network.

London's County Hall was the recent host for one, while others will follow at the Dubai Marriott Harbour Hotel & Suites, Bangkok Marriott Marquis Queen's Park and Santiago Marriott Hotel over the coming months.

"We are about thinking differently, as is TED Talks, so it's a great brand fit for us and we share a target audience," said Dearing.

The TED Talks Fellows sessions will also be available to view in-room at select hotels.