Turning the tide of online malice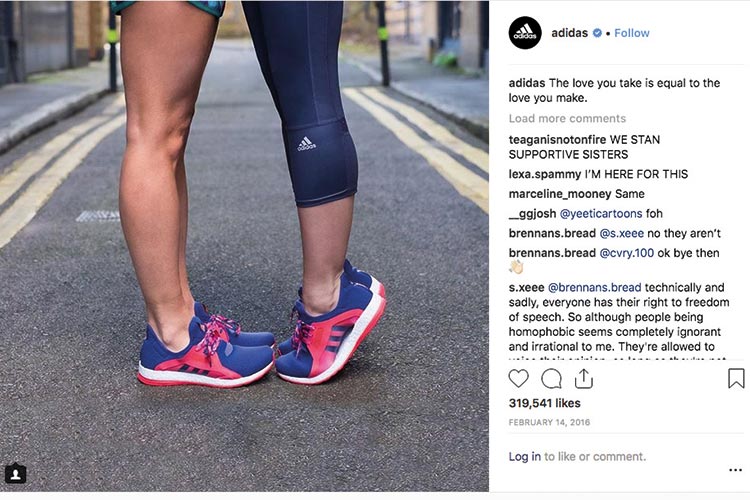 Sharelines
---
We Are Social: "As more brands stand behind issues like LGBTQ+ Pride, disability and women's rights, they are exposing themselves to a greater risk of triggering hateful comments"
---
Valentine's Day 2016, and a sports brand was in the headlines for all the right reasons. Adidas had featured an Instagram post with a celebratory image depicting the legs and trainers of two women, one of whom was on tiptoes as she leaned towards the other for a kiss (right). Alongside it was the caption: "The love you take is equal to the love you make".

The reason the story was in the national press wasn't because of the advert. It wasn't even due to the number of online trolls who took exception to the image of the two lesbians and responded with a series of homophobic slurs along with threats to ditch the sports company for rival brands. It wasn't the hate that hit the headlines, but Adidas' response to it.

To someone who posted: "Shame on you Adidas!! I'm going to Nike now," Adidas replied with a wave emoji and kiss lips. And to another who stated: "WTF Adidas? This day is for boy and girl when they are couple [sic], not for lesbians," the sports brand countered: "No, this day is for LOVE. Happy Valentine's Day."

In a few simple words (and emojis) Adidas had shut down its trolls, won significant support from the LGBT community (and allies) – and garnered money-can't-buy PR.
I was reminded of this story last week at the launch of a new report entitled Braving the Backlash, which explores how brands that stand up for diversity can tackle online bigotry.
"As more brands stand behind issues like LGBTQ+ Pride, disability and women's rights, they are exposing themselves to a greater risk of triggering hateful comments"
We Are Social, commenting on Braving the Backlash
Companies across all industries, including travel, are increasingly striving to reflect modern Britain – including people with disabilities, people of colour, and LGBT couples and families – within their advertising. And as they increasingly do so, they open the doors to those who wish to voice their disapproval, and in some cases, their hate.

It's an issue which is becoming ever more relevant to the travel industry. At the 2016 TTG LGBT Conference, Hoseasons managing director Simon Altham described an epiphany moment where he decided "I don't want their money" following a series of complaints from a minority of customers after the company began including gay and lesbian couples in its brochures.

That same year, for the first time, Thomas Cook featured a gay couple in its Christmas TV campaign. Marketing director Jamie Queen said at the time Thomas Cook "needed to reflect the broad range of customers who go on holiday with us". He later told the 2017 ITT Conference the response had been overwhelmingly positive, but admitted it had also prompted a handful of negative comments.

"As more brands choose to stand behind issues like LGBTQ+ Pride, disability and women's rights, they are, unfortunately, exposing themselves to a greater risk of triggering hateful comments from their followers and users they're targeting," says global creative agency We Are Social, author of the report.
How can travel firms wanting to stand up for diversity brave the backlash?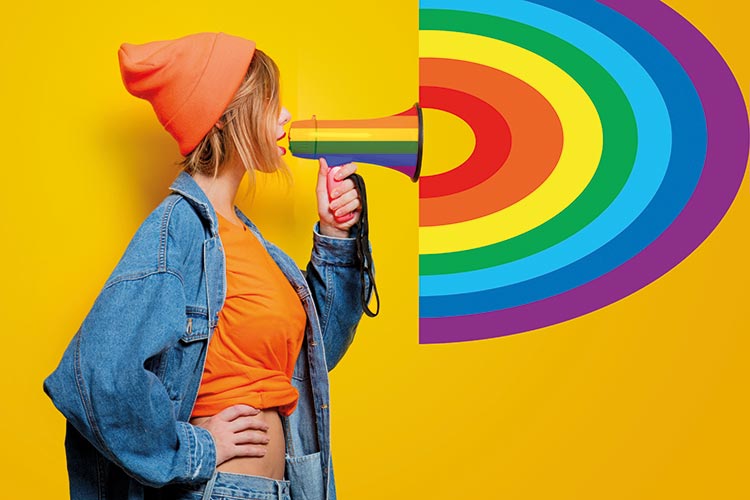 Free speech or hate speech?
The most challenging form of online hate to navigate is the "grey area between hate speech and free speech", highlights We Are Social. The agency says this includes hateful comments on brands' social pages that might offend an individual based on their race, gender, sexuality, religion or physical ability, but might not breach the social media platform's community guidelines.

The best way to deal with this is for a company to create its own anti-hate policy, says We Are Social. "We believe that all brands with a presence on social media should have a publicly available anti-hate policy that goes further than the platform's own guidelines."
Silence is complicity
The majority of brands surveyed by the report (89%) were found to silence hateful comments by deleting or hiding them rather than publicly standing up against them. But the report notes that removing hateful comments without providing any explanation to the offender or, more importantly, to the offended, can be problematic. There is a risk of "looking like you're censoring their freedom of expression". Second, when you sweep hateful comments under the carpet, companies may be ignoring the harm caused to those communities targeted by the hate. "If you don't tolerate hate on your pages, show it," says We Are Social.

As Stephen Mai, content officer at music platform Boiler Room, which contributed to Braving the Backlash, points out: "I do not think the responses are for the troll, I think the responses are for the people that are being attacked."
Create an anti-hate policy
This is the most straightforward way of standing up against online malice, says We Are Social. "It shows the public and marginalised communities where your brand stands on the issue and discourages hateful sentiment."

The report recommends using social media platforms' community guidelines as a basis, and stresses that they can be short and simple. "They vary in size and scope – Reddit's is 36 words, while Facebook's stretches to 25 pages," it states.

It adds, however, that regardless of size, all guidelines contain useful phrasing on the type of language and behaviour that won't be tolerated on their platforms. "Anyone reading your policy should be clear on the kind of environment you want to create for users."

Anti-hate policies should then be made public – perhaps pinned to the top of Facebook and Twitter pages, or in the house rules of companies' LinkedIn pages.
Your social media page is your shop floor
Companies should view their brand's social media pages as being representative of their business and values, says the report. "Most brands would actively stand against and denounce hate elsewhere in their business – their call centres, their shop floors – so why would you silence it on your social media pages?"

Or as Kate Dale, head of campaign strategy, Sport England, put it: "If you have created a space, and you've created a conversation, you have a responsibility to the people who come to that platform."
Be authentic
As part of its research, the report held a series of round-table groups which discussed how and why brands get their approach to inclusiveness wrong. Many companies, it noted, are "guilty of jumping on the bandwagon when it comes to minority causes – only talking about LGBTQ+ issues around Pride, or including token people of colour and women in their videos without having any real diversity in their staff". This can lead to inauthentic creative campaigns, easily spotted by under-represented communities.

The challenge for smaller firms, of which there are many in travel, is having limited staff numbers and resources. The report recommends working with local community groups or LGBTQ organisations. "The brands making a real effort to build long-term partnerships with those groups are more likely to create content that really resonates with them," it states.

Iain Walters, director of marketing for Pride London, concludes: "Shallow diversity is the worst kind – make sure your policies and actions support your message, or you can be found out."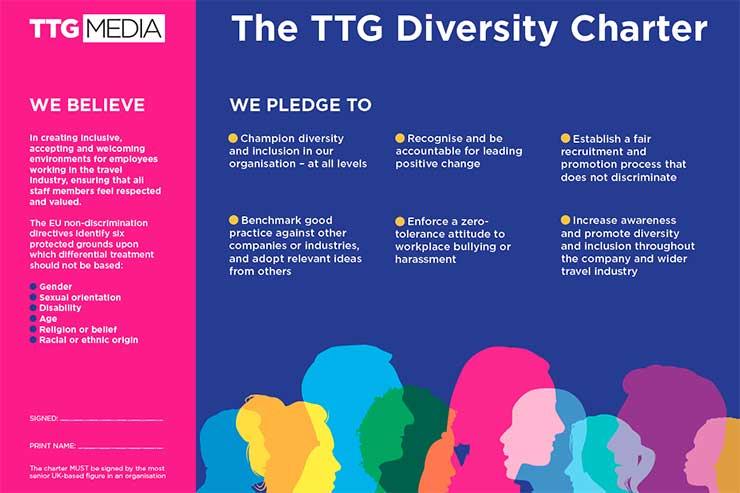 Download a copy of the charter and send us a photo of your company boss signing it.