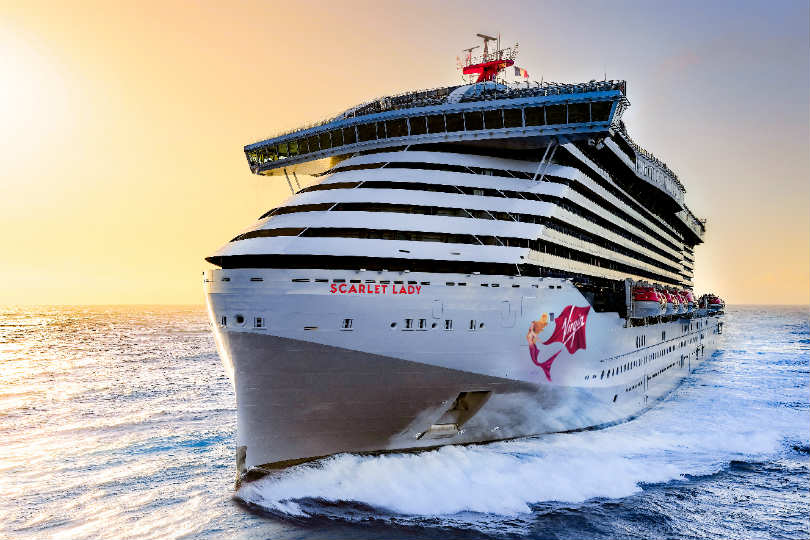 Scarlet Lady will sail its maiden voyage on 16 October
Rapid coronavirus testing, pre-boarding health checks, onboard temperature screening and monitoring, and new "fair and flexible" booking policies will all form part of the new normal for Virgin Voyages when it finally launches passenger operations.
Richard Branson's yet-to-debut cruise line on Thursday (18 June) unveiled its new Voyage Well health plan designed to meet new challenges posed by Covid-19 and attempt to "redefine" health measures at sea when its first ship, Scarlet Lady, launches in October.

The line has established a new Voyage Well expert advisory group to review and guide any operational decisions; develop enhanced health protocols, screening practices and testing regimes; and implement new technologies.

These include a new anti-viral air purification system developed by AtmosAir Solutions, which Virgin says disinfects onboard air – none of which is recycled thanks to a "100% fresh air" heating, ventilation and air conditioning system – and kills 99.99% of viruses.

Virgin Voyages is also collaborating with the US Centers for Disease Control and Prevention, and working within latest World Health Organization best practice and guidelines. Besides being subject to pre-cruise testing and screening, crew and guests will be notified via "ethical" contact tracing and a health tracking app if they've come into contact with anyone who has tested positive for the virus.