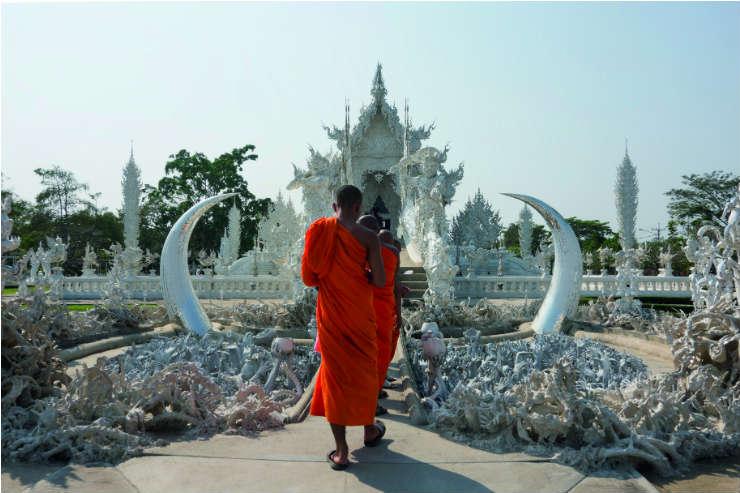 White Temple, Chiang Rai Province
Around my feet grey hands reach out of the depths of hell, grasping, imploring. As I shudder and continue on the bridge to heaven I recognise, with a shock, what appear to be the bladed fingers of Freddy Krueger.
It's a startling entrance to the Buddhist Wat Rong Kun or 'White Temple' at Chiang Rai and only a hint of its offbeat interior. Here, there's a surreal spacescape populated by Pokemon, Michael Jackson, Lara Croft, Mutant Ninja Turtles and more. Outside, the trees are strung with the heads of superheroes and Johnny Depp's Jack Sparrow.
The whole site, down to traffic cones topped with red skulls, is a Dali-meets-Banksy creation from local architect Chalermchai Kositpipat. It's both bonkers and beautiful.
We spend the night soaking up panoramic views, cocktail in hand, at the smart rooftop bar of the Riverie by Katathani. The waterside resort is just a little out of town (a shuttle ride from Chiang Rai's popular night market) and also boasts fun family-friendly features like a splash pool. From here though, we're leaving city luxuries behind to head into a lesser-travelled part of Thailand's mountainous far north.
Around 10% of UK tourists add a couple of days in Chiang Mai or Chiang Rai and perhaps a visit to the Golden Triangle, where Thailand meets Laos and Myanmar, to a typical Bangkok-and-beach holiday. Even fewer explore further. Yet the region was all over the news in 2018 when the young Wild Boars football team were recruited from the flooded Tham Laung (great caves).