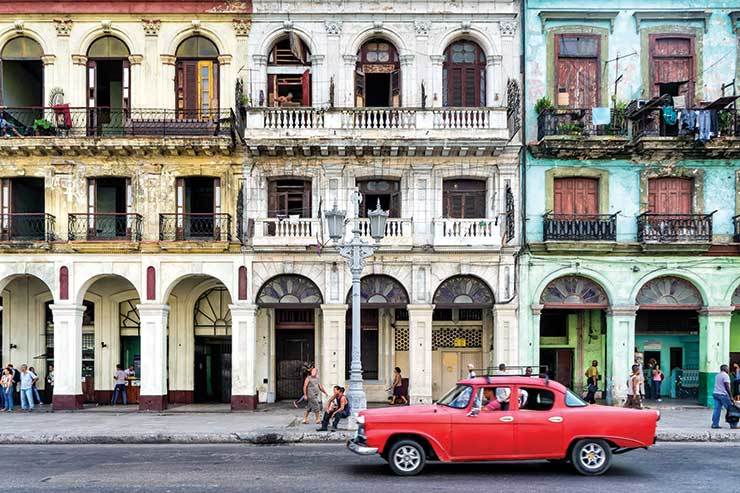 Havana Cuba stucco facade iStock-517197127
The US Department of State announced on Tuesday (4 June) that from 5 June it would "prohibit US travellers from going to Cuba under the previous 'group people-to-people educational' travel authorisation".
"In addition, the United States will no longer permit visits to Cuba via passenger and recreational vessels, including cruise ships and yachts, and private and corporate aircraft," added the statement.
The announcement has already forced some cruise lines to reschedule cruises that were due to call at Cuban ports during the next few days.
Royal Caribbean said in a tweet: "We're aware of the announcement and are analysing the details to understand the impact on our itineraries.
"For now, we're adjusting the 5 June and 6 June sailing itineraries, which will no longer stop in Cuba. We are communicating the changes with our guests."
Other cruise lines said they were monitoring developments to see how the new Cuba ban would affect their itineraries.
"We are closely monitoring these recent developments and any resulting impact to cruise travel to Cuba," said Norwegian Cruise Line Holdings. "We will communicate to our guests and travel partners as additional information becomes available."
The US has changed its policy on Cuba due to the island's government's support for the regime of Venezuelan president Nicolas Maduro.
The ban on US citizens visiting Cuba was partially lifted by former US president Barack Obama in 2016, which allowed US cruise ships to begin calling at the island again.
The move is the latest blow to Cuba's tourism following last week's collapse of UK Cuba specialist operator The Holiday Place.