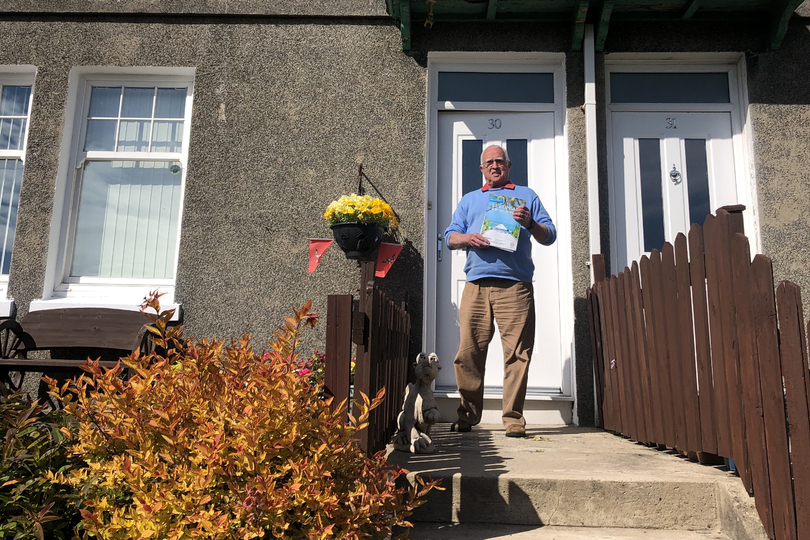 A client holds a brochure delivered by Vannin Travel's Tony Lawrence
When the team at Vannin Travel on the Isle of Man started noticing a spike in requests for brochures during lockdown, store manager Tony Lawrence decided to start a brochure delivery service to ensure clients' needs were met.

"We put a post up on our agency Facebook page about three week ago saying that we'd be hand delivering brochures in the areas of Douglas and Onchan due to demand from clients and we had a great response," explains Tony.
His team has since hand delivered brochures to around 40 households, delivering up to 10 brochures per household, and the number of requests is growing by the day.

"We got lots of messages off the back of the Facebook post, as well as some phone calls asking for brochures – the feedback has been fantastic," says Tony.

The brochure drop-offs have even led to a couple of enquiries. "We had one caller who asked about elephant trekking and another who wanted honeymoon suggestions for next August."

The post on Facebook also led to brochure requests from people the store hasn't sold holidays to before, so Tony is hopeful it may end up leading to some new business.

"What's also been exciting is that younger people have been getting in touch asking for brochures, which isn't our usual demographic," he adds.

While the brochure drop-offs are yet to result in bookings, Tony says the main purpose of the exercise is to stay connected with clients during lockdown and bring them some light relief.

"It's a fabulous way to keep people upbeat and give them something to look forward to. [A holiday] is something nice to think of while in lockdown."