How Black Tomato is wowing clients
Agents with cutting-edge back-office technology can gain an edge, but selling tech-based experiences to clients can also help you carve out a niche in the luxury sector. Jenny Southan looks at how Black Tomato is wowing customers.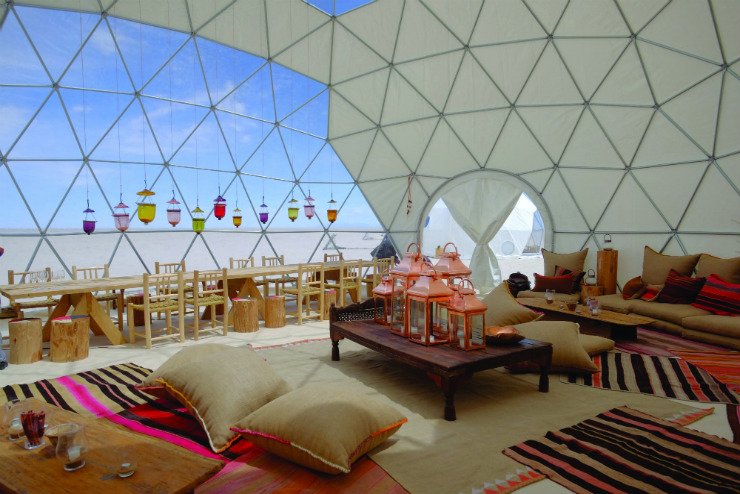 Dome tents with local furnishings Uyuni Salt Flats (Bolivia) photographer Stéphane Gautronneau (2).
Launched 12 years ago, Black Tomato is a luxury travel agency that arranges exclusive holidays to every corner of the world, from quad biking across Botswana to sailing Myanmar's Mergui archipelago.
Tom Marchant, co-founder of Black Tomato, says: "As many of our clients work in creative industries and themselves are thought leaders and innovators, it's important we offer travel experiences to reflect their lifestyles and offer moments that truly inspire."
But how do you push the boundaries even further? Black Tomato believes technology can actually be used to enhance the travel experience.


And – action!
Take its Drone the World service, for example, which sends a professional drone cameraperson and artistic director with a client to film their adventure.
Marchant says: "While people are becoming more comfortable taking their own still photography, we'd seen a rise in clients wanting to professionally capture their travels. We then looked at our own network of cameramen and photographers, and started offering people the opportunity to capture incredible destinations with professional aerial photographers who have worked across blockbusters such as the James Bond films and documentaries for the BBC and National Geographic."
Marchant says one client, who travelled to Iceland, told him the drone expert made them feel like they were "the star of my own mini-film".
Get Lost is another new service from Black Tomato, this time in partnership with What3Words, a technology start-up that has designed an algorithm that applies a unique three-word address such as "apple.ink.house" to every three-square-metre section of the planet, whether it's the side of a mountain, a desert in Mongolia or the middle of the ocean. This means anyone can easily locate precise points on a map in a way that's never been as easy (GPS coordinates are complicated to input and impossible to remember).
As you might have guessed, Get Lost is essentially the ultimate mystery travel experience, with clients flown by helicopter to inaccessible places overseas and dropped there. They then have to navigate their way to secret destinations using What3Words. Behind the scenes is a support team in case anything goes wrong.
"To offer travellers the chance to travel unassisted without a conventional guide, we had to ensure they had the right technology – with What3Words, they have the chance to explore and navigate accurately yet still be offline and present without distractions," Marchant explains.
Getting hyper-personal
Blink is a hyper-personal service for travellers looking to design their own temporary accommodation in some of the most remote parts of the globe – think lunar bubble capsules in the Bolivian Altiplano.
Marchant says: "We wanted to make the most of the endless ways guests could customise their Blink camps, so we designed a unique follow-up request form where they could select the environment, the exact position of the camps and what food and drinks are served, for example."
Black Tomato specialises in big budget experiences, but travel agencies of any size can take inspiration from the creative company. "There's a benefit in partnering with other brands and innovators in different industries, providing interesting content, a focus on personalisation and thinking outside the box," says Marchant.
Creative packages
Drone the World: Packages start from £4,000pp to Iceland, and include experiences with guides, transfers, accommodation, the drone photographers and one edit of the movie.
Blink: Blink experiences are bespoke, so prices vary depending on the logistical needs, experience choices, catering requirements, planning time and destination. Based on six travelling, prices range from £8,478pp for three nights in Morocco to £22,891pp for four nights in Bolivia. Airfares are not included.
Get lost: Prices start from £20,000pp in destinations such as Morocco and Mongolia. This includes all trip planning, accommodation, kit and transfers, experiences and a luxury celebration experience at the end.