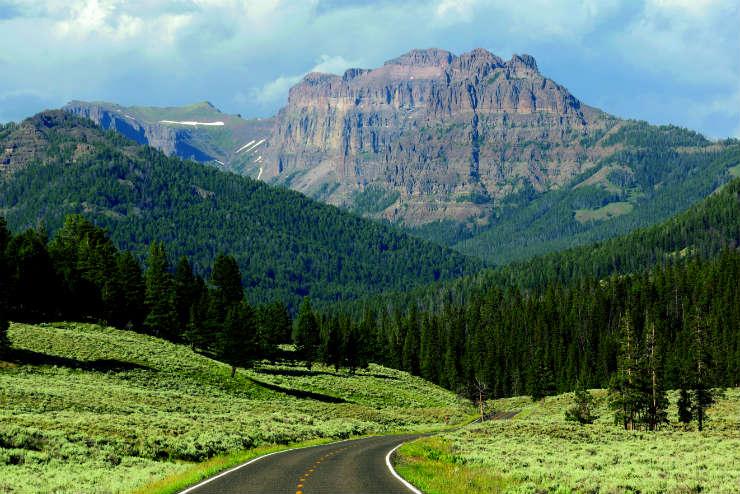 Yellowstone National Park_
Fog swirls around the forest in the frigid early morning air when I set off from Madison campground in the heart of Yellowstone national park in my seven-metre home from home.
I'm on my way to see the mighty Old Faithful geyser 16 miles away but pull over and park on the verge to watch a small group of bison that looms out of the murk by the pointed remnants of old trees alongside the road. They slowly amble through the eerie landscape, two males squaring up to each other in a standoff before one gives in and runs off.
A little further on and I'm on a Midway Geyser Basin boardwalk that threads between bubbling pools of mud and clouds of steam mingling with the thinning fog to obscure the orange sun completely. I stand transfixed by vivid bands of orange, yellow and green surrounding the deep-blue core of the nearby Grand Prismatic Spring, iridescent in the now blazing sunshine.
Having caught a spectacular three-minute eruption by Old Faithful after a boardwalk stroll past some of its hot spring pools (it erupts every 75 minutes or so), it's time for a late-morning cuppa. So I drive to another scenic area, park up and brew myself one.
That's the beauty of renting a motorhome, known as an RV in the US. Having never visited Yellowstone or taken a motorhome driving tour, I jump at the chance to combine them on the same trip. Especially when it involves a circular tour from Rockies gateway Denver around Wyoming, taking in not only the natural spectacles and wildlife of Yellowstone and other areas but also the Cowboy State's fascinating Western heritage.
Freeway family
Exploring the great outdoors in what is essentially a motorised caravan is gaining a growing following – and it exceeds my expectations.
It takes a day or two to feel comfortable not only driving such a large vehicle (Cruise America offers a nine-metre beast that sleeps seven besides a smaller six-metre one), but also setting up when I arrive at my pitch.
Thankfully, I get help from other RV'ers on my first couple of nights. It's like being part of a big family, and even more so when I pass fellow Cruise America drivers who flash and wave as I return the gesture.
The Motorhome Experts, whose owners Linda and Pat Richardson have worked with Cruise America for more than 30 years, offers a free itinerary planning service for clients. Linda tells me that 99% of first-time renters choose a personalised itinerary, as they feel unsure about driving without a plan. I'm thankful for the one they provide, listing driving distances and timings between my chosen campgrounds.
My first overnight is at Wild West-themed Terry Bison Ranch Resort, just over the Wyoming border near Cheyenne. US president Theodore Roosevelt stayed there as a guest of owner and Wyoming's senator FE Warren in 1903 and 1910.
Today, guests can stay in the same bunkhouse where he slept, although it also has RV pitches. Before leaving, I take a Bison Train tour aboard one of six custom-built trains to see the resort's bison herd, the driver stopping the train to feed several that come right up to us.