Summer holidaying in Cape Cod
Extending into the Atlantic from America's eastern seaboard, Cape Cod offers a summer getaway with a difference, as James Litston discovers
Humpbacks!" announces our whale-watching guide as the captain cuts the motor. Ahead of us, plumes of vapour – whale spouts – hang in the air before being lost to the breeze, with each exhalation accompanied by audible gasps. The whales raise their tails and, one by one, descend into the depths. But they'll be back, for we're about to witness something spectacular.

It's millpond-calm out in the Gulf of Maine today and the sun is shining brightly – the perfect conditions for whale-watching. Better still, we're floating somewhere in the Stellwagen Bank National Marine Sanctuary, a protected habitat for an abundance of marine life. Beneath us is an underwater mountain range that channels ocean currents towards the surface in a nutrient-rich upwelling that fuels a massive plankton bloom. This, in turn, supports vast schools of herring, which are a humpback whale's favourite snack.

As if on cue, a ring of bubbles appears on the surface, causing a buzz of anticipation to grip my fellow passengers. The bubbles thicken until suddenly the humpbacks burst among them. They're using a "bubble net" behaviour that corrals the herring, enabling large numbers of fish to be caught in a single, whale-sized gulp.

The whales rest briefly on the surface while cheeky seagulls land on their heads, hoping to snatch any fish trying desperately to escape. A few Atlantic grey seals swim among them and a pod of white-sided dolphins arrives to claim their own share of the humpbacks' bounty.
Sight to behold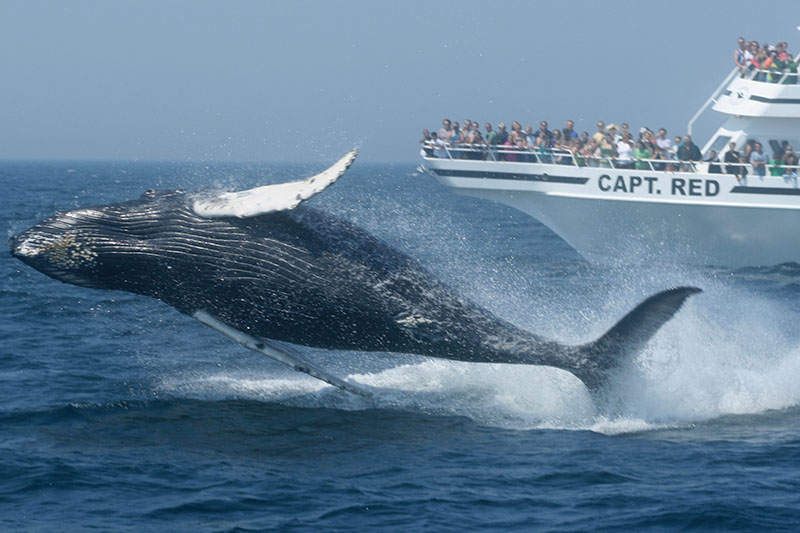 Leaving these particular whales, we move on with our sea mammal safari – and the sightings come so thick and fast, I barely know where to look. From one side of the boat, a humpback performs a full-body breach, propelling its 45-ton mass clear of the water and landing with an almighty splash.

On the other side, a fin whale mother and calf – second only in size to the mighty blue whale – swim so close by in the inky water that we can see them from snout to fluke (tail). Minke whales, their much smaller cousins, are also here in number – and all of this takes place within sight of the Pilgrim Monument rising over a sandy beach.

The 77-metre tall monument is a famous landmark in Provincetown, the resort at the tip of Cape Cod where I began today's whale-watching adventure. Though tours depart from Boston, Plymouth and elsewhere on the New England coast, "P-Town" is by far the closest to Stellwagen Bank, so excursions from here involve less travelling and thus much more time spent with the whales.

P-Town itself is 90 minutes by ferry (or a two-and-a-half hour drive) from Boston, making it the perfect gateway for Cape Cod exploration. Situated where the Pilgrim Fathers first made landfall in 1620, it's a pretty town of cheerfully painted clapboard houses, many swathed in wisteria. Its main drag, Commercial Street, is lined with lively shops, bars and restaurants and its legendary nightlife attracts a strong LGBT+ following, especially on summer weekends.
Presidential class
Other towns along Cape Cod are equally alluring and have long drawn in-the-know travellers seeking sandy shores and New England charm. The Kennedys regularly holidayed on the Cape in the 1960s, setting a presidential trend that's been maintained by the Obamas, who favour Martha's Vineyard. Clients keen to follow in their footsteps can hire a car and discover the likes of upmarket Chatham (an hour's drive from P-Town), before moving down the Cape to lively Falmouth, family-friendly Yarmouth and the port town of Hyannis – gateway to the offshore islands.

I, however, am basing myself in Provincetown to follow a city break in Boston with a laid-back beach escape. I'm staying at the Sea Glass Inn, a 20-minute walk (or five minutes via hotel shuttle) from the centre of town. Its 55 simple but spacious rooms (some with sea views) are fresh and functional, and are spread between two-storey blocks surrounding a pool, deck and fire pit.

Being on the edge of town is no inconvenience, it puts clients seeking a good night's sleep that bit further from the hubbub. It's also just around the corner from a bike-rental store, making it handy for accessing an essential P-Town experience.
On yer bike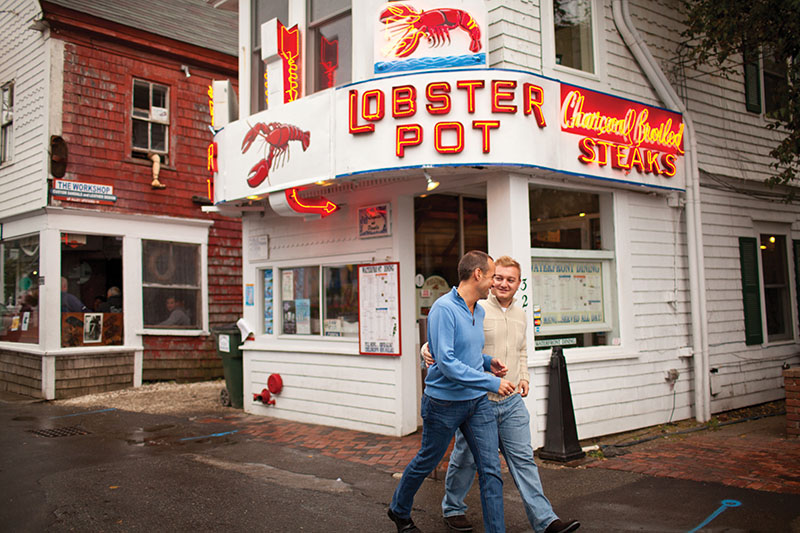 With its compact stature, narrow streets and limited parking, a car is unnecessary in P-Town (try suggesting that clients arrive by ferry then rent cars here to go touring). Dashing around by bike, however, is fast, convenient and fun – which is why most people staying here choose to get around on two wheels. As well as being able to pedal home from Provincetown's bars and drag shows, bikes make short work of getting to some of the area's wildest beaches. Large stretches of coastline fall within the Cape Cod National Seashore, much of which is accessible via paved cycle trails (there's also the traffic-free Cape Cod Rail Trail along a decommissioned railway).

Provincetown abuts a section of the National Seashore, where trails through woodland and mountainous dunes are an absolute joy to explore. Along the way, I spot freshwater turtles loafing in a pond and marvel at stunted pine trees that look like oversized bonsais. The trail leads all the way to empty and undeveloped Herring Cove beach, where I ditch the bike and take a refreshing dip.

But before I'm even knee-deep, I'm stopped in my tracks by something offshore. A whale has surfaced and is quickly joined by another, not more than 30 metres away. I watch in amazement as they swim up the coast and pass around Race Point. It just goes to show that no matter how clients spend their time here – be it on the beach, on a bike, boat or even in the bars – they're guaranteed to have an absolute whale of a time.

Book it: America As You Like it offers five nights in Massachusetts in summer 2019 (two nights in Boston and three nights in Provincetown from £1,095pp based on two sharing), including flights and ferry transfers. A Dolphin Fleet Whale Watch can be added from £36pp.