Hoseasons boss Simon Altham: Making diversity the new normal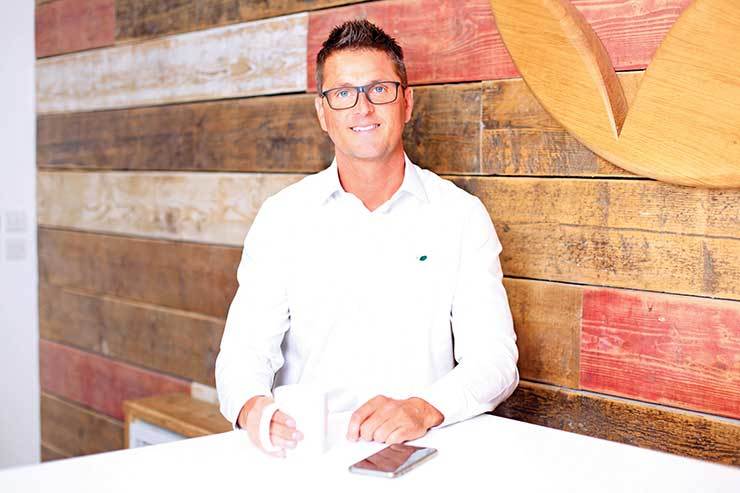 Two years ago, on a May bank holiday, the boss of Hoseasons sat chuckling at two young children as they ran laughing down the carriage of a train. He began chatting with the parents, who, in an odd coincidence, revealed they were en route to a holiday cottage – managed by Hoseasons. Ever the businessman, Simon Altham asked them about their perception of the 73-year-old brand and what had attracted them to the company. The answer left him ashamed.

The parents, who were black, confessed that it was because they had noticed people "like them" in the brochure, which had reassured them they would be welcome at the cottage and that their children would be safe. Altham admits regretfully the most shameful part was that he knew the exact brochure page the couple were talking about, because there had only been one page featuring a non-white couple. "I said to myself from that day onwards that we needed to make a change."

It is for this reason that Altham has proudly spent the last two years ensuring that the company's photography shoots for all marketing materials reflect modern-day Britain, featuring people of different ethnicities and sexual orientation. And importantly, Altham says, while he might have started the conversation on diversity, the rest of his team is now shouting just as loud.

"I wanted the marketing team to embed diversity into their brands and be thinking about reflecting multicultural Britain [in their marketing]. It's the team who are leading that now."

Company marketing, which includes brochures, ad campaigns and videos, covers a large portfolio. The self-catering specialist offers a mix of high to low-end cottages, lodges, caravans and boating holidays with breaks spanning a huge price range, from £39 to £3,000 ("the commission that agents can earn on some of the products is comparable to an overseas holiday"). Age ranges also vary – from the very young and their families to older couples. Altham says the average age range has now lowered to around 32-44, but adds there has been a huge growth in younger couples too, largely in the 24-30 age range.

Brochures now include LGBT couples and people of different ethnicities, and this month – in what Altham believes could be an industry first – the company will release brochures with non-white models on its covers representing customers.
"Our brochures are showing Britain, and all of its diversity. That's all we want to do."
Simon Altham
Hoseasons also has a new focus on the gay family market within its Evermore [luxury family] offering. "We want to make sure we have policies in place [in our properties] around tolerance and discrimination, so gay families can see a product in our brochure and know that they will be supported," Altham says.

"Our brochures are showing Britain, and all of its diversity. That's all we want to do, and it's getting people to see that that's normal. Everyone we have in the brochure is just normal," he smiles.

Altham joined the business 11 years ago, starting as head of product, before being appointed managing director in 2013. He is openly gay, but admits he was an unwitting diversity champion, only deciding to speak out on the issue after a colleague suggested to him that he could make a difference for those struggling in the LGBT community.

"A Stonewall survey [in the UK] in 2013 revealed that 3% of gay men had attempted to take their own life. That compared with 0.4% of men in general. And for 16-24 year-olds that rose to 6% of gay men trying to take their own life, compared to less than 1% in general. It made me realise that we still have a lot to do," he says.

"I went through a horrific time at school – and I thought, 'I can do something to help others'." Altham now speaks at travel and non-travel industry conferences and goes into schools to talk to young people about LGBT issues.

His passion for embracing diversity has also been realised within the Hoseasons business itself. Altham has worked hard to ensure that inclusivity is now the ethos for the company's 280 employees. As part of this, head office recently renamed the disabled toilets as gender neutral. "The staff loved it," Altham says. He adds that there are no transgender staff "that I know of", but says the move was important because of what it says about the company. "There may be someone secretly that is gender neutral or transgender – I don't know, but it sets a tone for our business and to visitors. We're just normalising LGBT."

And the focus on inclusiveness is not just improving life for current staff – it's also attracting new employees. Altham, who does not implement any positive discrimination, says: "We've had more LGBT people coming to work for us – they saw our support of Norwich Pride [which Hoseasons has supported for two years]. We also had a guy who joined us who is deaf. He told us that he applied because he saw our support for LGBT – he thought 'if they're good for LGBT, they must be inclusive of disabilities too'."

Hoseasons has since placed the man's team on a deaf awareness day and a sign language expert is brought in for every big strategy meeting "so he doesn't miss anything", Altham says.
Business sense
Altham is frank as he admits the focus on diversity has also been good for boosting the business's external image. "I'm not doing this because I'm a gay man," he says. "I'm doing this because I'm a businessman.

"I'm trying to make Hoseasons more attractive as a brand to everyone, and I'm trying to target new markets."

The company has certainly attracted press attention – its focus on the LGBT market has achieved headlines both in the trade press and on national LGBT news sites.

"It's really helped our brand awareness. We're not as sexy a product as a Caribbean cruise, but this has allowed us to talk more about our product. It's opened eyes up to what we offer."

The message could also be translating into bookings. Hoseasons has seen demand for its holidays grow by 52% since 2010, and total passenger numbers for 2016 are predicted to be up 25% compared with 2015, with 1.5 million people expected to take a Hoseasons break compared with 1.2 million last year.

The company also saw a record summer. Its combined bookings for the entire portfolio were up 14% compared with the same period last year, with August bookings alone growing 25%.

There was good news for agents too. Bookings through the trade, which accounts for 30% of Hoseasons' business, grew by 11% in August. "We're still very dependent on the trade", Altham adds. "Agents are of major importance to us".
"I'm not doing this because I'm a gay man. I'm doing this because I'm a businessman."
Simon Altham
The company's success is of course not solely down to its diversity drive. Altham is proud of the "innovative new experiences" which Hoseasons has introduced in recent years, including its nature lodges WanderWood this year. He also reveals new plans for next year, including an expansion of Hoseasons' European offering.

There was also the Brexit vote and European terror attacks, which shifted the holiday landscape, giving the domestic market a boost as fears about safety, capacity and currency fluctuations encouraged some to choose "staycations".

Altham though is dismissive about the impact of Brexit though. "Our growth was happening before and Brexit hasn't really happened yet.

"Anything that impacts consumer confidence is not good for travel, but holidays are still seen as a must have."

Which brings Altham back to why he is so eager to keep appealing to all. He's just confused that more businesses aren't doing the same.

"The only travel businesses that do seem to be doing this are those that have LGBT people high up in their organisations," he says. "I hope other business leaders will recognise the commercial opportunities.

"My job is to normalise diversity," he adds. "I'd like to see other businesses doing the same." And that, perhaps, is where Altham's pride will really lie.