Rich culture and heritage makes Qatar an enticing winter-sun break
Qatar is the ideal destination for clients looking for a winter-sun break combining culture, heritage and luxury. It is fast becoming a favourite of luxury holidaymakers, stopover clients and winter-sun lovers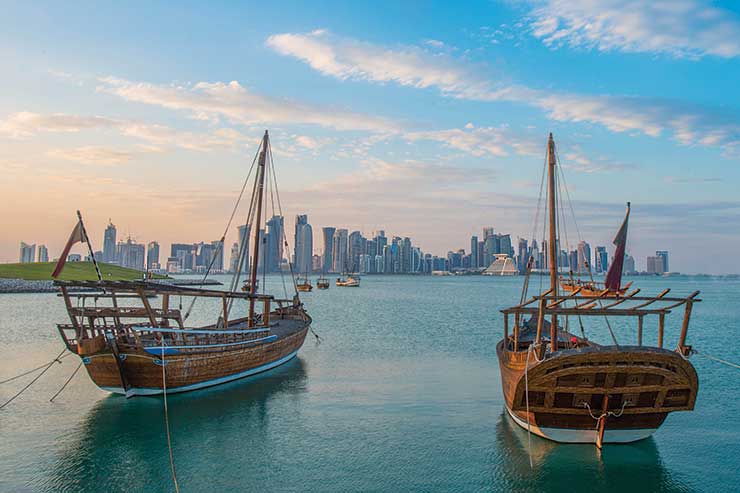 It couldn't be easier to get to Qatar thanks to direct flights with Qatar Airways from Heathrow, Gatwick, Manchester, Birmingham, Cardiff, Edinburgh and Dublin. There are also no visas to worry about with Qatar's visa-free travel for visitors from more than 80 countries, including the UK.
Culture & heritage
Cultural attractions include Souq Waqif in Doha which gives visitors an authentic taste of Arab street life and local architecture. Wandering around Souq Waqif's bustling lanes is a must for any tourist and it's not just about shopping, with the area also home to lively dining and entertainment spots.

The best time to go is during the evening after sunset when the Souq comes alive with the streets thronging with locals, expats and tourists. To get an authentic taste of Qatar, your clients can enjoy a traditional Arabic evening meal or some coffee and dates at a local cafe.
Another cultural highlight is the Museum of Islamic Art where visitors can marvel at magnificent collections of the finest art and artefacts from around the world, covering more than 14 centuries of Islamic history.
One of the best ways of experiencing the museum is by taking a guided tour which can be arranged for your clients. Alternatively, they can simply spend a few hours losing themselves in this vast five-floor building.
Visitors to the museum should also make sure they don't miss out on some of Qatar's most iconic and spectacular views, while those who want to make the experience even more memorable can dine at Michelin-starred chef Alain Ducasse's IDAM Restaurant located on the museum's top floor.
Luxury accommodation

Qatar is also home to huge abundance and variety of luxury properties, including some of the most iconic hotel brands in the world, offering the finest accommodation, restaurants and fantastic Arabic hospitality.
Many hotels are self-contained resorts which enjoy the twin benefits of having their own private beaches and also being located close to the city's most popular tourist attractions. Exclusive boutique hotels and serviced apartments in central Doha provide an extra level of choice to clients.
To become even better at selling Qatar, agents can make sure they have all the latest information on the destination by taking the updated Tawash Online Training Programme.