The Mexican all-inclusive that values local experiences
With its local tours, artisanal stores and Mexican flavours, Unico 20°87° Hotel Riviera Maya encourages guests to appreciate their surroundings and learn more about the region, discovers Abra Dunsby
As I sprawl out in the shape of a star fish, floating in the glassy water of a jungle- fringed cenote, I'm amazed a meteorite can cause such beauty.

Of course, this meteorite also caused mayhem when it hit the town of Chicxulub in Mexico's Yucatan Peninsula 68 million years ago, triggering the end of the dinosaurs and an ice age. But as I lie in the mineral-rich, jade-coloured pool as tiny fish tickle my feet, I can see the bright side.
I'm in Tankah in Mexico's Riviera Maya, sampling the cenotes, or sinkholes, created by the meteorite. Today there are 6,000 of them dotted across the peninsula, and 52 are in Tankah.
The Mayans used the pools as a source of fresh water and saw them as a portal to speak to the gods. Spending a morning exploring the vine-draped pools is a must – at Tankah, clients can zip line into the water, canoe across it or snorkel in it before strolling through a Mayan village with a guide and tucking into a tasty traditional lunch.
The excursion is bookable for guests staying at Unico 20°87° Hotel Riviera Maya, a luxury adults-only all-inclusive resort on the Caribbean coast that values local experiences and cultural immersion.
Celebrating culture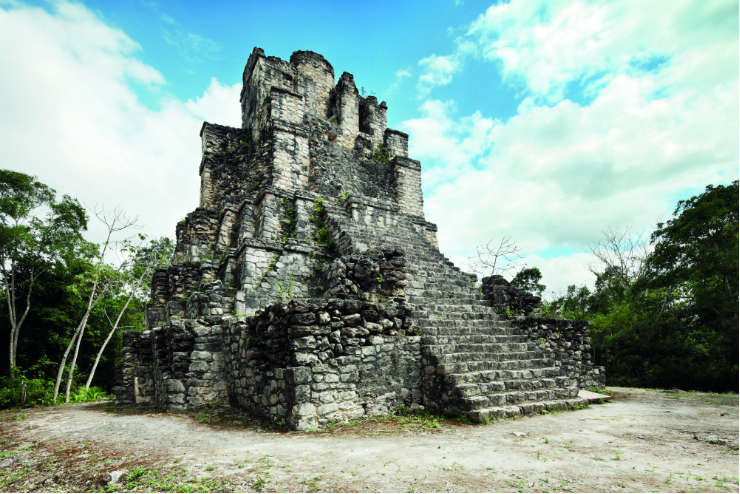 Unico 20°87° Hotel Riviera Maya places great importance on the hotel's location, hence the latitude and longitude of the region in its name, and encourages guests to experience the area's beauty and culture. Its Signature Tours include trips to the beaches and ancient sites of Tulum, as well as my Mystical Cenote experience.
I take a second Signature Tour to Muyil, an ancient Mayan site near Tulum. Its crumbling temples are suited to clients who have already seen wonder of the world Chichen Itza, or who want to avoid its crowds.
After learning about Mayan life with a local guide, we take a boat through the lagoons of Sian Ka'an. To cool off, we bob gently down an old Mayan channel river then stop at hammock-strewn Blue Venado Beach Club for a local lunch, our tables looking out on to the lapping Caribbean Sea.
It's not just Unico's excursions that allow clients to sample the local culture. The hotel does too with its stylish modern decor, from the modern art that hangs on the walls – curated by Tasting Art Gallery in Mexico City – to the artisanal products sold in its shops.
My beachfront suite is decorated with handcrafted wooden furniture, a monochrome Mexican rug hangs on the wall and a hand-painted bottle of mescal is my welcome gift. The hotel's daily programme of events also has a local flavour, offering everything from tequila tastings to salsa classes.
Unico's five restaurants all use local ingredients. My favourite is Mexican restaurant Cueva Siete, led by chef Xavier Perez Stone (the hotel welcomes a new chef every 18 months), where I sample dishes including zingy ceviche and smoky, sweet Yucatan pork cooked in a stone oven.
Personal touches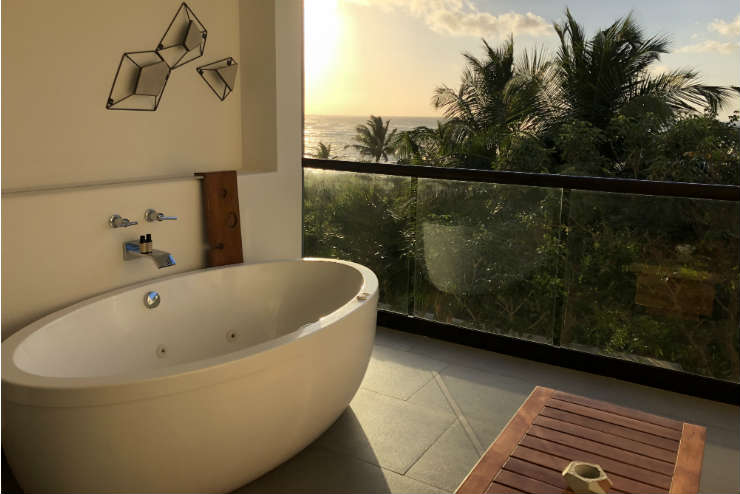 Unico takes a more personalised approach to all-inclusive. In my bathroom, I find two vouchers in the amenities basket which I can trade for aromatherapy gifts from the spa, including bath salts, after-sun or body wash, with an added essential oil of my choice.
Feeling pampered after a muscle-pummelling back massage at the spa, and armed with my aromatherapy gifts, I return to my room to find a handwritten note from my host, saying I can contact him 24 hours a day with requests, from unpacking my luggage to ordering room service – the service is offered to all guests at the resort.
While my British sensibilities mean I'm too embarrassed to ask for much, I do Whatsapp him on my last day to ask him to run the giant bath on my terrace for me. When I return that evening, I bury myself in the bubbles, looking out on to the pearly sands and fringed palms of the nearby beach, content to have stayed in a hotel that greatly values what's beyond its doors.
Book it: Caribtours offers seven nights at Unico 20°87° Hotel Riviera Maya from £1,979pp based on two sharing an Alcoba Room, including flights, private transfers and use of a UK airport lounge. Price based on 3 June to 31 September departures. caribtours.co.uk/travelagents;
UNICO 20°87°
Smarter: On the Muyil Archaeological Ruins tour, clients are asked to wear a T-shirt instead of sunscreen for protection while floating in the channel river in order to protect marine life.
Better: As well as its Signature Tours, the hotel offers Inclusion Tours – guests pay 25% of the actual price of the tour. The discount also applies to spa treatments.
Fairer: The hotel's volunteer scheme, Vacation with a Cause, sees guests bring items from home to be distributed by charity the RCD Foundation to local people. Clients taking part get a 10% discount at the hotel's Artesanos store