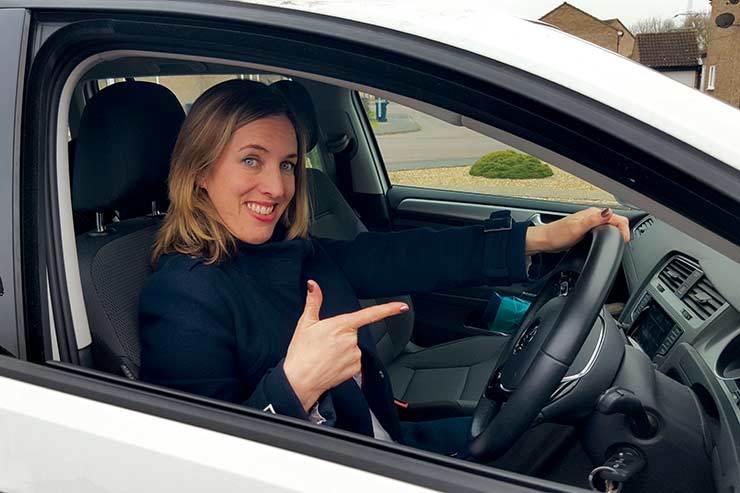 Claire Hills Gold Medal Travel 2
Whether she's grooving to 80s funk or parading around with rubber chickens, Claire Hills, key account manager, Gold Medal and Travel 2, talks about the wonders of life on the road.
What happens during your typical week?
No two weeks are the same, which is what I love about being on the road. I spend three to four days out, covering anything up 800 miles a week, visiting agents across the east and the Midlands. I'm either conducting training or attending meetings or events, and I have at least one admin day a week to catch up.

What's in your car?
It's full of brochures, posters and all kinds of merchandise. In the glove compartment, you'll find Percy Pigs, mints, lip balm, a phone charger and a selection of CDs.

And what's on the radio and iPod?
I'm currently listening to a lot of Jess Glynne. I also love 80s funk, soul and house music. To release my inner rock chick, I'll switch on Absolute Radio or stick on a bit of Queen.

What snacks keep you going on the road?
If I'm not munching on Percy Pigs, it's usually a supermarket sandwich on the go.

What's the silliest thing you've done as part of a sales visit?
I once went around London with a load of rubber chickens in my bag. They squeaked every time someone got on the Tube next to me, so that caused a few stares.

What's the best part of being on the road so much of the time?
Catching up with all my agents, seeing what opportunities there are to support them and how they are getting on. Also, travelling to different parts of the UK each day is great, particularly in the summer.

… And the worst?
Parking can be a hassle – finding a spot, then making sure you have change and you're not a million miles from the agency.

How do you think agents would describe you?
Friendly, approachable, helpful and a bit of a chatterbox.

Which agency gives you the warmest welcome?
Everyone is friendly and a cuppa is a bonus – and if it comes with some choccie biccies, then that's even better.

What are your key messages for an agency visit?
At Gold Medal and Travel 2, we have products to suit everyone in the trade, all with very competitive pricing – from hotel-only to car hire, long haul to short haul, flexible cruise packages to tours, or our Pure Luxury and Simply Luxury collections. We also have some amazing incentives out there, from reward points and top prizes to fam trips to amazing places. Both brands provide marketing tools to help our agents promote holidays online and offline.

What's your advice for agents who don't currently sell your product but are keen?
Please contact our sales support team, who will put you in touch with one of our eight local key account managers. They can talk you through our array of products, discuss opportunities and provide training.

If you didn't work in travel, what would you like to do instead?
I couldn't imagine not being in travel. I did once dream of having my own backpackers hostel in South Africa – I guess that's still travel, isn't it?