Two agents give the lowdown on their Magical pride experience
Disney's inaugural Magic Pride captivated the crowds at Disneyland Paris this month. Charlotte Flach speaks to two agents who attended to hear more
Seeing British rock legend Rod Stewart in concert, or joining the party at Disney's inaugural Magical Pride.
 That was the dilemma one agent faced when she discovered she had won a golden ticket to celebrate diversity at Disneyland Paris. Luckily for Sam Walton, a partner at Acomb Travel in York, there wasn't really any contest. "I decided I'd rather miss seeing Rod Stewart than miss Magical Pride!" she says.

For both Walton and fellow winner Kate Marsh, travel advisor at the Tui Colchester store, the magic of Disney was brought to life with music and a vibrant parade at the event earlier this month.

The two agents won tickets to attend Magical Pride on 1 June after entering a competition in TTG, where they were tasked with getting creative by cutting out and decorating Mickey mouse ears.

"I entered because I thought it would be a great chance to be one of the first to experience Magical Pride. I never expected to win," explains Walton.

Marsh bagged her prize for ears adorned with beading on both the front and back. "As soon as I saw the Magical Pride competition advertised, I couldn't wait to get my hands on 
my copy of TTG to design and decorate my Pride Mickey ears," says Marsh.

"I absolutely love Disney and wanted to win to go to Disneyland Paris to experience Magical Pride for myself."
Loud and proud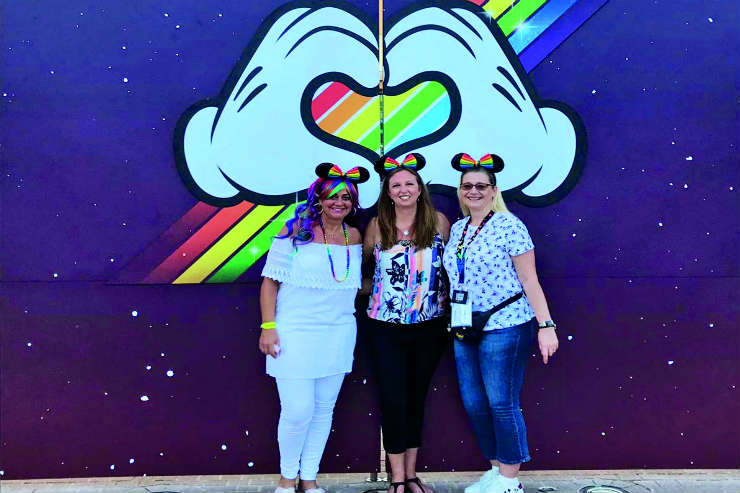 Pride celebrations are known for their vibrancy and colour. At Magical Pride, guests can join in the fun with their Disney characters, while the concert offered a line-up featuring Years and Years and a DJ set from Boy George.
The agents thought these elements were blended well to create a stunning visual spectacle. "The Walt Disney Studios Park was full of vibrant colours – a lot of people were wearing the colourful Pride tops and, of course, the Pride Disney ears. The Magical March of Diversity Parade featured dancers wearing rainbow- coloured tops too," Marsh says.

"The towers were lit up and all the colours were superb. The gardens were so well kept and everything was so clean. All the staff and guests were happy and friendly, which created a great atmosphere," adds Walton.

Held to celebrate inclusivity, Magical Pride is primarily aimed at the LGBTQ community
and their friends and family, but also welcomes everyone who wants to join in the party. So what in particular makes Magical Pride LGBTQ-friendly?

"People can be totally themselves and dress however they want to. There is nowhere at the event where anyone would feel intimidated," explains Walton.

"Everyone clearly felt at ease. So many people were wearing T-shirts supporting the event too. It's so friendly, I wouldn't hesitate to go again," adds Marsh.
Selling the magic
Both Marsh and Walton agree the event was very well organised, with a high level of security. It is also suitable for all ages, making it a strong sell for families or mixed-age groups.

"I just love Disney and still find it so magical at any age. I became a young girl again. I didn't stop smiling all day," says Walton.

Other agents can sell the event by focusing on the perks of visiting the park after hours. "After dark the park looked even more magical with The Tower of Terror illuminated in Pride colours, and we also had the opportunity to ride the attractions at night," says Marsh.

"Attending Magical Pride is a great way to visit the park after hours. There are fewer queues and experiencing the rides in the dark is thrilling," agrees Walton.
Hotel product is also of a high standard, and just a short stroll away from the main park. "We stayed in a standard room at Disney's Newport Bay Club hotel, which is near the park. I would highly recommend this hotel to customers, as the rooms are a good size, with plenty of choice at the buffet breakfast, which is served from 7am – giving you lots of time to make the most of those magical hours in the park," says Marsh.

Convenience also ranked highly, as getting to Paris from London is simple for clients, with a no-fly option.
"It's so easy to get to Disneyland from anywhere in the UK – just hop on the Eurostar from London," suggests Walton.
Spreading the word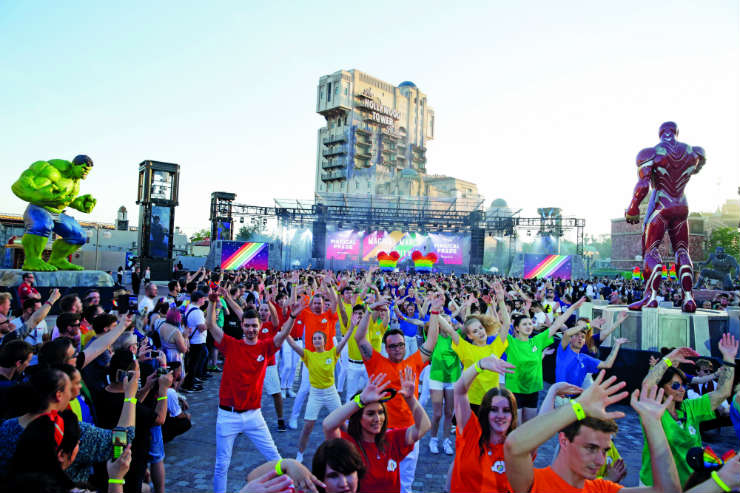 Both agents were keen to promote Disney and its products to clients after their experience at the Magical Pride event. "I want to tell the story of Disney, both on social media using lots of photos, and also in the office using visual materials like banners and flags," says Walton.

"Our agency uses Facebook Live and I streamed live three times from the event. I want to create a video blog so people can find out more about the event and the parks. I'd like to showcase videos of the rides too," she says.

Marsh adds she is keen to spread the word about Disney to clients. "I will look forward to promoting future LGBT events at Disneyland Paris to my customers."

The power of face-to-face selling was highlighted by both agents, who agree that customers always value hearing about agents' own personal experiences over any promotion on social media.

Marsh says: "It's always easier to promote an event or destination to your customers if you've had first-hand experience of it, and you can guarantee no one does an experience better than Disney!"
How do you promote Disney products to your clients? Got any selling tips? Email feedback@ttgmedia.com or leave a comment below.