Six cruises with celebrities
Cruise lines are increasingly recruiting celebrities to add an extra reason to entice customers onboard. Abigail Healy rounds up top options to leave clients star-struck
Dust off your dancing shoes
Strictly Come Dancing fans will be stepping up for Emerald Waterways' Waltz down the Danube with Anton du Beke & Erin Boag. The eight-day voyage on the Danube offers guests the chance to see the duo perform in Vienna, as well as take part in a fascinating Q&A session where they will get a behind-the-scenes insight into their careers and life on Strictly… plus a ballroom masterclass.

David Winterton, head of marketing UK and global brand curator at Emerald Waterways, says: "Our exclusive celebrity cruises open up river cruising to a new audience. For instance, last year we invited TV chef Rick Stein to travel with us along the Rhone River, and the sailing sold out in days, with no guests having taken a previous river cruise. But since their cruise several have come back to sail other rivers.

"We carefully pick our celebrities, ensuring they have a diverse following both on TV and on social platforms. At the same time 
each celebrity is handpicked to complement elements of our own brand such as the Strictly… stars representing our EmeraldACTIVE programme and Mary Berry epitomising our onboard culinary experience."

Book it: The Waltz Down the Danube cruise costs from £2,595pp and departs July 26, 2019.
Cooking up a storm
Celebrity chef Luke Nguyen has been an ambassador for APT since 2011, and the Aussie culinary master is now hosting river cruises onboard the line's ships in Asia.

The 16-day Luxury Vietnam & Cambodia Highlights with Luke Nguyen takes guests on a journey from Ho Chi Minh City in Vietnam to Cambodia's Siem Reap including a seven-night cruise along the Mekong.

Nguyen will share knowledge of his homeland plus his expertise and enthusiasm for Vietnamese food on this exclusive itinerary that includes a tour in Old Saigon; an exclusive cookery class at his school, Grain; dinner at Nguyen's restaurant, Vietnam House, and a "Get to Know Luke" session onboard.

Book it: The trip departs on November 28, 2019, and starts from £5,590pp.
Celebrity host
Cruise & Maritime Voyages (CMV) is no stranger to hosting celebrities onboard and it has announced a new roster for its upcoming themed cruises. Former MP and Strictly… star Ann Widdecombe and comedy legend Sue Hodge will be joining the CMV Astoria Easter Cruise.

TV wine buff Jilly Goolden meets up with celebrity chef Rustie Lee in September. Finally Roy Hemmings from legendary pop group The Drifters joins The Three Degrees at the end of September.

Head of marketing Mike Hall says: "Our themed cruises offer an extra dimension to our cruise programme. They offer guests the opportunity to not only enjoy celebrity entertainment but also to hear about their fascinating lives during guest interviews. "There is generally the chance to meet the celebrities, take photos and maybe even buy them a drink in the bar.

We choose themes that are of interest to our more mature guests, such as music, cooking and cricket. In 2019, we also have themed cruises to acknowledge the 75th Anniversary of D-Day, an Easter celebration and the Rouen Armada – a magnificent maritime celebration."

Book it: Fares are available from £549pp.
Gen up on gardens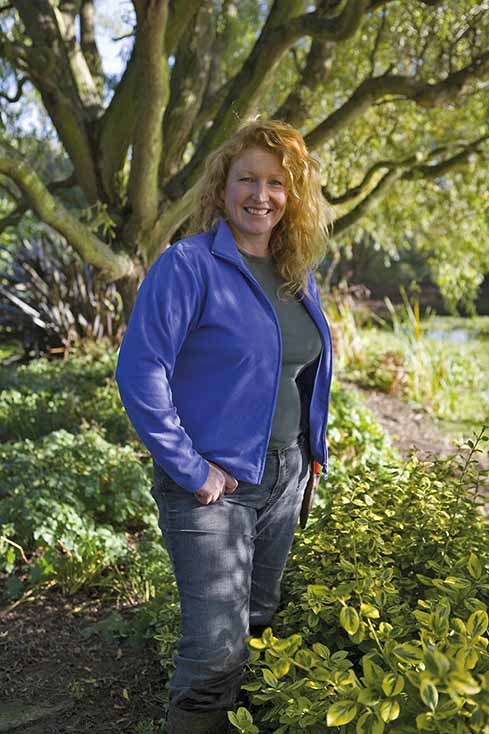 What better way to explore the joys of spring than with green-fingered guru Charlie Dimmock? The TV gardener will join The River Cruise Line's guests for the third time on an expert-led week-long cruise to the gardens of Holland and Belgium.

The sailing features a packed itinerary taking in the Floralia Spring Flower Show and optional visits to the National Botanic Garden of Belgium, the Appletern Gardens and the Aalsmeer Flower Auction.

Dimmock will be onboard for the duration of the cruise, accompanying each of the excursions, answering questions from gardening enthusiasts and offering additional insight into the spectacular spring displays.

Tim Fleming, sales and business development manager for The River Cruise Line, says: "Clients love the chance to gain expert insight into the beautiful gardens we visit on the trips, as well as enjoying informative and entertaining talks onboard.

These themed cruises are an ideal fit for our core market of older clients and work equally well for clients who are passionate gardeners but new to river cruising, or for those who have cruised to destinations such as the Keukenhof Gardens before and are keen to gain a deeper understanding or see them from a new perspective."

Book it: The River Cruise Line's seven-day Springtime in the gardens of Holland & Belgium cruise departs on May 3 priced from £945pp.
Go ape
Silversea will host orangutan expert Dr Birute Galdikas on a cruise from Darwin to Bali this June.

"Imagine if you could learn about the Evolution Theory from Charles Darwin himself while travelling in the Galapagos? Dr Galdikas is that calibre of scientist when it comes to orangutans," says Silversea's expeditions sales manager, UK & Ireland, Akvile Marozaite.

"She was the first to study them in the wild and has dedicated her whole life to learning about these great apes. Besides visiting Camp Leakey and learning from Dr Galdikas about the orangutans, this voyage has some other great highlights including Tana Toraja Land, with its fascinating culture and rituals, as well as epic snorkelling opportunities in the biodiverse waters surrounding the Indonesian islands."

Book it: The 15-day Darwin to Bali cruise starts from £8,000pp.
Tuning in
The Danube is a popular draw for fans of classical music, with a number of famous composers hailing from its banks.

Uniworld is bringing this heritage to life further still when it welcomes author and Classic FM host John Suchet onboard its Enchanting Danube cruise on the October 20, 2019 departure. Suchet will present onboard, discussing topics such as classical music, composers from the region such as Mozart and Strauss, and his time as a news broadcaster. He will also give a special introduction to a music concert in Vienna which all Uniworld guests experience as part of the itinerary.

UK managing director Chris Townson says: "By leaning on the expertise of a celebrity renowned in a particular field, we can offer a completely unique cruise experience which appeals to a very focused audience.

"We can tap into a brand-new customer base while also highlighting the existing themes on our cruises. Classic FM's John Suchet is a perfect match in terms of appealing to Uniworld's core demographic, and his classical music expertise adds another layer to the excursions and themes of our Danube cruise itinerary."

Book it: The eight-day cruise starts from £2,799pp, including transfers and flights from the UK.
Do you think celebrities would draw new customers to cruise? Email feedback@ttgmedia.com and let us know your thoughts or leave a comment below.