Jaunting around Japan with Princess Cruises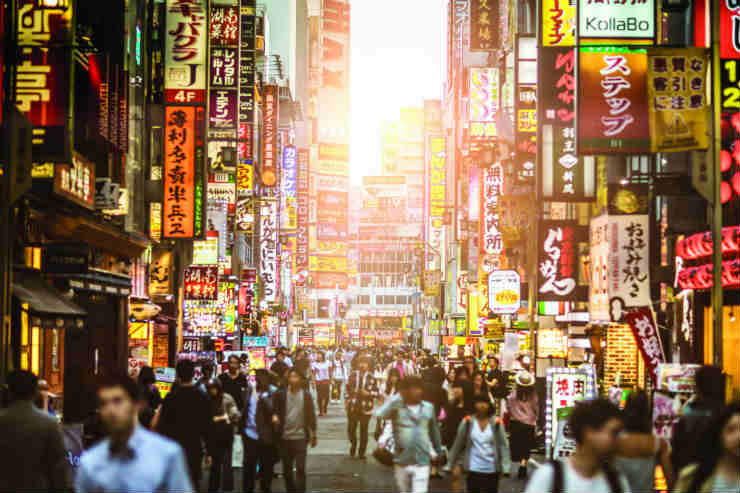 Combining an action-packed stay in Tokyo with a more leisurely Princess Cruises voyage makes for a hassle-free way to explore Japan. Jo Kessel embarks on an adventure laced with castles, geisha and an unusual take on bathing.
Within six hours of landing in Tokyo, I feel practically native. I've visited the Buddhist Senso-ji temple, browsed its market, bought a kimono, a silk purse and a bag of rice crackers to munch en route to Shinjuku, Japan's Times Square equivalent. I've enjoyed an authentic noodle ramen (made from sardine broth) and drunk in a teensy bar for six. Then I've returned to the Capitol Hotel and my room on the 25th floor, where not only am I relaxing in a bubble-filled bath but also enjoying the view from it – that of Japan's crazy capital sprawled beneath me.
I'm in Tokyo for two nights with my husband Marc before a week's cruise around Japan and South Korea. The Beatles, Michael Jackson and Tina Turner all stayed at this hotel, where the decor is east-meets-west (think low beds and sliding paper doors) with an atrium designed by the creator of Tokyo's 2020 Olympic stadium. The next morning we wake to that same view from a king-size bed – the Imperial Palace and Houses of Parliament are within spitting distance – and soon we're back at street level. Apart from an hour in a Japanese garden (next to the Meiji Shrine), the day is spent brushing shoulders with strangers. Crowds in the streets, shops and at road crossings are thick and slow-moving.
Marc dubs it "organised chaos". We cram more into 36 hours and walk more miles than in a month at home and no sooner have we boarded Diamond Princess in Yokohama (a 40-minute drive away) than we've collapsed on sun beds by the ship's main pool.
To continue reading...
Please log in below or join now for access.