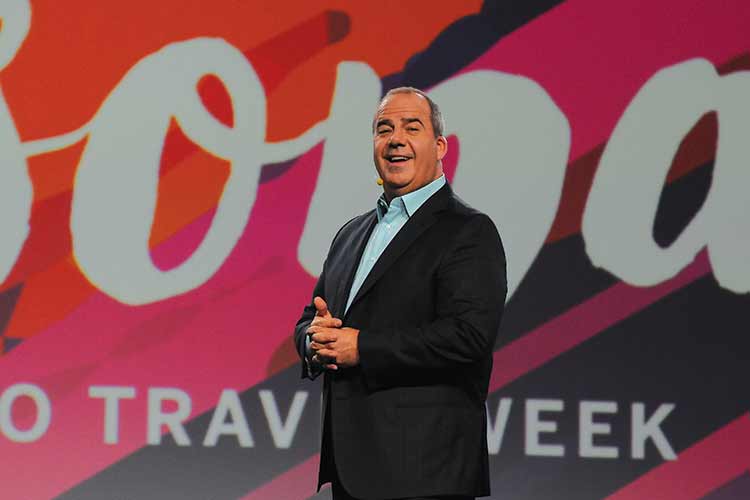 Matthew Upchurch, founder of Virtuoso, which will hold its Travel Week event online this year
The invitation-only international luxury travel agency network – which counts more than 1,100 travel agency locations employing 22,000 travel advisors in 50 countries worldwide – will run its Virtuoso Travel Week event solely online 10-13 August.
Usually taking place each year in Las Vegas, with more than 6,500 people having attended last summer, the event will now be run online with a series of 10-minute appointment slots for Virtuoso supplier and agent members.
The organisation received more than 1,000 registrants within the first 24 hours of opening, it said, showing how demand for the industry to keep in touch remains strong.
"This indicates the value placed on human connection during one of tourism's most trying times," a spokesperson for Virtuoso said. "With the Covid-19 pandemic making in-person gatherings impossible, 2020 marks the first time the event has moved from the otherworldly glitz of Las Vegas to the virtual world of online."
Participants will be able to hold private, 10-minute appointments that flow in succession in virtual breakout rooms using a tailored meeting experience that "enables more fluid communication", compared to the now ubiquitous Zoom platform, show organisers said.
Preferred partners will be able to schedule upwards of 106 individual appointments "with a level of choice not previously available through the in-person event"; the meeting requests and scheduling are left to the partners who select which Virtuoso advisors they want to see over the four days.
Virtuoso has also organized a series of sessions by external speakers covering a range of topics to help the industry navigate change, including 50 destination-focused training sessions and 20 professional development classes.
Themes include Connect with Yourself; Connect with Your Team; Connect with Your Clients/Guests; and Connect with Your Business.
Virtuoso's sustainability summit, Under One Sky, also returns for a second year, in partnership with the likes of andBeyond and the Monaco Government Tourist Office and hosted by Virtuoso vice chair and sustainability strategist, Jessica Hall Upchurch.