An Aussie adventure on Qantas's inaugural London-Perth flight
April Hutchinson is one of the first to sample Qantas's 17-hour non-stop London-Perth service. She ponders the effects of jet lag on herself and how airlines will address the issue in an era of "super long-haul" flying.
For your customers looking to take a long-haul trip, jet lag will inevitably be an issue they face – and one likely to grow as the aviation industry continues its pursuit of "ultra longhaul" flying Newer fuel-efficient airliners are capable of going much longer distances non-stop – such as Qantas's recently launched London-Perth route, 17 hours on a Boeing 787-9 – and passengers should expect the flying experience to become more pleasant accordingly.
Project Sunrise is Qantas's next ambitious plan. It aims to introduce a "super long-haul" aircraft into service from 2022 that will be capable of flying non-stop from the east coast of Australia to London and New York in 20-plus hours. The Boeing 777X or Airbus A350ULR are the next-gen aircraft likely to be up to the task, and could even include exercise areas and sleeping berths, Qantas group chief executive Alan Joyce has hinted.
Using these aircraft makes research into passenger comfort even more pertinent and Qantas is collaborating with the University of Sydney's Charles Perkins Centre to develop ways to promote wellbeing in the air.
On its ultra-long haul flights between the UK and Australia, a handful of Qantas passengers are now involved in trials with wearable technology. This will aid the measurement of biorhythms during travel, enabling future products to be developed and designed with the data insights being fed back to the university, a move seen as a world first.
"Our aim for this programme has been to do everything we can to accelerate time-zone shift, maximise rest and reduce jet lag, given the length of the flights the Dreamliners will operate," adds Phil Capps, Qantas's head of customer product and service development. "We've also worked with chef Neil Perry to design menus in line with all these objectives."


Laying the groundwork
Essentially, jet lag is when normal sleep patterns become disturbed owing to a long flight and significant time-zone change. Before a long-haul flight, it's important to get plenty of rest and it's recommended that you "gradually change your sleep routine" – starting to go to bed and getting up an hour or two earlier or later, edging closer to the time of your destination.
Some swear by taking melatonin supplements. Melatonin is a naturally occurring hormone in the body that regulates sleep and wakefulness and is released by the body during the evening. It's not rocket science that if you eat large meals, exercise, use electronic gadgets or drink alcohol or caffeinated drinks before bedtime, you will struggle to sleep anyway, so these substances should also be avoided either in the run up to the flight or during it.
For its non-stop 17-hour service, Qantas has new healthy menu choices designed to increase hydration and reduce jet lag, such as poke bowls and a specially designed herbal tea. The menus combine research from the University of Sydney's Charles Perkins Centre with the in-house experience of the teams from Qantas and Rockpool, the Australian restaurant group founded by chef Neil Perry. Dishes have been created to encourage sleep at optimal times while drinks include a wake-up shot of Botanica cold pressed probiotic-infused watermelon, the Qantas sleep tisane tea and hot chocolate.
When you arrive, the golden rule is only to go to sleep at a reasonable hour for your new destination. It helps to go outside during the day – light exercise, fresh air and natural light will all help your body clock to adjust.
Putting it into practice
Elements of the Dreamliner that help with the unwanted side effects of flying include 30% larger windows to let in more light, increased cabin humidity, which helps respiratory flow, and the lower cabin altitude – 6,000ft compared with the usual 8,000ft.
Qantas claims it is the first Dreamliner customer to take full advantage of the lighting opportunities in the aircraft based on scientific research. Lighting that phases in and out is used to simulate dawn and sunset. "We know that warmer lighting shades put you to sleep – yellow, reds and oranges, for example, in the evening – and cooler light tones, such as blue are better for waking in the morning," says Capps.
I fly in one of the Dreamliner's 42 business-class seats and enjoy a three-course lunch (of smaller, more moderate portions than usual), although it isn't served until three hours into the flight and seems a drawn-out process. I plump for the salad of roast tomato with buffalo mozzarella, artichokes and basil dressing, then pappardelle with parsley and pecorino soffritto, spring peas and toasted walnuts. I'm not sure they're the healthiest or most jet lag-friendly options, and I wonder if the menu could more effectively highlight the healthy choices. A range of small meals and snacks can also be ordered at whim mid-flight. These include beef cottage pie with peas; bacon sarnie; or mozzarella, olive and spinach calzone.
In economy, passengers have the traditional choice of chicken, beef or veggie pasta – although these have been given a healthier makeover, and mid-flight options are roughly the same as in business.
I could have downloaded the Qantas App to plan my entertainment ahead, but I break the sleeping rules and end up watching too much TV, plus work on my laptop, probably leaving my brain cells too stimulated for fitful rest.
Following up
As we come into Perth, I feel surprisingly normal, all things considered. Because you fly overnight, it's possible to keep a semblance of usual rhythm, but it depends what the day ahead holds. By the time I reach the hotel (around 2.30pm), I suddenly feel exhausted. I resist napping and within a couple of hours it's time to head out for dinner – a few glasses of wine help relax me further and I sleep pretty well that night.
Getting a big chunk of the journey out of the way first could be a boon for some, and Western Australia is a great way to start a holiday Down Under. But while my business-class choice made the journey very comfortable, it's not an option for all. The economy cabin, however, is more spacious than any Qantas has ever offered, and overall the air quality on a Dreamliner makes a huge difference, as does the phased lighting to promote sleep and waking.
Meanwhile, the food quality and the airline's ongoing research into travel Qantas serves jet-lag friendly cuisine on long-haul routes health all bode well too.
60 seconds with...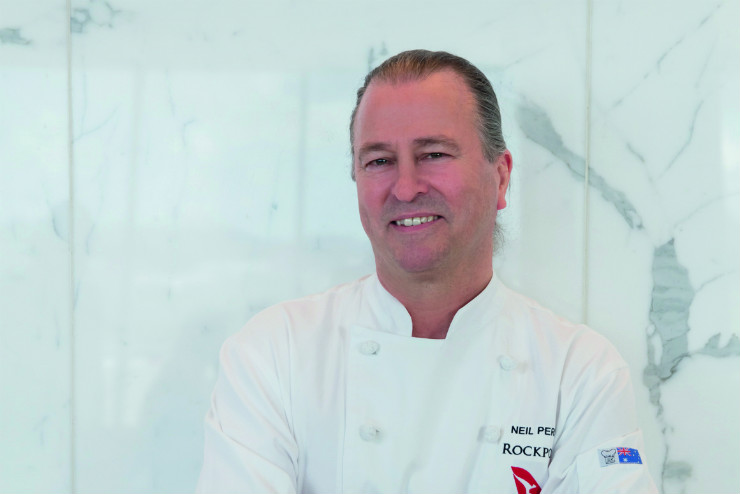 Neil Perry, chef and creative director, food, beverage and service, Qantas:


What's your relationship with Qantas?
I have been working with the company for almost 21 years. Qantas has allowed me complete control over all the menus and to have my staff train crew. We do all the catering across classes and in lounges. Our steaks are the most popular dish – cooked fresh in the air.
How does the research with the University of Sydney's Charles Perkins Centre work?
We've been working with them for 18 months or so, but what's great now is the real-time research with passengers using wearable devices. They answer a number of questions throughout the flight via an iPad about how they're feeling – such as anxious, hungry, thirsty, tired – and the devices measure metabolism, rest time, heart rate, and so on.
How can menus be healthy and combat jet lag?
We're featuring lots of dark green vegetables, plus lots of grains – foods that promote wellbeing and sleep, and looking at what stimulates appetite and gets the metabolism going, but avoiding
chilli as that can be overstimulating. We're looking at foods containing tryptophan that helps melatonin production to encourage sleep.
And what's your ultimate tip for beating jet lag?
Getting fresh air and daylight as soon as possible on arrival, or going to the gym to get your metabolism going. I've been taking 1mg of melatonin a day for years and don't suffer jet lag badly, but then I travel a lot, so I guess it's what you get used to.