Cycling in Puglia and other Italian breaks on two wheels
Combining daily exercise and fine Italian food and wine, Headwater's self-guided cycling tour across Puglia also takes in the Adriatic coast and the best of the region's countryside. Ellie Ross takes it for a spin
Filippo De Miccolis Angelini cups the shot glass in his hand and examines its contents carefully.

Inside sits liquid gold – though not the limoncello or laurel-flavoured liqueur that might usually conclude a meal in this part of Italy. Instead it's his homemade extra virgin olive oil, made using the fruit of 400-year-old trees scattered through the pretty gardens of the Masseria Salamina, a restored 17th-century fortified farmhouse in Pezze di Greco, a village in Puglia.

"First you warm the glass to release the aroma," he says, rubbing its rim with the palm of his hand. Next he sips the oil, slurping loudly to draw in air and heighten the flavour, before swallowing. "Bitter and pungent," he concludes, satisfied. "If it leaves a film on your tongue, it's not extra virgin. It should be completely absorbed. Now you try."

I suck the oil noisily through my tongue and feel the hot, peppery flavour kick in. 
It's delicious, and tasting four varieties in the Masseria's vaulted restaurant is an excellent way to start my four-course dinner of aubergine roulade, organic pasta, veal chops and an almond milk dessert topped with homemade mandarin marmalade.

With such good food in front of me, it's a good job I've earned it by cycling. I'm on Headwater's Contrasts of Puglia Cycling trip, a self-guided, seven-night holiday that begins and ends in Monopoli, a loop taking in both the rugged Adriatic coastline and countryside dotted with farming hamlets, almond orchards and dry stone walls.

With a daily average of about 26 miles, on mostly flat terrain, it's not hardcore cycling, though clients do need a reasonable level of fitness. Add in the option of e-bikes and the trip becomes more accessible, opening up the possibility of multi-generational travel and mixed abilities travelling together. The itinerary also includes two rest days, at the Unesco World Heritage Site Alberobello and Pezze di Greco, so clients can take time to explore some of the region's highlights.
Historical backdrop
I arrive at the walled port town of Monopoli after a 50-minute transfer from Brindisi airport. First settled by the Greeks, Monopoli was later controlled by the Byzantines, Normans and German Hohenstaufen before becoming part of the kingdom of Italy in 1860, and many of its buildings date back to the Middle Ages.

I stroll through narrow alleys of whitewashed walls, bottle-green shutters and pot plants, ending at the harbour and 16th-century castle, its honey-coloured walls bathed in afternoon sunshine.

A superb dinner at Komera, a smart, centrally located restaurant with a stone interior and open kitchen, sets the tone for the quality of food that is to come – and is perfect fuel for the cycling ahead (an evening meal is included in Monopoli on the first night, and at the Masseria on the fifth and sixth nights). I feast on lemon flower and shrimp risotto topped with caviar, and moreish tiramisu, before heading to my four-poster bed at Albergo Diffuso, a two-minute walk away.

The following morning brings bright blue skies – and a 22-mile ride to Conversano, a hilltop town with a Romanesque cathedral and one of Puglia's best-preserved Norman castles. The trip is self-guided, but there are no cumbersome – and often confusing – paper maps (though these are available on request).

Instead, I'll be using an app on my phone with GPS and pre-downloaded route notes. The phone fits on to a mounting on the handlebars of my bike, which is a hybrid model suited to smooth tarmac and bumpier stretches.

At first, the turn-by-turn voice navigation seems off-putting, but I quickly get used to it and find that glancing down at my phone is 
far easier than stopping to take out a map. After leaving Monopoli, passing fields of cauliflowers and turnips, we're soon on a quiet cycle path tracing the Adriatic, where fishermen cast their lines from cliffs.

By 11am we have made it to Polignano a Mare, a vibrant fishing village. We park our bikes and sip coffee in the sun at SanBe cafe beside locals chatting at tables shaded by olive trees. The beauty of cycling is that you can hop on and off as you please, and the great thing about doing it self-guided is that there is no pressure of holding up a group.

We take our time, pausing for homemade ice cream at Bella Blu Gelateria, filling up our water bottles at fountains and lingering over a fresh pasta lunch at La Locanda dell'Abbazia, housed inside an abbey. Cycling sets the perfect pace. You move fast enough for your surroundings to be constantly changing, but slowly enough to experience all the sights, smells and sounds.
A living pantry
The "heel of Italy's boot", Puglia is long and thin, so the landscape varies between coastal roads and country tracks. Heading inland is like riding through a living pantry – we cycle past gnarled fig trees, olive groves and almond and cherry orchards.

We smell fennel and wild mint growing on the side of the road – something the barrier of a car window won't allow – and appreciate the ingredients even more when they later appear on our plates.

Food and wine is certainly a highlight of the trip. The cuisine alters from seafood-heavy dishes to menus with a vegetable slant as we leave the coast behind. Not to be missed is the region's famous orecchiette, ear-shaped handmade pasta that is often served with turnip tops (known as "cime di rapa", and similar to baby broccoli).

Puglia is often overlooked as a wine-producing region, yet its sun-soaked soil produces excellent-quality grapes. Primitivo, the same dark-skinned grape as the sophisticated Californian transplant, Zinfandel, produces some excellent reds and rosés – at around €16 for a bottle in a restaurant.

The carefully selected accommodation is wonderfully restorative after a day in the saddle. 
In Alberobello, a town named after a forest (Arboris Belli meaning "beautiful trees") that once covered this area, I stay in a traditional "trullo" house.

These ancient, beehive-shaped buildings that used to provide shelter for farmers have become a symbol of Puglia and we have cycled past dozens of them in the countryside, though most are now abandoned.

But in Alberobello, the dense mass of little limestone houses, though dark, are kitted out with beds and bathrooms, and some even have sofas, patios and mezzanines. Compared with the baroque-style furnishings of Masseria Salamina and elegant rooms at Albergo Diffuso, it's pretty basic. But with another good meal inside me and plenty of cycling under my belt with more to come, it's just what I need.

BOOK IT: Headwater Holidays offers Contrasts of Puglia, a seven-night self-guided cycling holiday from £1,609pp based on two sharing and a 2 October 2019 departure. Price includes seven nights' B&B accommodation, flights, transfers and luggage transfer between hotels.
• headwater.com
Essential information
Flight time from UK: 2 hours 30 minutes (London to Bari).
Best time to go: Spring and autumn (April-June, September-October). Avoid peak summer when it's uncomfortably hot for cycling and the crowds arrive.
Travel time from the airport: 45 minutes from Bari to Monopoli.
Time difference: GMT +1 hour.
Packing essentials: A helmet (not provided by Headwater) and padded cycling shorts.
More ways to explore Italy on two wheels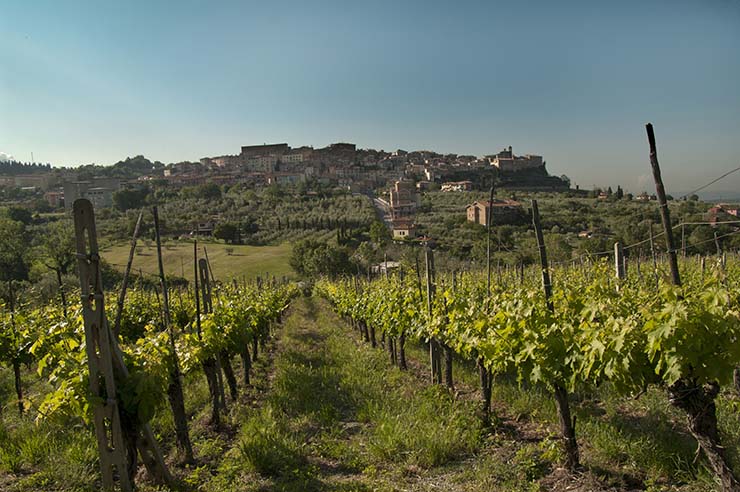 Tuscany: A good option for advanced riders, who can book a seven-day trip around the hill towns, lakes and hot springs of the Chianciano Terme region with G Adventures. Highlights include lunch at a natural oasis and the climb up to Pienza. Six nights' B&B is from £929pp, including two dinners and bike hire. Excludes flights.
• gadventures.co.uk/agents

South Tyrol: Cycling up the Dolomites is best suited to serious climbers but you can just pedal through its valleys with all the scenery – and no steep inclines. Inntravel offers a week of easy, self-guided pedalling through the orchards and vineyards of South Tyrol. Seven nights' B&B is from £1,085pp based on two sharing, including two dinners, travel pass on public transport, cycle hire, luggage transportation, and route notes and maps.
• inntravel.co.uk

Sardinia: The island offers rich rewards for intrepid riders. Explore has an eight-day trip offering moderate exercise amid wild coastlines and crystal-clear waters. Highlights include cycling down the Costa Verde (Green Coast), the islands of Sant'Antioco and Carloforte and sampling the local Carignano wine. Seven nights' B&B is from £1,299pp, including flights, internal transfers, one dinner, bike hire and an Explore Leader/driver.
• explore.co.uk/holidays/cycle-sardinia
Are cycling holidays popular among your clients? Are there any favourite destinations? Email feedback@ttgmedia.com and let us know your thoughts or leave a comment below.