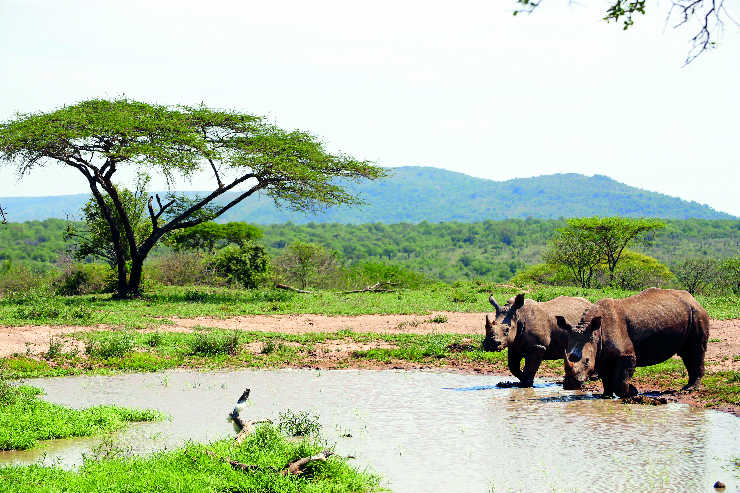 South African Rhinos iStock-916079310.jpg
Right here, look, in the sand," booms Mr T. If he's seen this all before, which I suspect he has, hundreds of times, it's not dampening enthusiasm: his excitement is akin to ours. A 30cm patch of sand is dimpled and wrinkled below our feet.
"A rhino made these marks. probably this morning, rolling this way and that," he says.
I place my hand on the tracks, savouring the pure pleasure of being so close to such a colossal beast. Four of us have been tracking rhinos on foot since sunrise as part of a walking with rhinos experience from andBeyond.
Loaded up with bug spray and the rules of the bush, we hop out of the safety of the safari truck to get in among the critters and thorns, following Mr T's every step. Mr T – aka Mr Thembinkosi – is assistant head tracker at andBeyond Phinda Forest Lodge, and watching him at work is mesmerising. He picks out our path, following where the rhinos have been chomping on grass, rolling in mud, and rubbing ticks off onto tree bark.
After nearly two hours, he pauses. The rhinos have veered off into thick bush, leaving us with a choice – to catch up with another herd in the truck or wade through the thicket in search of our rhino. Although our guide and tracker don't seem that hopeful, we're keen to press on – the chase is an adventure of its own.
It was the right decision. Within 20 minutes Mr T's hand shoots up, indicating for us all to stop. Adrenalin rises. However prepped our guide and Mr T are, the atmosphere changes.
We're ushered forward to crouch behind a shrub to get a better view. Less than 10 metres from where we stand are two huge rhino bulls. They've heard us approach, ears spinning and back legs crunching branches, and now we need to stay silent and still until they relax.
After watching with bated breath for a while, we slowly retreat. The first thing that strikes me is how formidable these creatures are – so strong and silent. The second is how desperate anyone would have to be to kill them for profit.