Making a splash in Butlin's Bognor Regis' new pool
Butlin's Bognor Regis opened a new £40 million pool complex last month. Charlotte Cullinan and her family take the plunge and put it to the test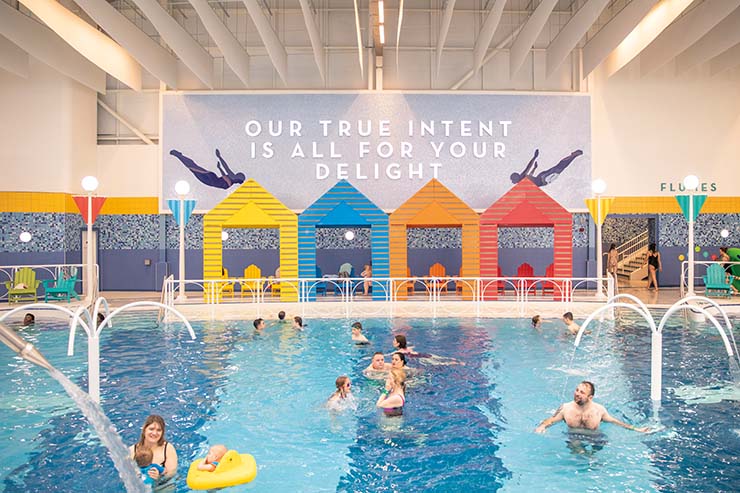 If you have customers heading to Butlin's Bognor Regis, warn them they're likely to return home a bit wrinkly. Last month, the site opened its new swimming pool, which is so splashtastic that guests are likely to spend most of their break immersed in water.

My family are no strangers to the resort, and the old pool was a popular haunt of my sons, five-year-old George and two-year-old Harry. So the bar is set high for Splash – the new £40 million pool, which at 6,300 square metres 
is almost a third larger than its predecessor.

As soon as we enter it's clear this is more of a water park than a traditional pool, with a firm emphasis on fun, and everything is themed around the seaside. Vibrant beach huts surround the seven rides, including the world's first helter skelter water slide, and colourful slides shoot under an arch made from huge sticks of rock. 


We struggle to choose a favourite between the family raft ride, where George and his dad shoot down a slide together in a huge green inflatable ring, and the seaside garden rapids. While Harry is too small for both, George and I love the rapids – essentially a huge heated outdoor water slide. Halfway down we choose between the "shortcut" and the "scenic route" and, opting for the latter, we snake through a colourful garden, laughing along.
Thrills and spills
Inside, we spend most of our time in the seaside playground, which is aimed at under-fives.

While all the water is fairly warm, this shallow section is constantly a toasty 30°C, and Harry and George are entertained by the spraying jets, child-sized boats and gentle slides.

When we hear the Beach Boys' Surfin USA blasting out, it signals the start of the wave machine, and swimmers race over to the yellow-tiled beach area to leap about in the waves to a soundtrack of water-inspired tunes.

The huge changing village is equally impressive and, thanks to a collaboration with parenting website Mumsnet, Butlin's has homed in on the areas that make swimming with kids an endurance test for parents, and deftly smoothed out the stressful elements. The village is divided into three colour-coded zones, based on group size. We head to the area housing the largest cubicles for families of four or more. They're the best equipped I've been in, boasting a long bench, changing table, safety seat to strap youngsters in and even a nappy bin. Underfloor heating stops the post-swim arctic blast and keeps the floor (and socks) relatively dry, and there are clever touches such as child-height showers and swimwear dryers. We even manage a family first – fitting everyone's belongings into a single huge locker. Our only niggle is the solitary hook in each cubicle.

Swimming en masse for my family normally involves someone having a meltdown, but we waft out of Splash laughing and eager for more.

Anticipation for the pool has helped boost the resort's bookings by 9% year-on-year, and Butlin's managing director Jon Hendry-Pickup says the brief was clear. He explains: "We set out to build a pool that has something for everyone: fun, thrills and relaxation. Whatever our guests need, we wanted a pool that allowed them to enjoy it and create an experience that takes our Bognor resort to a whole new level. We are confident we have achieved that, and the unique features such as the helter skelter will, we believe, make ours the best pool in Europe."

Despite the aquatic wonders, a trip to Butlin's is about more than just swimming, so highlight to clients the extensive range of activities, most of which are included in the price of a break. Boredom doesn't stand a chance as we fill our days at the outdoor fairground and watching shows. The Paddington at the Seaside show and Sleeping Beauty panto are new for 2019 at Bognor Regis, and have George and Harry enthralled.
Splash by numbers
1,250 - The number of people it took, plus 250,000 man hours, to build Splash

72 - The number of steps to the top of the flume tower

300 - The amount of cubic litres of water to fill the Lido Pool

2 million - The number of tiles that form the main pool area

12 metres - The height of the tallest slide, while the shortest is 60cm
Activities galore
In a single afternoon we pack in the soft play, a family game of bowling and a round of mini golf, before George tackles a kids' football training session and Harry watches the Teletubbies on stage. As we're visiting during the Easter holidays, there are seasonal activities, with a bonnet-making session, a spring farmyard and an Easter egg hunt. Themed breaks are also available for Halloween and Christmas.

To make parents' holidays easier, recommend one of the dining plans. Our Seaside Apartment has a kitchen, but to save lugging groceries with us, we opt for the Premium Dining Plan and leave the cooking to the buffet-style restaurants, which have excellent options for kids.
As we drive home, past Splash's art deco-inspired building, we're musing on the words of Butlin's boss Hendry-Pickup – is Splash really the best pool in Europe? We decide his team have perfected the family swim experience, but George has the last word, adding: "It's not the best in Europe. It's the best in the world."

Book it: A four-night, term-time break at Butlin's Bognor Regis resort starts at £102pp, based on two adults and two children sharing a Seaside Apartment, when arriving on 17 June 2019.


For more information visit: bourneleisuresales.co.uk
Smarter, better, fairer
Smarter: At peak times, a queue can develop for Splash, but it moves quickly. Recommend visiting on the afternoon of arrival day, which tends to be slightly quieter. Ride queues are speedy, however the family raft ride can involve a slightly longer wait so it's worth heading there first.


Better: Even when Splash is busy, there are rows of empty cubicles and lockers to store your belongings.


Fairer: Accessibility is a key part of Splash's design, with level access at all entry and exit points to the building, to the pool hall from the changing rooms, and from the cafe to the external terrace. While one section of the pool is accessed via steps, there is a portable hoist, and all other pool areas have ramped access into the water. There are also adapted changing rooms, an accessible WC and a wet wheelchair.