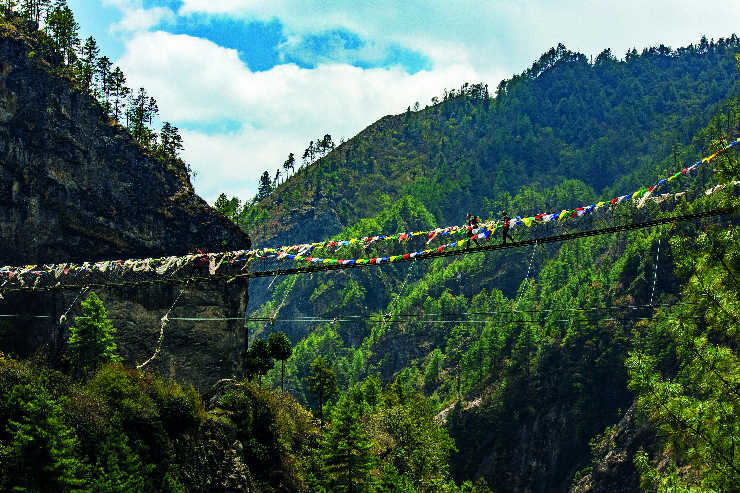 Nepal Phakding Hiking Suspension Bridge - T4A6414 Lg RGB.jpg
Oh, my God!" splutters my guide, Shanker, his face blanching as he examines the readings of a medical device clipped to my index finger.
The oximeter is designed to measure pulse rate and blood oxygen levels and – here at 5,000 metres – the air is so thin that even pulling on your hiking boots might render you breathless. In fact, there's only 50% of the oxygen in the atmosphere here as there is at sea level, and just wriggling into my sleeping bag each night has left me feeling like I've out-sprinted Usain Bolt in the 100 metres. And, right now, I feel terrible.
I'm in a teahouse (one of many basic hotels which provide beds but not fresh bedding, hence the sleeping bag) in Lobuche, one of the last village stops on the trail to Everest Base Camp.
My head is pounding, and I'm feeling dizzy and nauseous. These are all symptoms of acute mountain sickness (AMS), a potentially fatal condition that can affect anyone at extreme altitude – from older, inactive clients right through to the young and super-fit. Over 5,000 metres above sea level, pretty much everyone experiences some mild symptoms of it, from sleeplessness to irritability.
Panicking, I crane my neck to look at the electronic display, anxious about what I might see, but Shanker whips the device from my outstretched digit and curses under his breath. I've really not trained for this adventure, and perhaps I'm about to pay the price.
"What's the matter?" I ask Shanker, my heartbeat thumping fast in my ears.
The tight-lipped, 5ft-tall G Adventures guide looks at me and solemnly shakes his head.
"Battery's flat," he says, and indicates the blank display which, it turns out, has told him nothing at all about my immediate wellbeing.