What's hot in the Med for 2019?
Despite Brexit confusion, Brits are continuing their love affair with the Mediterranean – with more affordable destinations in the region set to benefit next year, says Dave Richardson
The eastern Mediterranean is set to outshine Spain next summer, with both Greece and Turkey tipped to be the best-selling destinations in the peak booking period.

Brexit is casting a shadow over many things – and holidays are no exception, with consumers' fears about what might happen after March 29 having an impact on early bookings.

A likely further drop in the value of the sterling against the euro could hand an advantage to non-euro destinations such as Turkey, Egypt, Croatia and Bulgaria, which already offer better value than destinations including Spain and Portugal.

Price rises in Spain – after a few years when beds were in short supply during peak season – could further strengthen the appeal of better-value destinations.

The hot summer weather in the UK might also affect advance bookings as it did for lates in summer 2018, being blamed by Thomas Cook for its disappointing figures.
Brexit effect
"There might be some concern and reluctance to travel to EU countries during the couple of weeks before and after March 29 because of a risk of delays, in the air and at borders," concedes Classic Collection head of purchasing Gary Boyer.

"However, demand for our mainly European Classic summer 2019 product seems robust, even for the weeks close to March 29. Recent research from Sainsbury's Bank showed that 5.6 million British people had already booked a holiday for summer 2019 and, of those, nearly 50% were to European destinations.

"Turkey had a very favourable 2018, and early bookings would appear to point to the same again for 2019. This might well bring a welcome realignment of prices in the western Med, as for the past few seasons there were too many people chasing too few beds. The resurgence of Turkey, and North Africa to a lesser extent, might redress the balance somewhat," says Boyer.

A survey of 2018 bookings by ForwardKeys and GfK, which predicts future travel patterns by analysing transactions by travel agents, indicates that the big winners this year were Turkey, Tunisia and Egypt – although Tunisia and Egypt still have less than half the seat capacity they had in 2015, before terror attacks blighted their prospects.

It expects Spain and Portugal to receive slightly fewer UK visitors next year, with Greece, Croatia and Bulgaria also set for gains.
Grecian gains
Greece has had several good years despite being a euro destination, and operators expect that to continue.

Ricky Wason, head of product and purchasing for Olympic Holidays, says: "Although Brexit is heavily featured in the media on a daily basis, we are certainly not receiving any queries from customers in relation to this. On the contrary, I would suggest that customers are booking some strong deals now to secure a good price, pre-empting any currency changes that may occur once we exit the EU.

"We are seeing greater demand for all-inclusive holidays in Greece as there are some great deals to be had, with some hotels coming out more competitively priced than some self-catering properties due to early-booking discounts. We are also experiencing demand for four- and five-star hotels within the early booking window."

Olympic introduced four new island-hopping itineraries for 2018 and will add another six for 2019. An example is Sporades Emerald Gems, an itinerary that takes in Skiathos, Skopelos and Alonissos.

Sunvil is also an island-hopping specialist, with Kythira, Aegina and Poros added for 2019.

"We have noted an increase in demand for more complex multi-centre holiday itineraries across Greece, and Sunvil now features 52 islands plus the mainland – the most diverse holiday programme from the UK," says marketing manager Rachel Jelley.

Early booking discounts are being pushed by Greece and Cyprus specialist Planet Holidays. Greek islands added to the programme include Kea, Tinos, Kythnos, Ithaca, Lefkas, Patmos and Paxos, bringing the total to 24.

Commercial director Harry Kyrillou says: "For 2019 there is a lot more flight capacity into Greece and Cyprus, but hoteliers have all increased their rates after the squeeze they felt in previous years.

"Brexit will cause a dent in consumer confidence as the exchange rate is not favourable for UK holidaymakers, and we haven't got to March 29 yet. Our advice to agents is to continue to make the most of early booking discounts."
Early days
Specialist operator Artisan Travel, whose lesser-known destinations include Gozo, Sicily and Croatia, warned that delaying booking could mean paying higher prices.

Managing director Ali McLean says: "Brexit uncertainty seems to be causing people to book later and later, but the good folk in France, Spain, Italy and Scandinavia are not faced with the same issue. Last summer, late availability in the quieter resorts was a real problem because our European neighbours had already put their towels on the Mediterranean's sun loungers."

Ben Stratton, Sovereign's purchasing manager, adds: "Croatia continues to grow in popularity, having featured in quite a few high-profile films and TV programmes. Thanks to its currency, it remains cheaper than many other European destinations for purchases in-resort.

"Corfu has seen a real boost in popularity this year and continues to sell well for 2019. A handful of new five-star hotels opened on the island this year, including new additions from the renowned Domes and Ikos groups."

The growth of luxury hotels has encouraged tour operators better known for other parts of the world to focus on the Mediterranean, including Kuoni, which is targeting extra sales in Spain, Portugal, Turkey and Croatia, but particularly Greece, where 14 hotels are added. The 30 new hotels in the Premium Mediterranean programme bring the total to 150, with Italy having the best choice.

"We are expecting strong growth for 2019 and have added properties throughout Europe, with every one selected for location, style and outstanding service," says Angelo D'avino, Kuoni's product and purchasing manager for the Mediterranean.
Options galore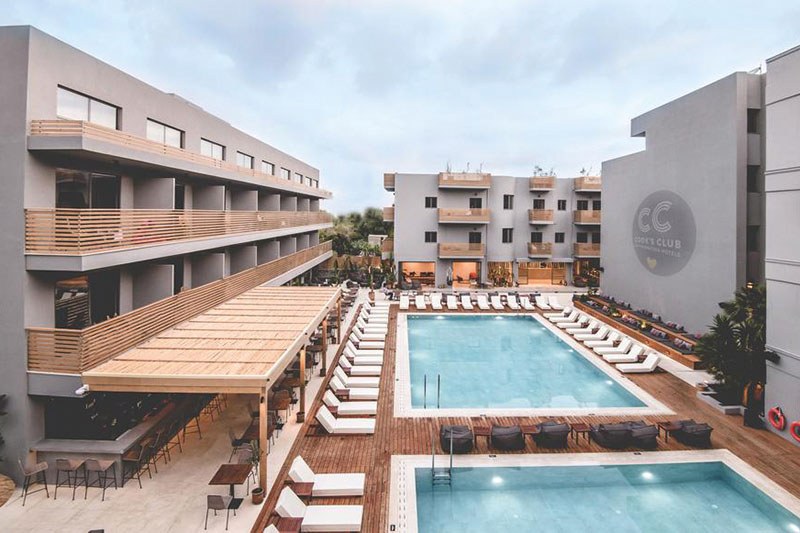 Tui and Thomas Cook are both focusing on expansion by their own hotel brands, with Tui opening two new Family Life resorts in Greece and Turkey, plus a Sensimar adults-only hotel in Majorca.

Thomas Cook will have eight more Casa Cook or Cook's Club hotels for 2019, including two additions in Spain, two in Greece, two in Turkey and one in Italy. The first Cook's Club hotel opened this year in Hersonissos, Crete, a stripped-back, design-led hotel at a lower price than its Casa Cook properties.

Jet2's expansion continues with Chania (Crete), Izmir (Turkey) and Bourgas (Bulgaria) being the new destinations. Ten new routes are added from Birmingham, Manchester, Edinburgh and Glasgow, increasing capacity by 12% to more than 12 million one-way seats.

While Brexit is causing uncertainty, there is little doubt that many will be driven by tightening budgets, come what may.

Abta's Holiday Habits Report 2018 found that value for money is a priority for 60% of package holiday customers, so booking early may well be the key.
Cruise update
MSC Cruises' Bellissima is the latest ship to sail from the UK, due to be christened in Southampton on March 2. This follows introduction of the Seaview in 2018, which sails from Genoa.


Regular guests of P&O Cruises have the last opportunity in 2019 to travel on the Oriana, a fixture in its fleet since 1995, which ceases operations for P&O in August. The Iona joins its fleet in 2020.


Royal Caribbean's Independence of the Seas will continue to be based at Southampton for the 2019 season following its return to the UK in May 2018 after a major refit. It will be sailing to Ibiza in August and September for the first time in four years.


November sees the start of Princess Cruises' free flights sales campaign, which runs for two months to encourage early booking. Sapphire Princess will operate a 14-night Mediterranean Adventurer itinerary from Southampton in August.


Costa is due to introduce a new ship called the Smeralda on Mediterranean itineraries in November 2019, which will be based in Barcelona and "embody Italian style and warmth".


Celebrity's latest ship, Celebrity Edge, moves to the Mediterranean next summer. It will operate an Iberian Peninsula sailing from Southampton.
New products in the Med
The 189-room Casa Cook Hotel near San Antonio, Ibiza, opens next summer with a vegan and a local food-inspired restaurant. Also new is Cook's Club Lambi Kos in Greece, costing £555pp for seven nights half-board in June.
Formerly known as Ferrer Maristany, the Caprice Alcudia Port (below) will open for the 2019 season as a completely refurbished five-star boutique hotel in Alcudia, Majorca. Jet2holidays is offering seven nights with breakfast from £489pp.
Gennadi Grand Resort is being marketed as Rhodes' "hottest new eco-friendly design hotel", being part of the Lindos Hotel Group in the Greek island. Prices start at £223 per night with breakfast.
Elivi Skiathos (below) in Greece is one of Kuoni's new additions. Prices are from £1,449pp half-board for seven nights in June.