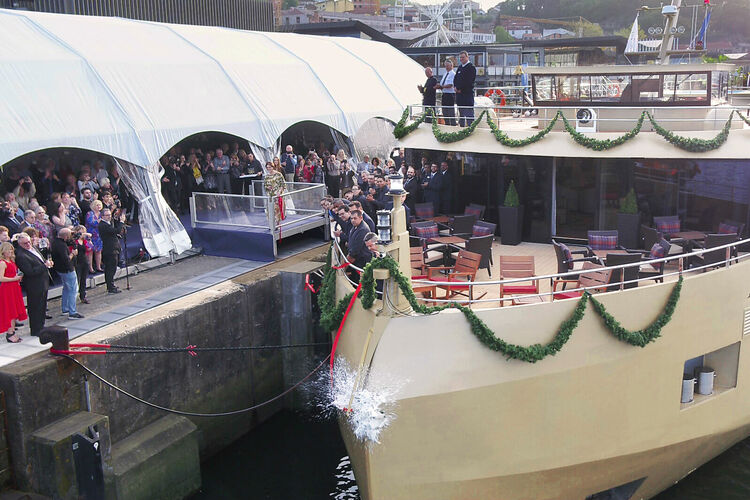 AmaDouro christening AmaWaterways.jpg
The vessel was named during a ceremony in Porto on Friday (12 April).
Rudi Schreiner, AmaWaterways co-founder and president, said the line's demand for the Portuguese river had "exploded" since launching its first ship on the Douro, AmaVida, in 2013.
"Now we have the golden AmaDouro," he said.
Ahead of the christening as a gesture for their godmother Schreiner and Kristin Karst, AmaWaterways co-founder and executive vice-president, had secretly flown Lo Bue-Said's eldest son out to Porto to join her husband and younger son.
Karst, said the line was "always very careful" with whom it chose to become godmother of its ships and told attendees she believed the Advantage chief executive had made "a real difference" to UK travel agents in her role at the consortium.
"Julia, you have become a big part of the Ama family and we know AmaDouro will have a fantastic future with you as its godmother," she added.
Speaking to TTG before the ceremony, Lo Bue-Said said being asked to take the role of godmother of AmaDouro was "a very, very proud moment, that I will never forget".
"When I was asked it really was a moment of disbelief and I wondered if they had asked the right person – after confirming they had – I was really excited and proud. It is right up there with the proudest moments of my travel career for sure," she said.
AmaDouro will be based in Porto and offer seven-night round-trip sailings with a three-night pre-cruise land programme in Lisbon.
It is the first of three new ships that will be added to AmaWaterways' fleet in 2019 with the line's "double-width" Danube vessel, AmaMagna, launching next month.
AmaMora, sister ship to AmaLea and AmaKristina, will also start sailing on the Rhine this year.