Discovering Namibia's newest luxury lodges
Namibia has scenery and wildlife-spotting opportunities in abundance, and now two new luxury lodges are opening up one of its most remote areas, discovers Sarah Gilbert.

Freelance travel journalist
With the wind direction in our favour, we creep stealthily over the rocky ground to within 75 metres of him.
He's hard to spot at first, earth-coloured from dust-bathing and snoozing under a tree he looks like a giant boulder – until his trumpet-shaped ears start to twitch.
Black rhinos make up for their poor eyesight with excellent hearing. A rock shifts, and within seconds he's on his feet, annoyed and staring in our direction. I hold my breath; it's time for fight or flight. Not for me – I've been told not to move – but for Harry the black rhino. Luckily he chooses flight and heads off in the opposite direction at astonishing speed.
It is a memorable end to my time at Hoanib Valley Camp in Kaokoland.
The wild north-west of Namibia is harsh and unforgiving yet stunningly beautiful, bordered by the Kunene river – the watery frontier with Angola – to the north, the isolated Skeleton Coast to the west and the Hoanib river to the south. Its epic landscapes provide refuge for a surprising variety of desert-adapted flora and fauna – elephants, lions and oryx among them – alongside the Himba, one of Africa's last semi-nomadic cultures.
Park life
Namibia is often dubbed "Africa for beginners" thanks to its good infrastructure, well-maintained roads, low crime rate and the fact that English is widely spoken.
It's also southern Africa at its most varied: as much about jaw-dropping scenery, from its wild coastline to boundless desert, as wildlife-spotting – it has one of the largest black rhino populations and is the world leader in cheetah conservation.
The country is ideal for escorted group tours, tailor-made holidays or self-drive – either a saloon car or a 4x4 if you're going off the beaten track – and the sculpted red sand dunes of Sossusvlei are probably its most famous sight, set in the largest conservation area in Africa, the Namib-Naukluft national park.
Other highlights include the vast Etosha national park, one of the best places to see wildlife in southern Africa; Swakopmund, sandwiched between the Namib desert and the Atlantic ocean, known for its adrenaline-inducing activities and desert excursions; the Fish River canyon, second in size only to Arizona's Grand Canyon, offering one of Africa's greatest hiking trails; the Caprivi Strip, bordered by the Okavango and Zambezi Rivers, with a lush, green landscape and an abundance of wildlife, similar to Chobe in Botswana; and the ancient San rock art of Twyfelfontein, a Unesco World Heritage Site.
Luxury openings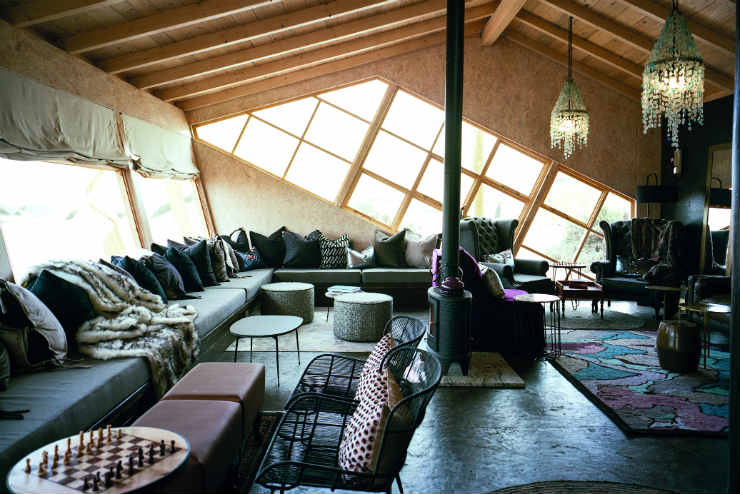 Sara greets us wearing an elaborate goatskin headpiece, or erembe, a piece of lambskin around her waist, a shell around her neck and metal beads wound around her ankles.
Namibia has always been a goodvalue destination, with everything from wild camping and scenic campsites to family-run guesthouses and budget-friendly safari lodges.
Now it's developing its luxury tourism accommodation, giving agents more options.
Recent openings include Omaanda, a partnership between Zannier Hotels and the Namibian Naankuse Foundation to create a 9,000-hectare reserve close to the capital Windhoek. Namibia Exclusive's Sorris Sorris has just nine suites overlooking Damaraland's dramatic desert and mountain scenery, while Ultimate Safari's new semi-permanent, exclusive-use tented camp Sossus Under Canvas, is set in the Neuhof nature reserve in the Greater Sossusvlei-Namib region, offering a unique wilderness experience.
Now two new lodges from Natural Selection are opening up Kaokoland, one of Africa's last great wildernesses. Hoanib Valley Camp is my first stop. Here the six spacious tents mix safari chic with solar power, and are so unobtrusive it's not until I'm almost in the camp that I spot them sitting at the base of a craggy cliff.
It's a joint venture between the local communities and the Giraffe Conservation Foundation, and in the company of experts, guests can record sightings of the Angolan giraffes that stare at us, docile and curious, before loping away.
On a game drive along the Hoanib river we come across a matriarchal herd of elephants feeding on camel thorn. The land may be parched and cracked but the riverbed is a sliver of green running through the buff-coloured landscape, and these hardy, desert-adapted creatures follow its twists and bends searching for underground springs with their inbuilt water diviners.
Ancient way of life
It's also on this drive that I have my first encounter with the Himba, whose scattered settlements consist of a few huts – wooden frames covered with sun-baked mud and dung – set around a central kraal (enclosure) for animals and a sacred fire encircled by stones. Little has changed since the 16th century when they crossed the Angolan border to make Kaokoland their home, and finding good grazing for their all-important cattle and goats is key to their subsistence lifestyle.
Sara greets us wearing an elaborate goatskin headpiece, or erembe, a piece of lambskin around her waist, a shell around her neck and metal beads wound around her ankles. Her elaborately braided hair and her skin – slathered in otjize, a paste made from red ochre, fat and aromatic resin, which serves as both sun protection and moisturiser – glows an intense red.
Back at camp, I stand marvelling at the stillness as the sun's last rays paint the rocks orange, red and purple by turns, before their jagged silhouette turns black and the sky fills with a dazzling array of stars.
Amazing wildlife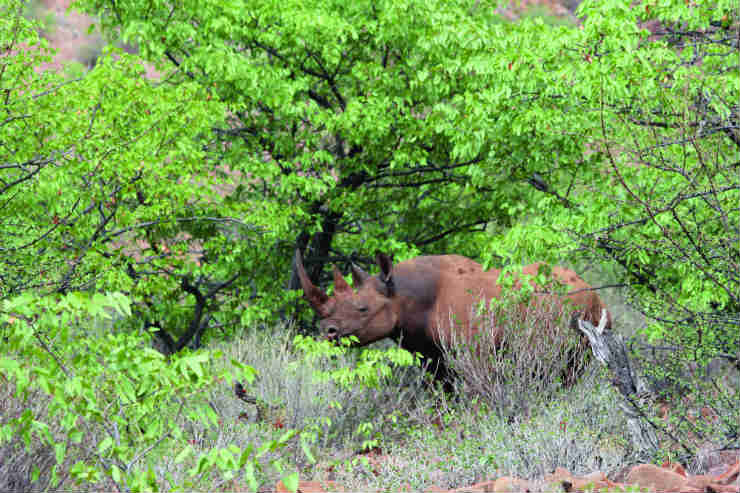 My next stop is the Skeleton Coast, and soon any remnants of vegetation disappear until granite boulders turn into sweeping dunes that mark the eastern edge of the national park. Natural Selection's Shipwreck Lodge is the first to be built on the dunes, taking its distinctive architectural cue from the shipwrecked boats that litter the coastline, with large windows to frame the sea views and a log fire for chilly evenings.
On a sun-filled day, when the Atlantic is deep blue and fringed with frothy white surf, I explore the remains of long-abandoned diamond mines and sculptural tangles of wood and metal, all that's left of boats that took on the ferocious currents and lost. Another morning, an all-enveloping mist rolls in and the water echoes the steel-grey sky.
But as barren as it appears, there is life here. I come face-to-face with an inquisitive black-backed jackal and follow the tracks of a brown hyena to Mowe
Bay 's cacophonous – and smelly – seal colony, while a troop of baboons scrambles effortlessly up the dunes. And then there's the fascinating toktokkie beetle that has developed extra-long legs to keep its body away from the hot sand. Just like the black rhino, it's adapted to this wildly beautiful land of extremes.
Book it: Rainbow Tours can tailor-make a 14-day holiday to Namibia covering all of the highlights from £3,750pp, including two nights at Shipwreck Lodge and two nights at Hoanib Valley Camp, international flights from London, half-board accommodation based on two sharing and car hire.
rainbowtours.co.uk
Need to know
There are currently no direct flights to Namibia from the UK but South African Airways (flysaa.com) and British Airways (ba.com) have daily direct flights from Heathrow to Johannesburg for onward flights to Windhoek in Namibia with South African Airways or Air Namibia (airnamibia.com). The flight time from London to Johannesburg is approximately 11 hours, followed by two hours to Windhoek.
From here it's a charter flight to Sesfontein, two-hours' drive from Hoanib Valley Camp, or to Mowe Bay, one hour from Shipwreck Lodge, or alternatively clients can self-drive to both destinations.