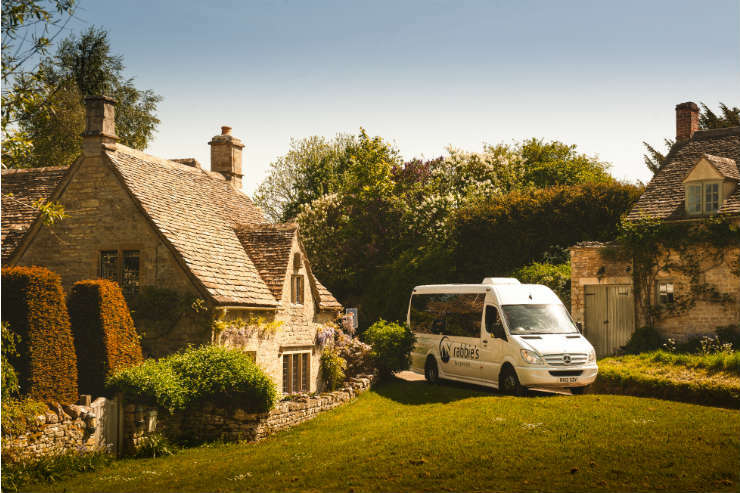 Rabbies tour bus in the Cotswolds
Expansion is the name of the game this year for UK and Ireland escorted tour operator Rabbie's, with agents playing a crucial part in the operator's growing sales and product programme.
The Edinburgh-based independent operator, which celebrated its 25th anniversary in 2018, has already introduced a series of innovations this year with more in the pipeline.
Recent initiatives include new tour departures from Manchester and Aberdeen, as well as Rail & Trail itineraries, which include travel on the UK national rail network from London and Manchester to meet up with tours to the Lake District, Edinburgh and the Scottish Highlands and islands.
Rabbie's director of marketing and sales Heather Reekie tells TTG the company is "enjoying good growth" this year, despite any impact from fast-approaching Brexit.
"We've had impressive growth on last year, with the shoulder seasons in June and September performing very well," she says. "We're growing consistently with 85% to 90% of our clients being international visitors."

Despite having a high number of inbound clients, Rabbie's works closely with UK agents with an emphasis on offering flexible booking options, including an online booking platform and API links.
Touring options
Rabbie's currently operates 70 scheduled tours around the UK and Ireland using minibuses, which cater for a maximum group size of 16 passengers. Tours range from half-day trips to a 17-day itinerary around the Scottish islands.

Some of the most popular destinations include the Isle of Skye, Speyside whisky trails, Edinburgh and the Lake District.
"Our ethos is all about the small group tour – we also have no minimum numbers, so all of our departures are guaranteed, which is really popular with agents," says Reekie.
"We take people off the beaten track and we can go where bigger coaches can't go. This helps us to offer really authentic experiences, and our driver guides are great storytellers. Most of them are local to the area so have great knowledge and experience."

Sustainability is also important to Rabbie's – Reekie says they could hugely increase the number of tours operating to the Isle of Skye, but this would "not be sustainable for Skye".
"We try to promote other areas of the UK and Ireland and we're having some success in our aim of spreading our tours and footprint around the country a bit more," she adds.
This has included the introduction of Wales as a destination a couple of years ago, with a five-day trip from London proving "really popular". Rabbie's has also added a new tour from Manchester to Wales with the first departure due for April 2019.
Private itineraries
As well as scheduled tours, Rabbie's also arranges private bespoke tours for clients, with a dedicated department organising these trips.
"These are tours that can be for any size of group – from a tour for one person with a guide or just an airport transfer," explains Reekie.
"We can organise any tour of any size, and have a special team who can advise agents who have clients interested in a private tour." Rabbie's mix of clients also ranges across nationalities and age groups, with major inbound markets being North America, Australia and Europe, plus "growing interest" from Asia. The operator also offers some tours in Mandarin for Chinese visitors.
"We get quite different mixes of people and ages depending on the tour and content," adds Reekie. "They tend to be slightly younger on the Scottish tours than the London tours. Having a mix of nationalities works well for us."
As for future plans, Rabbie's in-house technology department is working to improve booking channels for agents to make the process "much simpler". Reekie also reveals the operator is looking to launch its first tours outside the UK and Ireland during 2020.
"We've got a plan to expand into Europe in the next few years – we're looking at western Europe from the middle of next year," she says. "It's in the early stages of product development and we plan to go on sale in August."
Book it: A four-day Islay & Whisky Coast tour from Edinburgh including a stop at Loch Lomond is priced from £449pp including twin-room B&B accommodation. rabbies.com