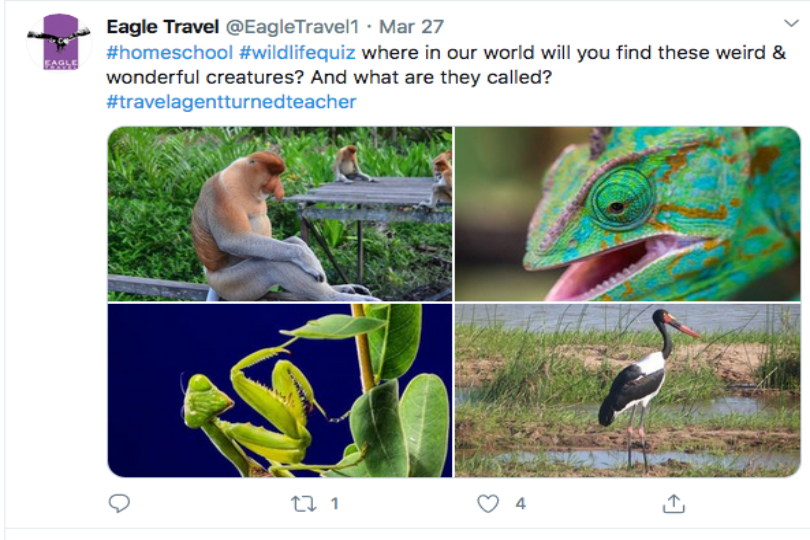 The first quiz saw Eagle ask clients to identify where four exotic animals were from in the world.
With holidays on hold and social spaces closed, many people will be wondering how they can pass the time during the current coronavirus lockdown. Bedford-based agency Eagle Travel has come up with a smart idea for keeping people upbeat and entertained during the crisis. Its social media travel quizzes are designed to help clients with children working from home.
"I want [the quizzes] to be a resource for parents who are sick and tired of looking at maths and English homework," says marketing executive Liz Sullivan, who is spearheading the initiative. "I wanted them to incorporate some general knowledge, art and geography questions. I also felt it was quite important to have an online presence that wasn't just sales-led offers."
The idea came to Sullivan when she was at home spending time with her own children. "It all started when I was looking at weird and wonderful animals with my children online, and I thought we [Eagle Travel] could do something fun with this," she explains.
The first quiz, a collage of pictures of four exotic animals on Twitter that clients were asked to identify and figure out where in the world they were from, was shared to the agency's 853 followers and included the hashtags #homeschool and #wildlifequiz. This was followed by a geography-based test with questions on everything from naming famous landmarks to identifying the longest river in Africa.
"I just used my laptop, Microsoft Publisher, stock images and photos from my travels to create the quizzes," Sullivan says. "We've already been retweeted by one of the local schools, which in a very family-friendly area is great, as parents might now think of visiting Eagle Travel when the lockdown is over. I'm hopeful the quizzes will inspire people to book a holiday with us."