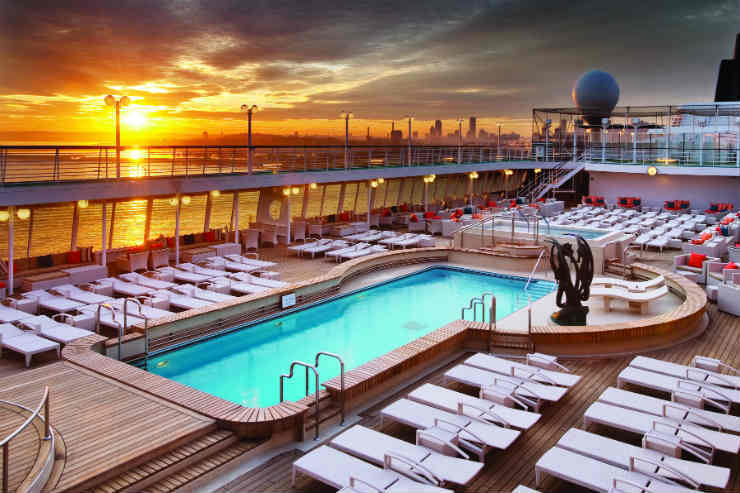 CS_Refurb_PoolDeck_Sunset.jpg
How much is the Ben & Jerry's?" I ask the barman. "I don't know – we bulk buy it," he looks at me quizzically. "No, no, I mean, how much do I pay for it?" I say. "Ah," he smiles. "It's complimentary, madam." He's grinning, and I suspect it's because my face suddenly has the biggest beam on it.
For most passengers, six-star cruising is defined by the staff to passenger ratio; the butlers; the lavish staterooms. For me, it's characterised by the unlimited ice cream. Later, as I laze under the Mediterranean sun by the larger than average swimming pool, one of the waiters (who now recognises me by name – naturally) asks if he can bring me a few more scoops. I think I might just be in paradise.
I am on the 922-passenger Crystal Symphony with my mum, sailing a section of Crystal's 11-night round-trip from Rome. It is my first taste of a six-star ship, and my mum's first taste of cruising. We have only been onboard an hour, but two blue cheese burgers, several glasses of wine and (far too many) Ben & Jerry's scoops later – all of which is inclusive – we're both firmly converted.
We join Symphony in Civitavecchia, which lies just over an hour's drive from the Italian capital. Once boarded and (extremely) well-fed, we spend a happy afternoon exploring the ship, which, despite its small size still feels spacious, with a number of bars, restaurants, shops and sports areas to keep guests occupied. When we return to our room we are greeted by a bottle of champagne on ice, which we consume as we lounge on the balcony of our penthouse verandah. We laze on the large rattan beds and watch the Mediterranean sun sink slowly below the horizon.
The ship feels unique in its decor – its last refurbishment, which only took place four years ago, ensures that Symphony offers luxury with a modern twist. The colours are light and fresh – and its six-star offering is understated, evidenced more by the 100% Egyptian cotton sheets, complimentary champagne and pillow menu, rather than ornate furnishings. But despite its relatively recent refurbishment, the ship is set to undergo another $90 million overhaul next year. "We don't do things by half," hotel director Herbert Jager tells me with a smile.
That first night, we eat in the ship's main dining room. Guests are offered two different time slots chosen prior to the voyage. We opt for the later option – probably a wise move given how much we enjoy at lunch. We are offered five courses for our evening meal, but stick with three to ensure we don't end up being rolled off the ship at the end. The food is delicious – shrimps with garlic to start, followed by roast game hen, and despite my initial insistence that I can't possibly manage anything else, a rich chocolate mousse, complete with white chocolate cream, for dessert.