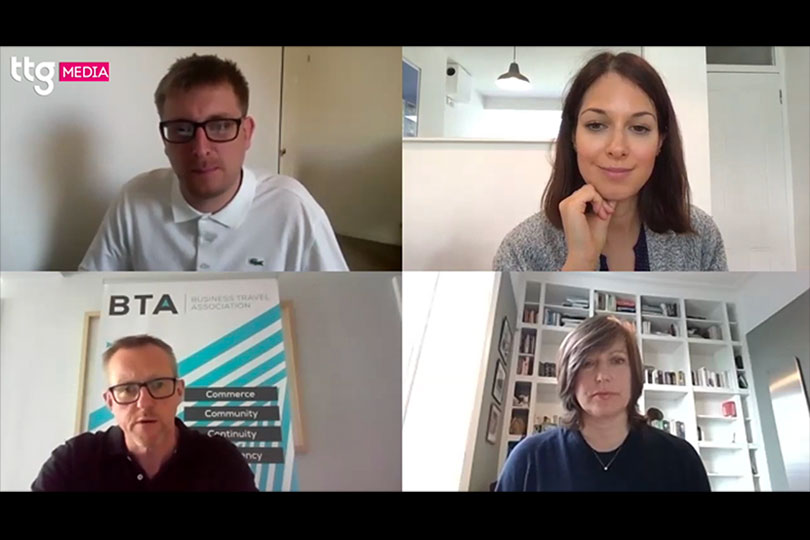 TTG's sixth Agent Matters panel looked at the pandemic's impact on business travel
Clive Wratten, chief executive of the Business Travel Association, Maria Baty, managing director of Altour, and Tom Davis, Click Travel's director of customer support and compliance, joined the debate, which was hosted by TTG acting features editor Abra Dunsby.
TMCs were the first to experience the Covid-19 fall-out and Wratten said 45% of BTA members had between 50% and 70% of staff furloughed, with a further 24% furloughing 71-90% of employees.
Only two members had received the money from their Business Interruption Loan, while another 12 were in process. But others were experiencing delays in banks' responses, he said. Another 35 members had so far not chosen to apply, and the rest did not qualify because their turnover was too high.
"Loans have been pretty hard to get hold of and it's more the exception than the norm that people are seeing money come into the bank," he said.
The BTA is lobbying the government to get a business rate holiday for TMCs, similar to the one available to the retail trade.
"The argument being made is we are travel agents and it therefore should apply. They came back and said, 'we define retail as people with footfall, so if you're not on the high street, sorry'; but I know of one TMC that managed to get it by contacting local government," said Wratten.
Baty said Altour's staff were 70% furloughed. "Corporate travel is always at the sharp end. Bookings started to dwindle once China started [implementing measures against coronavirus], whereas on the leisure side people continued with their holidays."
Davis added: "From a revenue and bookings perspective it's looking, to be honest, quite bleak. We only have 5% of our previous volumes and revenues.
"The 5% is pretty much key workers [travelling domestically] and emergency housing. It's a very big challenge because it's not clear which hotels are open and it's all very manual work.
Key workers aren't just frontline NHS staff; it's people maintaining things like railways and roads. "We've furloughed 75% of our people and kept a core of 60, but we've topped up our employees' pay to 100%."