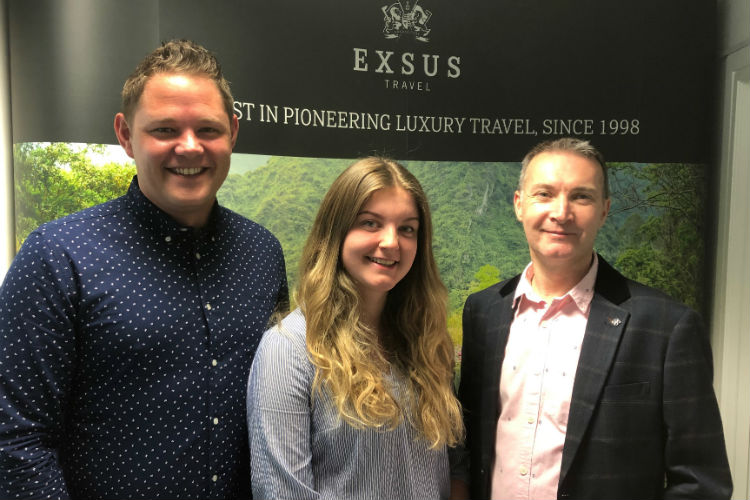 Exsus Travel Tom Cloherty Neil Sutton Wiktoria Wypych.jpg
Tom Cloherty joins Exsus as senior account manager worldwide, while Neil Sutton takes up the role of senior account manager Europe.
The pair will head up a new Exsus office in Norwich where they are currently located, and will be supported by personal assistant and concierge executive Wiktoria Wypych.

Head of trade sales Neil Sealy said the pair brought "extensive experience" in the travel sector and "great agent relationships" to their new roles.

It comes after Exsus returned to the trade last July, joining Aito and Abta and launching its first brochure in more than a decade.

Sealy told TTG this week agent sales had already grown to represent 30% of Exsus's overall revenue, which Exsus intends to celebrate this summer upon the first anniversary of its trade relaunch.

"Tom and Neil are fantastic additions to the team," said Sealy. "They have great relationships with the trade and a very loyal following.

"In July, we'll mark the first year of our return to the trade. We're going to host some of our top supporting agents for dinner. We'll probably hand out a few awards as well – we want to recognise those agents that have been with us since the start of this new journey."

As part of Exsus's "year of the trade", the luxury operator's first fam trip, to Iceland, got under way on Monday (April 1) featuring eight agents, led by Sealy and another member of the Exsus team.

"We've lined up a great itinerary lined up with whale watching, horse riding and glacier hikes," he said. "Iceland is one of our most popular destinations and we're doing lots of business to Iceland with the trade."

Sealy said Exsus was looking at another fam later this summer and one early next year too.
"We're working very hard on them as we really value fams and understand their worth to agents," he said.

Cloherty started his career as a high street travel agent and now boasts nearly 20 years' experience in luxury travel.
"I see Exsus Travel as a natural progression for me. It allows me to indulge our partners and clients in my true passion and expertise," he said.
Sutton, meanwhile, got his travel bug studying in Spain.
"I am keen to showcase my love for off-the-beaten-track adventures and unique experiences, which fits perfectly with Exsus Travel's bespoke holidays," he added.