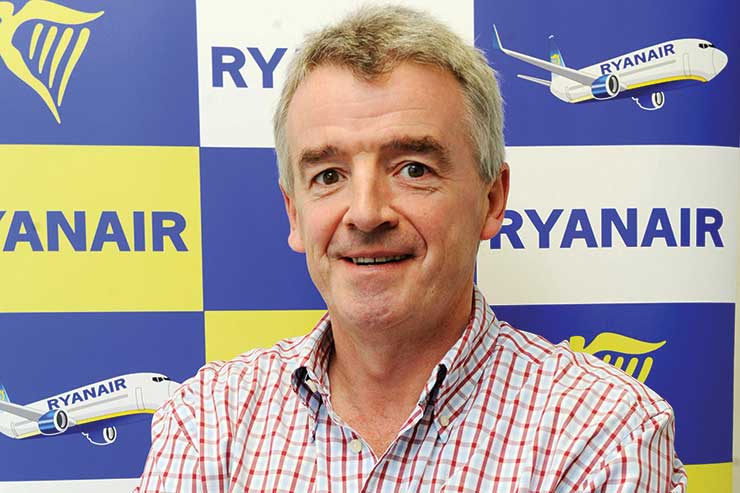 Michael OLeary, director and CEO of Ryanair
Boss Michael O'Leary told Ryanair employees in a video message the airline currently had as many as 900 too many pilots and cabin crew on its books.

O'Leary said the redundancies would be announced by the end of August, although Ryanair is yet to formally quantify just how many roles would be cut.

It comes after Ryanair admitted delays delivering its new fleet of Boeing 737 Max would force the airline to make cuts, pull routes and potentially scale back or even close some bases altogether.

While citing the Max situation for the impending job cuts, O'Leary also blamed a fall in profits, spiralling fuel costs and ongoing uncertainty over Brexit.

This week Ryanair posted first-quarter profits down 21% from €309 million during Q1 2018 to €243 million, attributing the decline in profits to lower average fares, which are down 6% to €36, and higher fuel and staff costs.

The budget carrier said the UK had proved one of its two weakest markets during Q1, with ongoing concerns over Brexit "weighing negatively on consumer confidence and spending".

In the video, seen by the BBC, O'Leary says after a challenging summer, the airline was now facing "a very difficult winter".

"I'm sorry to advise you this means we need to cut our aircraft numbers and our staffing, not just for summer 2020 but also in winter 2019," said O'Leary.
"This will result in some base cuts, some base closures, and I'm very sorry to say, some job losses this winter for pilots and cabin crew, at the end of our summer schedule in September and October, and also some immediately after Christmas."