A low-season adventure to West Iceland
On a pre-pandemic adventure through West Iceland, Jennifer Morris discovers a mystical land dotted with lava fields and glaciers
I float on my back in the warm water of the canyon bath, staring up at the white mountains and trying unsuccessfully to simultaneously retain the sensations of warmth and cold in my brain. The water may be naturally hot, but it's January in West Iceland and my non-submerged parts are tingling.

After a blissful hour bobbing around in seclusion – and at one point accepting a dare from my husband Jamie to make a snow angel wearing just my bikini and rubber boots – we make the mad dash to the warmth of the changing cabins, pull on our winter gear and crampons and hike back through the firs.

I come to learn via a second icy trip – this time to the public Gudlaug natural pool in Akranes – that swimming outdoors during even the coldest months is not unusual to Icelanders. In fact at Gudlaug, running down to the beach and submerging yourself once in the Greenland Sea before sprinting back to the warm bath is positively encouraged.

Jamie and I enjoyed our visit to West Iceland oblivious to the havoc Covid-19 would soon bring to the world, but coincidentally it was a trip perfectly suited to social distancing and time spent outdoors – something woven into the Icelandic way of life. I was amused to learn Icelanders often put their babies outdoors to nap, believing in the power of fresh air.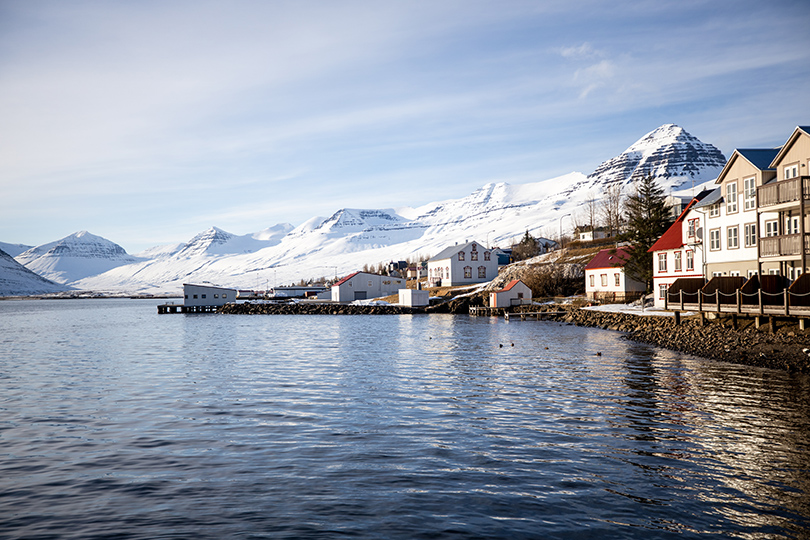 Rising popularity
Taking our trip off-season – the lava-filled terrain glistening in a magical blanket of snow – we would often go for hours without seeing another soul, West Iceland being less touristic than the south-west region. Yet we'd arrive at a restaurant and be immediately bathed in warm hospitality.

Iceland is a place of such extremes. Come summer, it can see 24 hours of sunlight, yet in mid-winter it's light for only a few hours. People hunker down and get on with it though, reading books and exchanging tales. I was bewitched by stories of elves and snatches of prose from the sagas of Iceland, set in the Viking age.

Rob Longstaff, Iceland sales specialist at Regent Holidays, says the tour operator anticipates Iceland returning as one of its strongest countries once travel restrictions ease.

"We have seen enquiries for the whole of Iceland increase over the past few months – people are really drawn to its nature and wide-open spaces," he says.

West Iceland is perfect for adventure lovers. And while we opt for a self-drive in a 4x4 for our trip, there are also plenty of options for small-group or private escorted touring holidays that allow clients to sit back and take in the region's glaciers, hot springs, volcanoes, mountains, lava fields and spectacular rock formations, while avoiding driving themselves in often hairy winter conditions.
Land of fire and ice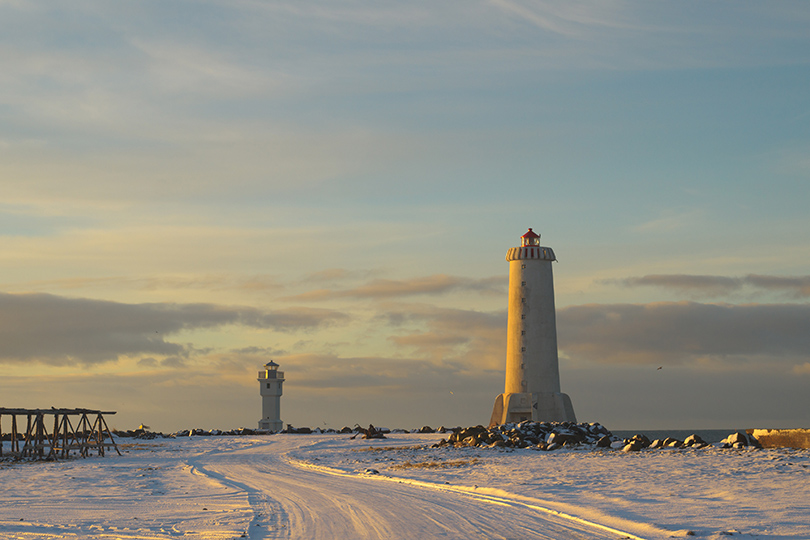 Essential information
Getting there: Flights to Iceland take about three hours, with non-stop options including Icelandair, British Airways and easyJet.
Best time to visit: To see the northern lights in Iceland, suggest clients visit during the equinoxes – September and March. For a low-season experience, suggest visiting between November and March.
Coronavirus restrictions: Due to Covid-19 restrictions, currently all non-essential travel by British citizens from the UK to Iceland is not permitted, unless you are resident in Iceland or fall under their exempt category of traveller. For more information and travel updates, go to visiticeland.com.
Most of our trip centres around the staggeringly beautiful Snaefellsnes Peninsula, starting at the Budir black church. Standing amid chunks of lava on the edge of the roaring Greenland Sea, with snow-capped mountains all around, I immediately understand the country's reputation as a land of fire and ice. Here we have our first taste of Iceland's incredible gastronomy too, stopping for a warming lunch of celeriac and tarragon soup at the adjacent, quirky Hotel Budir.

We then drive north towards Stykkisholmur, stopping en route for a guided tour of the vast Vatnshellir lava cave, and then to Kirkjufell Mountain – apparently the "most-photographed in Iceland". We pop into folk artist Liston's open workshop and gallery and buy some curiosities, too.

That night we eat some of the best fish of our lives at the twinkly Sjavarpakkhusid restaurant in the harbour, whose walls bear photographs of locals fishing through the years. I eat Atlantic char, and Jamie tells me the meal is an "emotional experience" it is so delicious.

The next morning (after a hairy encounter with a sudden hailstorm at Helgafell Mountain), we head to the Bjarnarhofn Shark Museum and bistro, arriving to the pungent smell of curing shark meat, which thankfully subsides by the time we are presented with shark fin soup and a puffin main. I thought these taste sensations were remarkable, but I didn't know what was in store for me next door at the museum.

After learning about the history of the Greenland shark, I take a piece of the flesh on a cocktail stick, popping it in my mouth and chasing it with a shot of Brennivin "black death" schnapps. A fan of neither schnapps nor fermented shark going into the experience, I remain a fan of neither upon leaving it. It was an enlightening visit, however, and it should be noted Bjarnarhofn only serves and sells shark caught accidentally in fishing nets.
Light show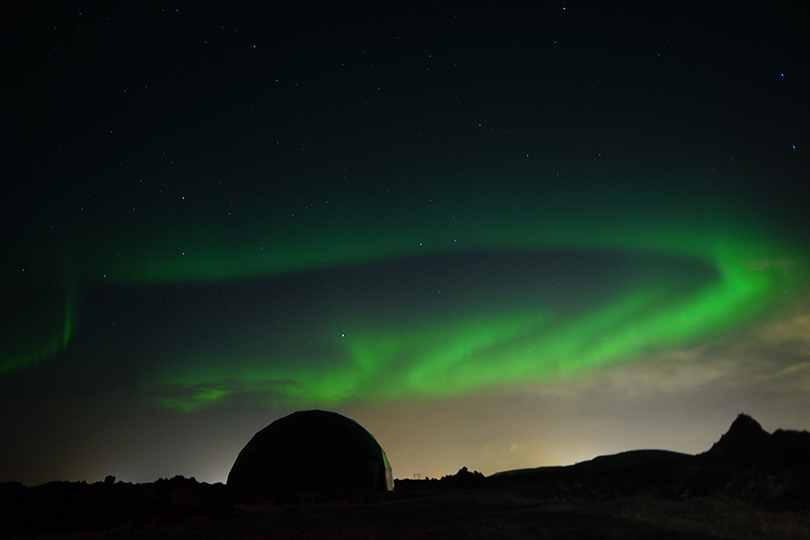 En route to the eco-luxury resort Hotel Husafell in the highlands, we stop at Sturlureykir Horse Farm for a ride and the most delicious rye bread baked in the hotspring, smeared in butter. After a spot of fine dining at Husafell that night, the next day sees us visit the resort's new Canyon Baths, before a walk around the vividly blue Hraunfossar lava waterfalls.

Later that afternoon (via a quick educational visit to the Agricultural Museum of Iceland) we head to the Settlement Centre in Borgarnes, devoted to recreating Iceland's earliest days through interactive exhibitions. After another faultless meal at the adjoining restaurant we get our heads down at the B59 Hotel and prepare for our final full day.

It begins with an invigorating dip in the above-mentioned Gudlaug natural pool, before lunch at the vegan Cafe Kaja, sipping from china tea cups. After this it is just a short drive to the Akranes lighthouses. We ascend the steps of the newer of the two, taking in a local art exhibition and are encouraged to sing, to hear our voices morph as we rise. After a visit to the refurbished Akranes Folk Museum, it is time for a scenic drive back to Reykjavik, where Jamie and I part ways.

Keen to catch a glimpse of the northern lights while in Iceland, I arrange to visit the new Aurora Basecamp just outside the capital. I am led into the giant Star Wars-esque pod, where hot chocolate and thick blankets await, to learn the science behind the famous phenomenon – including a simulation.

Before I know it there are yells from outside and we head out to see a fine green thread appearing in the sky, which only increases with intensity and provides the perfect backdrop for my final night in such a mystical land.

Book it: Regent Holidays' five-night West Iceland Fly-Drive tour (some differences to the above) is available from £820pp based on two sharing and including all accommodation, breakfast, car hire and flights. regent-holidays.co.uk
West Iceland: Smarter, Better, Fairer
Smarter: West Iceland is only one hour's drive from Keflavik International airport, making it very accessible, with car hire available from companies including Avis.
Better: Promote Iceland is overhauling its specialist programme to help agents boost their knowledge and sell Iceland more effectively.
Fairer: Iceland is keen to disperse tourists more evenly throughout the year to protect its environment, so suggesting clients visit during the winter months will help with this effort.