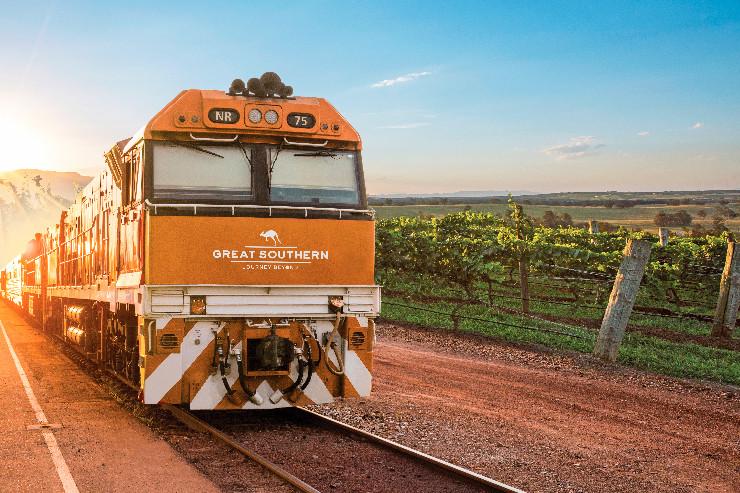 Great Southern in Hunter Valley
Can you tell us about the new Great Southern route?
Great Southern Rail's popular train The Ghan doesn't operate during the months of December and January due to the weather conditions in the Northern Territory. It's simply too hot. So, during those months, the train will be rebranded to Great Southern and operate between Adelaide and Brisbane – weekly in each direction. If it's successful, more dates may be added.
Do you think this additional rail option in Australia will be popular?
Rail travel is pretty hot right now – especially for our demographic. Australia overall has had a tough time lately but rail travel has increased by 10%. It's a romantic way to watch the world go by, and Brits have a real connection with train travel.
How is Travel 2 packaging the new route?
We are promoting a combination of the Indian Pacific train and the new Great Southern in our 14-day South Coast Odyssey package, which will be the only itinerary on which you can experience the Indian Pacific and Great Southern together. It's an exclusive option given that it's only available for two months of the year. Our itinerary includes three nights in Perth, which can now be reached via a direct Qantas flight. Here, clients will do a Rottnest Island sightseeing tour before boarding the Indian Pacific for two days/two nights. They'll stop in Adelaide and do a Barossa Valley wine-tasting tour and then travel on the Great Southern for two days/three nights before finishing up in Brisbane where they have three days at their leisure.
What are the highlights of the Great Southern section?
There are three stops: the Grampian Mountains in Victoria, where clients can either go on a guided hike or, for the less active, a sightseeing tour; a Canberra city tour; and the Coffs Harbour area, where they'll enjoy lunch on the beach. There's a real mix of scenery on the trip, as they start in South Australia where it's really arid and then travel through the Blue Mountains, the Hunter Valley vineyards and see the coastal scenery too.
What client types do you expect it to appeal to?
The 50-plus market is the real bread and butter but Great Southern Rail is trying to appeal to a younger demographic – those in their 40s with children from 10 years up. And they are succeeding too – it's quite an interactive journey. It's not going to appeal to first-timers, as it's not a typical destination to start out in, but it's attractive to those who have been to Australia before and want to see the country in a unique way.
Why does this part of Australia lend itself well to train travel?
It's a huge country and driving distances are long. It's all about letting the train take the strain. You don't have to worry about directions or where to stop. Not everyone will do this route on a self-drive either, as many will just travel along the coast, but you get to see some of the interior on this trip too.
What do agents need to know about booking it?
The Platinum Service is really popular – it sells out almost as soon as it goes on sale. Great Southern is adding new Platinum carriages, which should be available for the itinerary launch this year. December 2019 and January 2020 are on sale now and December 2020 and January 2021 will go on sale this April. The Great Southern Rail website (greatsouthernrail.com.au) has an agent portal for more information, and we promote the itinerary in our brochures.
Book it: The 14-day South Coast Odyssey package starts from £3,779pp including Gold Service travel on the Indian Pacific and Great Southern trains, flights, transfers, nine-nights' four-star accommodation, city tours and off-train excursions. Based on a November 26, 2019 departure. travel2.com