Awesome Uluru: Exploring one of the world's greatest landmarks
From ancient art to walks with a local, a trip through Australia's Red Centre with Intrepid Travel leaves Chloe Cann in awe
It's only while gazing at the huge burnt-orange mass looming in the distance that I begin to understand why it is sacred. Dawn is just beginning to break, and in its rosy glow no other form is visible on the horizon. No matter in which direction you look, beyond the stark sandstone monolith ahead, the surrounding landscape is as flat as Naomi Campbell's stomach.

Australia's most iconic landform, Uluru (also known as Ayers Rock) is otherworldly in a way I had not expected. It wows not just with its beauty, which changes with each shift in light and angle of viewing, but with its unusual geology and central place within the culture of the Anangu – the original owners of this land.

Situated in the Northern Territory, the Red Centre counts desert, mountain ranges and gorges among its attractions – many of which our group of 18 explores on Intrepid Travel's three-day Uluru Adventure.

The ancient monolith is the major drawcard, and the tour allows guests plenty of time to soak it up: from a walk around Uluru's perimeter come sunrise to watching the last waves of light wash over its contours at sunset, a glass of sparkling wine in hand and a smorgasbord of emu pate and smoked kangaroo sausage to snack on.

Known in geological terms as an "inselberg", meaning "island mountain", the formation of Uluru began 550 million years ago. Rainwater gradually eroded a nearby mountain range, depositing sand on the surrounding plain in large fan shapes that became miles thick. Fifty million years later, the area became an inland sea. And, as mud and more sand fell to the sea floor, the weight compacted the existing deposits into a swathe of solid rock. It wasn't until 100 million years later, following the sea's disappearance, that the Uluru we recognise today came to be. A huge shift in the earth's tectonic plates caused the fan-shaped mass of sandstone that was once horizontal to be thrust vertically by 90 degrees.
Monolith of many colours
But what the eye can see is only half the story. "Uluru is like an iceberg," explains our guide and driver, Claire, as we approach its vast silhouette. "It continues underground for about three to four miles."

Even its colouring, she notes, is deceptive – the sandstone's natural grey hue is lost because of its high iron content, meaning the surface basically rusts.

It's hard to appreciate the scale of Uluru until you stand beside it. Rising 348 metres out of the desert, it is taller than the Eiffel Tower. And, with a circumference measuring almost six miles, it takes about three-and-a-half hours to walk around its base. On Intrepid's Uluru Adventure, your clients should expect to set their alarms for pre-5am each day, but the pay-off is being able to complete the base walk without the stifling heat Australia's Outback is known for. The early start also means your clients will share the sacred site with few other souls, and witness the full extent of Uluru's most celebrated quality – its many colours.

At first light, I watch as a dark, almost crimson red engulfs the rock, before transforming into a juicy shade of orange, then a camel hue, and finally a light mocha colour. From afar, Uluru looks smooth and featureless, however surprising details emerge on closer inspection: pockmarked cheeks, rippled surfaces, hidden caves and waterholes. I become so transfixed by its many nooks and chameleon-like colours that I frequently walk straight into other group members.
Ancestral art and heritage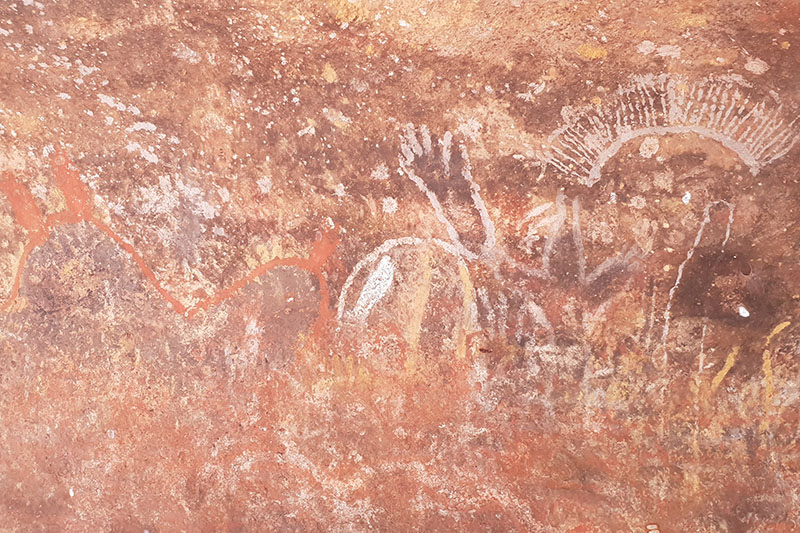 While signs dot the Base Walk, offering some insight into native plants and marking sites that are ceremonial, it's no match for first-hand knowledge.

All of Intrepid's Australia trips have a First Nations element and, on the Uluru Adventure, that entails a nature walk with a local Anangu guide. With the help of a translator, our guide Sarah talks to us in local dialect Pitjantjatjara about the nomadic hunting and gathering lifestyles of her ancestors, traditional art forms, as well as "tjukurpa", or creation stories of the land.

She shows us ancient rock art in rock shelters, makes drawings in the sand that detail the symbols passed down through generations of Anangu people, and speaks of the "mai" (bush foods) that have sustained indigenous communities living in the Outback for the past 30,000 years.

Uluru might be considered by some as the jewel in the crown of the Red Centre, though our group of Brits, Germans, French, Dutch, Americans and even an Australian, is privy to plenty of other Outback gems.

We explore the lesser-known terracotta domes of Kata Tjuta, meaning "many heads" in Pitjantjatjara – a group of 36 rock formations that lies 31 miles away from Uluru, but still within the same national park. And we venture to Kings Canyon, a 186-mile drive from Uluru-Kata Tjuta national park, where craggy, weathered sandstone towers into the sky.

Many of the landscapes I've seen while traversing Central Australia are well etched into my memory. But there is a lasting feeling beyond merely archived impressions.

From October next year, climbing Uluru will be banned – more than 20 years after Intrepid Group first began advising tourgoers against it, not just as a matter of safety, but out of respect to the Anangu people and their culture. There is a special aura about the place that cannot 
be duplicated.

And, like any other natural wonder, it is worthy of our protection. As a sign at Uluru's base advises, this is a place to connect with, not conquer.

Book it: Intrepid Travel's three-day Uluru Adventure Original tour starts from £480pp and includes local transport, accommodation, meals and activities. Intrepid can add international flights to Alice Springs for a total package price of £1,638pp.
Touring in Uluru
Putting your clients on an escorted tour in these parts is an absolute no-brainer. Even the most well-organised independent traveller will struggle to put together a trip that can compete – financially or logistically – with what experienced tour operators can offer. Because of the area's isolation (Alice Springs is situated more than 930 miles south of the state capital Darwin, and a similar distance from South Australia's capital, Adelaide), services and amenities are in shorter supply, pushing up the price of petrol, car hire and accommodation. Logistics and finances aside, safety also comes into the equation. The long drives, potential for car breakdowns and extremes in temperature (up to 45°C in summer and down to -4°C in winter) can prove a dangerous cocktail.

While the distances may not seem great on a map, the town of Alice Springs – the main departure point for most escorted tours of Uluru – is still 290 miles away from the site (almost a six-hour drive). Such is the isolation that shortly after leaving Alice Springs there is little phone signal for the duration of our trip. Australia's Red Centre is the only place in the world where Intrepid offers two different trip styles simultaneously – the Basix is at a lower price point and has fewer inclusions (guests must bring their own sleeping bag, pillow and towel), while the Original trip has campsites comprising twin-share permanent tents equipped with proper beds, linen, pillows, towels and a fan. Both trips follow exactly the same itinerary.