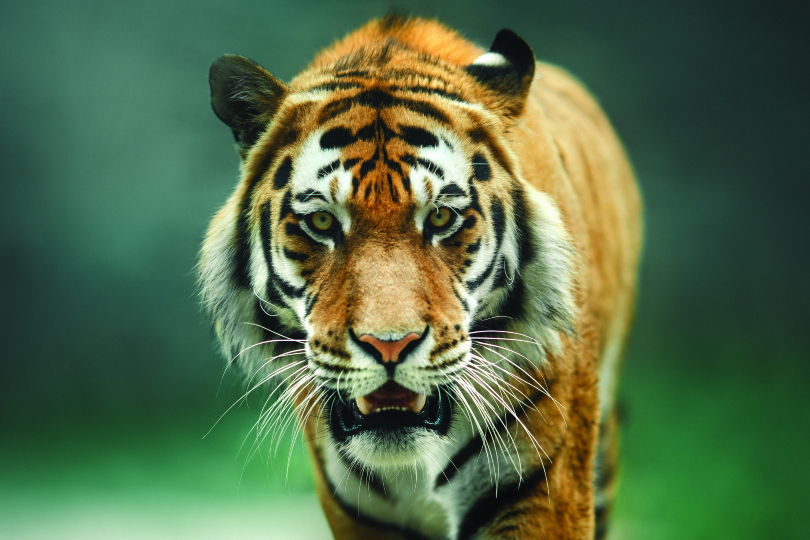 India is home to around 80% of the world's tigers
"Head on – M1!" Our driver is shouting from our vehicle to another. The eyes of the other motorist and his five passengers widen in unison.
"M1?" asks the other driver, a middle-aged Indian man dressed all in emerald green.
"Head on!" our young driver bellows back as the other jeep tears off in the direction we've just come from. It's too late though. They've missed all the action.
We're not in a motorway collision in the UK – we're in the wilds of Kanha Tiger Reserve in the Indian state of Madhya Pradesh. M1 is the code for a large juvenile tiger, which many local guides suspect will be the next dominant male.
We've just had an incredible encounter, with him nonchalantly pacing straight towards us ("head on," in safari lingo). But he's eluded the rest of the guides for days.
I'd been out on safari in Bandhavgarh national park and Kanha Tiger Reserve for around 20 hours before I spotted M1 waiting in the wings. He has certainly kept us waiting.
I've risen at 5am each safari day on this trip across India's national parks and tiger reserves, searching again after lunch.
Drivers and guides are attuned to the alarm calls of grey long-tailed langur monkeys, and to the birds and spotted deer that send warnings of approaching predators. We frequently stop, listen, watch and wait. But – until this evening – we've not seen what they've clearly noticed: the awesome, apex predator that has surely seen us.