Bowled over on a cricket-themed cruise with CMV
A themed cruise can attract a new demographic as Sara Macefield discovers on a cricket-themed sailing with Cruise and Maritime Voyages
The cabaret lounge is full of cricket chatter and amid the throng of devotees, I see some of them proudly brandishing autographed souvenir cricket bats. One keen fan is on the dance floor bowling a screwed-up paper ball to former England captain Mike Gatting.

It all seems rather surreal, but there's no doubting the enthusiasm of those present, clearly drawn by the theme of this Cricketing Legends cruise with Cruise & Maritime Voyages.

Around 400 of the 1,400 passengers are onboard Columbus specifically to meet their cricketing heroes, who also include former England fast bowler Devon Malcolm, ex-England and Essex swing bowler John Lever, a clutch of other former Essex players including Ray East and Graham Napier, plus Kent and Sussex legend Alan Wells.

With many of CMV's clientele drawn from the Essex area, there's a strong feeling of loyalty among those fans who remember their heroes' match appearances and faithfully attend the cricket-themed activities held on most days of this five-night European Cities sailing.
Insider stories
The scene is set on day one with a fascinating film compilation about the 
players that traces their cricketing careers: the highlights as well as a few controversial low points.

These are covered in more detail when Gatting and Malcolm take to the stage in front of a packed theatre to talk about their eventful years spent in the "gentleman's game".

Everyone listens with rapt attention to the stories behind the headlines as TV presenter Nick Hancock, who hosted TV comedy quiz They Think It's All Over in the 1990s and early 2000s, deftly engages them with quips and questions.

I'm not a cricket fan, but I'm totally absorbed as I listen to their insights on the occasionally notorious incidents that I remember making headlines in the 1980s and 1990s.

Take the infamous picture that emblazoned front pages around the world of Gatting in a furious finger-prodding stand-off with Pakistani cricket umpire Shakoor Rana when they squared up to each other in 1987.

The furore that followed has led it to be described as one of the lowest and most controversial moments in the game's history, and one which Gatting refers to as the "Pakistan adventure" as he gives his version of events aboard Columbus.

Highlighting the provocation and misunderstandings that led up to this infamous clash, he says quite simply: "I lost it."

Admitting that it was "not a particularly great moment in time", he hopes the episode may have hastened the advent of neutral umpires, which he feels has taken the "angst out of the game".

The former captain recalls another tour to India in 1984-85 when the England team's arrival coincided with the assassination of Indira Gandhi, followed by the murder of the UK's deputy high commissioner and the Bhopal disaster – even though on a personal level, Gatting scored his first Test century.

It's fascinating stuff and is followed by a second in-conversation-style session with the other ex-players in which they give their views on the modern game, commenting wryly how after-match beers and rum and Cokes have now been replaced by protein shakes.

The final event of the evening is a Question of Cricket, a fun quiz, which Hancock chairs in his trademark irreverent style.

One of his questions is asking which cricketers spent the previous evening in Taverner's Pub merrily belting out We Are the Champions on the karaoke machine – an episode that causes much amusement.

But it also shows how the former players, who are travelling with their partners, mix with passengers and enjoy themselves around the ship.

"It's been really enjoyable and we've been able to have down time 
as a group," said Gatting.

"Other passengers have been really nice and not too intrusive."
Activities for all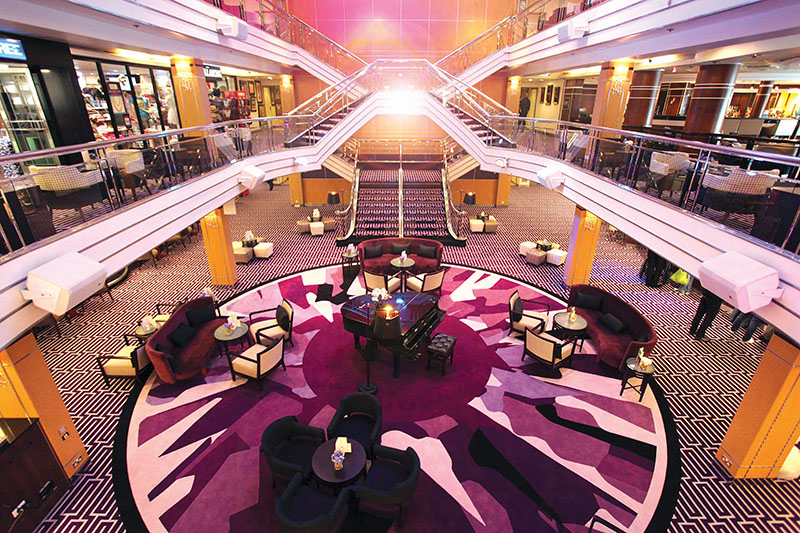 Cricket fan or not, there's no shortage of diversions on this cruise, particularly on the sea day, which has a full programme of events. These range from bridge seminars and craft classes to lectures and ballroom dancing, though I decide to hone my juggling skills at a circus workshop before joining the morning quiz. Spending the day onboard Columbus is no hardship.

The decor is a little dated in some areas, but the elegant purple and chrome atrium and light and airy Connexions Lounge are standout features. I'm impressed by the main Waterfront Restaurant, which I feel is one of the most stylish areas of the ship, where I enjoy memorable five-course dinners.

My least-favourite haunt is the buffet Plantation Bistro, where insufficient seating often leads to overcrowding, making it quite difficult to find a table. However, The Grill steakhouse, one of two speciality dining spots, is an appealing, cosy venue where I enjoy delicious surf and turf for a supplement of £24.90pp.

The cuisine at Indian speciality Fusion, costing £14.90pp and located just off the buffet restaurant, is similarly impressive, although a little improvement in the general ambience wouldn't go amiss. But one of CMV's biggest strengths is its value for money and charming crew.

I spend many evenings in the lively Taverner's Pub, where cocktails cost less than £5 and beers are from £2.80, and peruse the menu in the ship's spa where massages start at just £38. With three port calls, there's also a good choice of shore diversions for guests, though the short half-day stop in Amsterdam limits my sightseeing ambitions.

Our late stay in Hamburg, however, enables me to join an excellent €28 walking tour of the city's celebrated Reeperbahn district, where The Beatles and other famous wannabes started out in the early 1960s before hitting the big time.

Our engaging guide Stefanie Hempel, a singer-songwriter and passionate Beatles fan, brings the tour alive with her absorbing anecdotes – some gleaned from former friends and acquaintances of the Fab Four – and at most stops bursts into a Beatles song while strumming her ukulele.

The medieval city of Antwerp ends our final day on a high with its beautiful architecture that surprisingly includes Europe's first skyscraper, dating from the 1930s and rising up 97 metres and now used as a bank.

But you can't visit Belgium without sampling its beer, and while I'm not keen on the stuff myself, I enjoy the fun and interactive tour of the De Koninck brewery (costing €12) that is something of an institution in these parts, having been in business since 1833. Beer and cricket are natural bedfellows, and having started this cruise fairly indifferent to both, I come away with a new admiration for the pair of them.

Book it: CMV has a six-night Cricketing Legends cruise to Norway, departing on November 3, 2019. The round-trip sailing from Tilbury includes calls at Oslo and Stavanger and costs from £414pp.
60 seconds with... Nick Hancock
Comedian, actor and presenter – most notably of the comedy sports quiz They Think It's All Over


What are the challenges involved in organising a cricket cruise?
We are restricted by time, plus where and when we go. On this sailing, because there was only one sea day, it was a heavy cricket day. I want to get proper in-depth cricket conversations for all those people who have come specifically for the cricket.

Is it hard to get the balance right?
Everyone knows we are only going to have four days, and we get three or four shows so we can cover different topics and give people different sorts of experiences. The guys [ex-cricket pros] are generous with their time in the meet and greets and stay to chat and do autographs, but it's not meet, greet and have a proper conversation. I want to have a lot of fun because many people have come with family and partners who might not be cricket fans.

Has the experience whetted your appetite for cruising?
This is my third cricket cruise and I'd never done a cruise before that. It's opened the door a little bit for me, as it's not something I had ever thought about before.