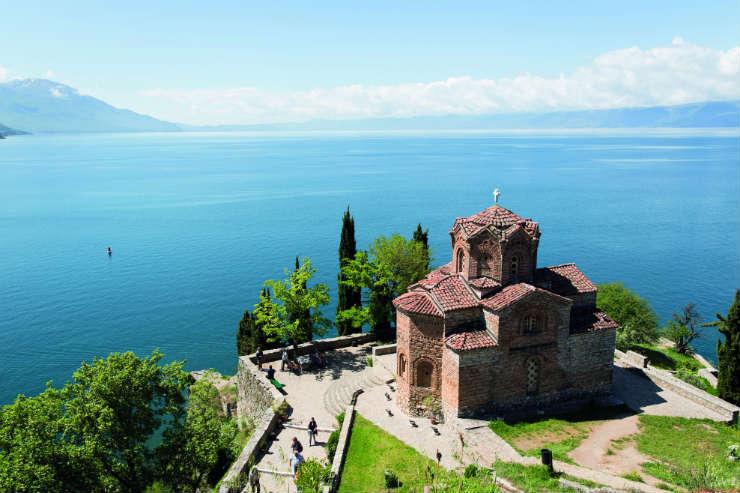 Ohrids Church of Saint John
As we pile out of our minivan into the morning sunshine, a cluster of intrigued, appreciative faces greet us. Tourists aren't the norm here, and this group are clearly happy to see us.
A tanned man in a dusty baseball cap gestures towards a wooden table filled with jars of walnut filled honey, wheels of hard cheese and plastic bottles filled with viscous, Ribena-coloured fruit juice, which he cheerfully pours out for us to sample.
It's a scenic spot for a makeshift market stall, more than 1,500 metres above sea level in Kosovo's Sharr Mountains national park, where the cool air is oregano scented and the sun-bleached peaks and valleys are dotted with pine trees.
The views from this mountainside resort could be mistaken for Greece or Cyprus, yet Kosovo doesn't benefit from anywhere near the same number of tourists – many remain deterred by the country's bloody, conflict-filled past.
It's not just Kosovo that suffers. The neighbouring Balkan countries of Albania and Macedonia also get a bad rap, conjuring up images of wars, dictators and ethnic violence.
Yet the Balkans is moving on, and has greatly improved infrastructure in recent years to welcome tourists.
The region also lays claim to a fascinating history – albeit fraught and complex – and it's one that's unravelled for us by our knowledgeable guide on Intrepid's Western Balkans tour.
Intrepid's product manager for Europe, Steph Millington, further explains the Western Balkans' appeal:
"Europe's hotspots including Italy and Spain are continuing to experience a capacity crunch but this trip allows travellers to see some beautiful cities in Europe which are less heavily visited. Our 2018 departures run from May to September so it's a great chance to avoid the crowds this summer."
Travelling by minivan and with a maximum of 12 per group, the tour allows us to get around easily and inconspicuously, without any embarrassing umbrella-wielding antics from guides.
The Balkans is a compact region and our tour ticks off an impressive six countries – Bulgaria, Kosovo, Macedonia, Montenegro, Albania and Croatia – in 12 days, combining classic highlights with lesser-known glories.
The Balkans also offers excellent value compared to the Mediterranean, making for an ideal European break now the pound is being squeezed. On average, clients can expect to pay around £12 for a three-course meal.