Embarking on a sailing adventure with Golden Horizon
Tradewind Voyages' Golden Horizon offers a truly unique sailing experience, as Will Payne discovers for himself after spending time onboard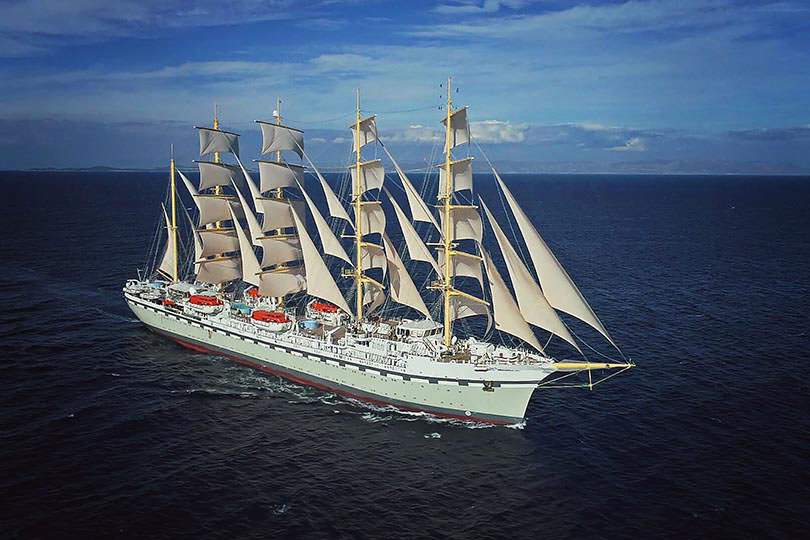 As soon as I see the five masts of Tradewind Voyage's Golden Horizon peering over the top of Portland harbour in Dorset, the ship's departure point, I know I'm about to embark on a once-in-a-lifetime adventure.
It further dawns on me I am part of a unique sailing experience when the staysails are lowered during the opening night of my two-night trip to Dover, travelling with other UK travel agents and press on the ship's inaugural voyage.
As the sails are deployed to a musical piece composed exclusively for the occasion, the buzz among the trade is something to be behold. Not only are we on a remarkable vessel that sets itself apart from traditional cruise liners, but in the words of fellow passenger Daryl Hamlett, managing director of Newbury agency TravelAbout, "cruising is back".
As I gaze upon the fully deployed sails billowing in the wind, it's as if my fellow guests and I are embarking on a journey of discovery to lands unknown, heightened by the traditional aesthetic of the ship's interior. Pictures of old sailing ships line every wall inside the vessel, reinforcing the sense of a historic voyage.
HANDS-ON EXPERIENCE
Originally designed by Polish naval architect Zygmunt Choren, Golden Horizon is thought to be the largest sailing ship ever built. The 160-metre-long, 272-passenger vessel is based on France II, a French five-mast windjammer built in 1911. Its defining feature is, of course, its towering masts, but the liner also features a classical design throughout, with every rail, wall, chair and table clad in polished wood, and a reception hall emblazoned with historic trinkets and pictures.
Meanwhile, modern amenities onboard include a gym, spa, library, boutique, snow room and sauna, plus a selection of pools and bars.
The dive pool, located on the upper reardeck, gives clients the opportunity to experience scuba diving alongside trained professionals. It also makes the function room a truly unique area, as the tank descends into the rear of the hall creating what can only be described as a human aquarium.
Adventurous guests can try their hand at sailing by helping the crew to deploy the masts. They can also take on paddle boarding, diving and canoeing from the stern of the vessel, among other watersports activities. For a more relaxing experience, the onboard library and boutique are available for literature and retail therapy, while the spa and sauna allow for a spot of physical and mental recuperation.
CRUISE CUISINE
The cabins range from single occupancy rooms with en-suite facilities to deluxe front-end suites.
My cabin is a deluxe suite, which comes with a private balcony, double bed, en-suite bathroom and small lounge area. I was particularly impressed by the amount of storage on offer. My luggage for a two-night voyage fits in just one of the four wardrobes, and there is ample drawer and cupboard space available.
In terms of dining, the gourmet experience presented by Canadian-born executive chef Derek Allan is unrivalled. On my first night I opt for the antipasti to start, followed by a beef wellington and a blueberry and almond
crumble for desert. Not only is the food impeccable but so is the service.
Staff couldn't be more accommodating and are willing and available to cater for any special dietary requirements.
Watching the sun kiss the waves that lap against the hull of the ship from the numerous portholes in the dining room while I eat tops off a truly unforgettable dining experience.
YOUNG AT HEART
TravelAbout's Hamlett tells me she intends to sell Golden Horizon to a younger demographic with an interest in shore-side adventure. "I think there is a real market here for the 25-35 age group who are interested in touring holidays, she says. "The bars are great, and it feels like you're going on an adventure while onboard."
Alan McGrory, chief executive of Tradewind Voyages, says the ship offers an authentic small-ship experience. "This ship is perfect for sailing to the smaller ports, [fitting] in with the local aesthetic without ruining the local landscape. We want to make sure we embrace the culture of the ports [we visit]."
PERFECT COMBINATION
Golden Horizon is the perfect ship for those wanting to experience something different.
Whether they're looking for a relaxing journey across the Mediterranean or a Caribbean adventure, the steel-hulled, barque-rigged tall ship caters for adventurous clients who can combine an array of activities with a relaxing sailing experience.
With such a striking ship and unique offering, a trip onboard Golden Horizon is certainly one to remember. As ship captain Mariusz Szalek perfectly puts it: "With Golden Horizon, it is not about where you go, the ship is the destination."
Book it: An eight-night trip around Venice and Croatia's Adriatic islands starts from £1,649pp including all onboard meals, selected wine and beer, nine port visits, Wi-Fi, fitness classes and use of the watersports and marina facilities. Departs 30 September 2021. tradewind.tripsmiths.com
ESSENTIAL INFORMATION
Wi-Fi: As with most ships, the Wi-Fi is a little temperamental but the staff were on hand almost instantly to rectify any connection issues I ran into.

Drinks and dining: Guests have a range of options for eating and drinking – the main restaurant is open for breakfast, lunch and dinner, while the Golden Horizon Grill is an alternative option on the upper deck.
Accessibility: Golden Horizon doesn't have any lifts – so clients will have to be comfortable climbing steep flights of stairs throughout the ship.
GOLDEN HORIZON
Smarter: The best time to be onboard is during the summer season. Being able to enjoy the dive pool and marina sets the vessel apart, making it a great option for a Mediterranean summer escape.
Better: Tradewind's business development manager Rachel Healy confirmed the line is looking into providing training portals and extra resources to help agents sell Golden Horizon, so keep an eye out for these.
Fairer: You'd be hard-pressed to find a ship as eco-friendly as Golden Horizon – it has the capability to run purely on wind power, saving tonnes of fuel. Chief executive Alan McGrory told TTG the line is also planning to reduce its plastic usage onboard.