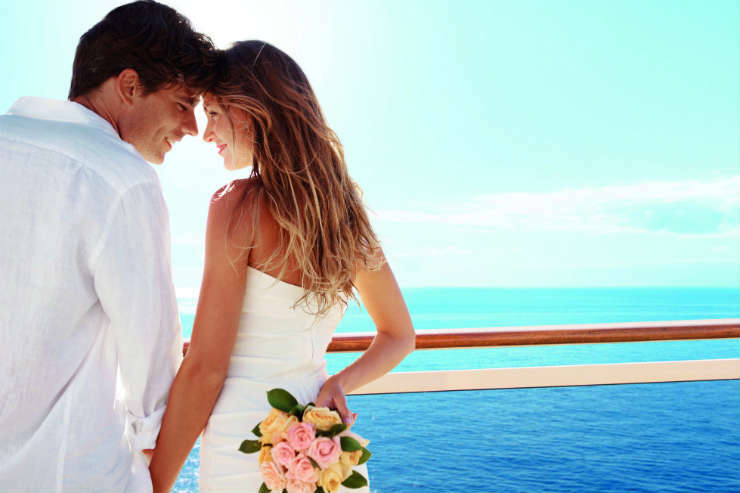 Couple getting married on a cruise ship
Tranquil beachside locations and lush tropical wedding bookings gardens are what clients often dream of when planning a wedding abroad, but a cruise can provide a perfect venue, with all of their wedding party and guests in one place plus a stunning ocean backdrop.
It's something Galway-based Fahy Travel has cottoned on to. Manager Caroline O'Toole and consultant Fiona Flaherty have invested time and energy into growing the agency's cruise business and have booked a wedding with MSC Cruises every year for the past four years. (The MSC ceremonies are symbolic, rather than actual legal weddings.)
One, due to take place this May, has an impressive 190-person guest list, which O'Toole explains is an entire village.
"We get people coming into the agency telling us they want to book the wedding cruise – and that the whole village has been invited."

Given the size of the wedding party, O'Toole is planning to attend the big day herself so she can be around to help out personally and ensure everything runs smoothly.
Show business
Having identified an area of such strong booking potential, O'Toole made the decision to develop a standalone brand, Weddings at Sea, that she will take out across Ireland and promote at wedding shows.
"I've had the idea in my head since I made my first cruise wedding booking. Then the market grew so fast and we opened a cruise lounge in the agency to specialise in the sector in December. Finally we will be ready to launch the brand in early May," she enthuses.
A smart logo and dedicated website will be used to market the brand to potential customers, and O'Toole has booked Ireland's top two wedding shows to push it out to a targeted audience.
"It will be a really bespoke service with clients able to make an appointment to come to see me in our cruise lounge. People want the safety and reassurance of sitting and talking to someone. It's almost like going to a hotel and talking about your wedding package options, except with me it's a cruise."
And O'Toole is quick to point out the value of booking a cruise wedding, which will be an important selling point.
"You can get a basic cruise wedding package for about €3,000, whereas a land-based wedding will typically set you back somewhere between €20,000 to €30,000."
She explains another good selling point is that if a couple has a land- based wedding, guests are forever pestering with questions about where to stay, where to eat and what to do, whereas on a cruise this is all sorted.
O'Toole has set her sights on even bigger horizons too, with other brands including Anniversaries at Sea and Birthdays at Sea and even Hen parties at Sea, for which she is using the catchy strapline "Let's set sail before the veil".
The hen parties, in particular, will be a marketing tool in their own right, with O'Toole planning to market the three and four-night cruise packages when they come out in September and October so brides-to-be can plan a taster cruise to see if they'd like to go back onboard for their big day.
Hop onboard
Here are four options for clients keen to wed at sea along with key selling points. Note that package prices are in addition to the cruise fare: