Family-friendly Galapagos cruising
Up-close wildlife encounters and active excursions make the Galapagos Islands an unforgettable family holiday, as Sara Macefield discovers onboard Celebrity Xpedition
As a turtle paddles gracefully into view just a metre or so in front of me, I stop spellbound, relishing every second of this captivating underwater encounter.

It's the first of many magical moments on a Galapagos Islands voyage with Celebrity Cruises, but it is abruptly shattered when another snorkeller barges past, obliterating my view and forcing me to duck, flailing flippers missing my face by millimetres.

Cursing into my snorkel at their rudeness, my annoyance grows when I realise the culprit is none other than my 15-year-old daughter, Holly.

She looks mystified as I forcefully tap her on the shoulder and angrily gesticulate through her facemask.

Such was her excitement at spotting the turtle, in true teenager fashion she was completely oblivious to anyone else around as she raced in for a closer look.

Her twin sister, Dani, is no better. She vanishes as soon as we jump into the water from the Zodiac boat, completely disregarding my instructions to stick together and leaving me wondering where on earth she's gone.

When she later appears, her face lights up with joy as she recounts an unforgettable solo encounter with a playful sea lion where the two of them spent many minutes ducking and diving through the water.

Not surprisingly, she's unrepentant at disappearing off, brushing away our concerns by claiming we'd been too slow and couldn't expect her to wait for us.

Thankfully, both my daughters are confident (perhaps too confident) swimmers. Knowing this, and that we are all monitored by the Zodiac crews, is a reassuring thought on the deep-water snorkelling trips that are such a highlight of this seven-night sailing on Celebrity Xpedition.
Animal magic
A Galapagos adventure has long been top of the girls' wish lists – and mine too – but the long flight to Quito in Ecuador and onward journey to the islands, along with the time difference and resultant jet lag makes it no easy option.

I'd wondered if the physicality of early starts, hilltop hikes, boat excursions and snorkelling trips might prompt a few over-tired teenage tantrums.

However, the thrill of exploring this natural wonderland outweighs any negatives, though I'm relieved the girls are old enough and strong enough to keep up as every day brings another island to explore and amazing natural experiences.

I'm also pleased to see other youngsters onboard, including a Surrey family with two sons similar in age to the girls so, not surprisingly, my husband, Geoff, and I soon find ourselves ditched.

The age scale is greater than I anticipated, ranging from 7 to 86, including 15 under 16s and a fair sprinkling of youngish couples. While most guests hail from North America, Brits make up the second-largest grouping with 15 of us.

We're soon following in the footsteps of legendary naturalist Charles Darwin when, on the first morning, we step onshore in Puerto Egas on the isle of Santiago, where he landed in 1835.

I wonder if he was as excited as we are at spotting a clutch of lethargic sea lions slumbering on the sands, completely unruffled by our presence. One of them shuffles into the shallows and, as if to celebrate our arrival, promptly gives an exuberant aquatic display, arcing out of the waves in a series of leaps that leaves us all transfixed.

We literally have to drag Holly and Dani away as our guide leads us inland, where we watch two-week-old sea lion pups suckling from their mothers, curious Galapagos finches and American mockingbirds hopping around our feet, prehistoric-looking marine iguanas and thousands of striking scarlet crabs scuttling over black volcanic rocks.
Natural wonders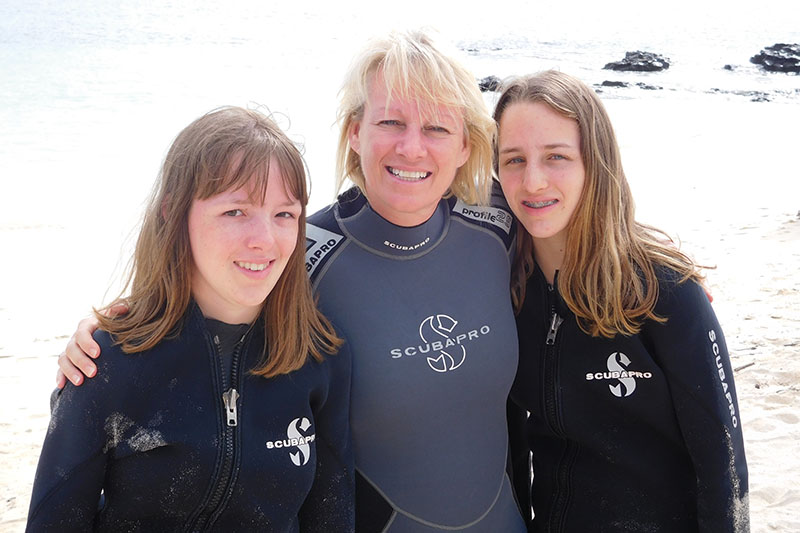 On another morning, we struggle out of bed in the pitch black of 5am to be rewarded with views of the erupting Sierra Negra volcano on Isabela Island. In scenes reminiscent of Dante's Inferno, we watch in awe as this cauldron of geothermal turmoil shoots jets of molten lava into the air along with billowing plumes of sulphur curling upwards into heavy clouds hanging overhead.

A few hours later, we're floating through mangroves, spotting manta rays, blue-footed boobies and waddles of curious Galapagos penguins that plop off rocky outcrops to swim over to our boat and dive underneath.

The islands' rugged landscapes and stunning viewpoints are a draw in themselves, particularly on our final day when we travel into the lush highlands of Santa Cruz to visit the giant tortoise breeding centre, located by the Charles Darwin Research Station.

About 40,000 of these hulking creatures still roam wild here and we soon glimpse them grazing in surrounding fields or ambling along country tracks, oblivious to the cars and trucks forced to drive around them.

Arriving at larger islands such as Santa Cruz and San Cristobal, which have sizeable populations of 20,000 and 8,000 respectively, also introduces tourist shops, which we can't resist, and the girls spend their dollars on silver charms of turtles and sea lions.

But for us, it's the sea that holds the key to the most incredible experiences, where we spot skulking reef sharks and revel in thrilling encounters with penguins that zip past us and fun-loving sea lions diving around in play.

As a family trip, the Galapagos wins hands down as the best, most memorable experience we've ever had. It doesn't just beat expectations – it smashes them.

Book it: An 11-night package comprising the one-week Galapagos Inner Loop cruise, two nights in Quito pre-cruise and one night post-cruise costs from £4,993pp including all flights, drinks, Wi-Fi, excursions and gratuities. It departs on March 24, 2019
Celebrity Xpedition
Carrying just 100 passengers, Celebrity Xpedition may be one of the larger ships sailing around the Galapagos Islands, but it is still tiny by cruise ship standards with a homely house party ambience. Most of the action revolves around the main Discovery Lounge, which doubles as an evening entertainment venue, briefing area for trips and meeting place before going onshore. We often gather here for pre-dinner drinks to chat to people we've met on excursions, while the adjacent outside deck is an ideal relaxation spot and venue for alfresco lunches. The added benefit is spotting any passing marine-life, which on one day is a 100-strong school of dolphins, carving through the waves and jumping out of the water in an amazing spectacle. Meals are served in Darwin's Restaurant, with buffet breakfast followed by themed lunch buffets, while we enjoy tasty dinners of dishes including salmon ceviche, Galapagos lobster and Cajun-spiced snapper. The Beagle Grill doubles as a reservation-only night-time spot, but we prefer Darwin's, though the weekly sunset barbecue on deck is a real highlight with an impressive spread of dishes. Cabins are more about comfort and convenience than luxury, but are a decent size with good storage space. We're hardly in them anyway as days are taken up with tours, which are incredibly well organised, with the procedure of kitting everyone out with wetsuits, getting them into Zodiacs and escorting the tours an impressive smooth-running operation. The sociable Ecuadorian crew are another big plus, who match friendliness with efficiency and, after a few days, even remember which drinks I like. With gratuities, drinks, tours and snorkelling trips included, we don't need to budget for much else, while a lovely additional touch is a memory stick of pictures taken by the guides during the week and given to everyone on the final evening. In September, Celebrity Xpedition was revamped with new soft furnishings, upgraded Wi-Fi and improved lighting. Further work is scheduled next spring when suites and staterooms will be upgraded. This paves the way for Celebrity's new luxury 100-passenger expedition ship Celebrity Flora, which claims to be the first purpose-built vessel for the Galapagos Islands. It is due to launch next May, boasting new dining options, an open-air stargazing platform, stylish decor and anchorless technology that enables it to maintain position without damaging the sea-bed.
Galapagos selling tips
1 As the Galapagos Islands sit on the equator, about 600 miles off the coast of Ecuador, there is no off-season. July to November is dry season with strong winds and the sea is cooler due to the Humboldt Current, while December to June is the hotter rainy season.
2 Every month brings different natural milestones. For instance, January is when green turtles lay their eggs, August is baby sea lion season, and November is good for whale shark sightings.

3 Bookings are normally made at least a year in advance, though it is worth checking for late availability.

4 Most Galapagos trips are via Ecuador's capital Quito and, as there are no direct flights from the UK, routes tend to be via Madrid, Amsterdam's Schiphol or a US hub. There are also flights from the Ecuadorian coastal port, Guayaquil.

5 As it is such a long journey (12 hours from Schiphol to Quito, then 2 hours from Quito to Baltra in the Galapagos), add hotel stays in Quito on the outward and inbound legs. It's a fascinating city to explore and this breaks up the journey, giving travellers time to acclimatise.

6 To get the best out of the trip, passengers need to be reasonably fit and active. Advise them to take waterproof shoes for wet beach landings, hiking shoes and/or trainers, plus conventional and underwater cameras to capture those many magical moments.

7 Advise them not to take any fresh fruit or seeds; all luggage is screened by Galapagos National Park Authority staff for anything that could threaten the ecosystem.