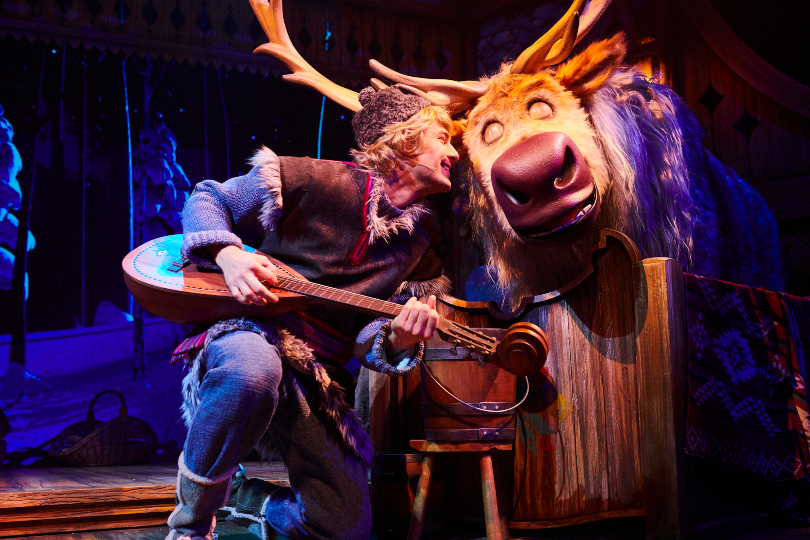 Disneyland's performers are renowned for their ability to stay in character!
I'm sure the grinning reindeer is looking at me. I'm completely transfixed by its animatronic gaze until a flurry of movement offstage breaks the spell. What I can only describe as a woodsman-cum-John-Paul-Gaultier model dressed in traditional Scandanavian garb bounds into view. The next half-hour is filled with dancing princesses, talking snowmen and light shows.

No, this isn't some psychedelic dream, I'm in Disneyland Paris for a sneak peek at the Frozen Celebration – a series of new shows and attractions dedicated to the film franchise running until May this year.
The fantastical experience begins from the moment I arrive blinking from the Eurostar service to Disneyland Paris Marne-la-Vallee and straight into a snow shower – a fitting introduction to a weekend of Frozen fun.
Arriving by train from London St Pancras International is surprisingly hassle-free too, from the fast-moving customs queue to the station's proximity to the theme park – it only takes five minutes to reach the on-site Disneyland Hotel. It's an ideal option for families on a short break who are eager to drop off their belongings and get stuck into the action, without the hassle of arranging transfers to nearby resorts.
I make my way into the park to check out my first attraction, the 5:30pm daily parade. All the classic Disney characters are there; Buzz Lightyear, Mary Poppins and the Genie. It takes a lot to stop me hurling myself over the railings to bear hug Baloo, as childhood memories come flooding back.