Family fun at Disneyland Paris' new Frozen Celebration
From singing snowmen to dancing reindeer, Disneyland Paris' new Frozen Celebration promises feel-good family fun.
I'm sure the grinning reindeer is looking at me. I'm completely transfixed by its animatronic gaze until a flurry of movement offstage breaks the spell. What I can only describe as a woodsman-cum-John-Paul-Gaultier model dressed in traditional Scandanavian garb bounds into view. The next half-hour is filled with dancing princesses, talking snowmen and light shows.

No, this isn't some psychedelic dream, I'm in Disneyland Paris for a sneak peek at the Frozen Celebration – a series of new shows and attractions dedicated to the film franchise running until May this year.
The fantastical experience begins from the moment I arrive blinking from the Eurostar service to Disneyland Paris Marne-la-Vallee and straight into a snow shower – a fitting introduction to a weekend of Frozen fun.
Arriving by train from London St Pancras International is surprisingly hassle-free too, from the fast-moving customs queue to the station's proximity to the theme park – it only takes five minutes to reach the on-site Disneyland Hotel. It's an ideal option for families on a short break who are eager to drop off their belongings and get stuck into the action, without the hassle of arranging transfers to nearby resorts.
I make my way into the park to check out my first attraction, the 5:30pm daily parade. All the classic Disney characters are there; Buzz Lightyear, Mary Poppins and the Genie. It takes a lot to stop me hurling myself over the railings to bear hug Baloo, as childhood memories come flooding back.
SHOW TIME
Disneyland's performers are renowned for their ability to stay in character, even with excited children – and sometimes adults – clinging to them (yes, I witnessed this). This knack for method acting was most skilfully demonstrated during the new Frozen: A Musical Invitation stage show. Performed several times a day at the Animation Celebration in the Walt Disney Studios section of the park, the 20-minute show transports audiences to Kristoff's barn where they will meet the amicable character and his reindeer friend Sven.
After a rendition of Reindeers Are Better Than People, Princess Anna arrives to teach guests the dance to Let It Go, before introducing the audience to wise-cracking Olaf the snowman, gloriously rendered in CGI, and Queen Elsa, who belts out Frozen's titular track in her ice palace.

The fun doesn't end there; visitors can meet Olaf during the day in Walt Disney Studios Park for hugs and photos. Just be sure clients book in advance using the Lineberty app to avoid the queues.

Fans of Disney's parade route can experience more movie magic at the park. Frozen 2: An Enchanted Journey is the venue's newest, tallest float at six metres (20 feet), so it'd be hard not to spot the core characters and their entourage of 20 dancers when they parade through the park.
For clients who want to return with a Frozen souvenir, there's plenty of merchandise to choose from including cuddly toys, confectionery and a new clothing range inspired by the films.

Since the new series and Frozen-themed attractions debuted in January, the reaction from the trade has been positive, says Max Mason, head of commercial at Disneyland Paris.

"The recent peak period of January to early February has been positive," he says. "The recent film release created even more excitement for Frozen and again agents have shown their support for what we do at Disneyland Paris."
ATTRACTION ACTION
Frozen Land is one of a roster of new developments planned for Disneyland Paris. The first will be the Avengers Campus, which in 2021 will open with a series of superhero-themed attractions, character encounters and new restaurants. Although details are yet to be released, we do know there will be a Spider-Man attraction that will see riders slinging webs to help collect escaped "spider-bots".

Star Wars fans will be glad to hear of the new area dedicated to the film. Despite being half the size of Galaxy's Edge in Disney's Hollywood Studios, the Paris version will use the latest lighting, sounding and special effects to ensure guests are just as impressed.

Until then, Disneyland Paris has plenty of classic rides and attractions to keep clients entertained on a short break. Despite only being at the park for two days, I manage to cram in a lot thanks to my VIP tour guide, Georgia. If you are looking to upsell a Disneyland experience, these handy helpers come with skip-the-line privileges and can make reservations for restaurants and shows, freeing up clients to enjoy more time in the park.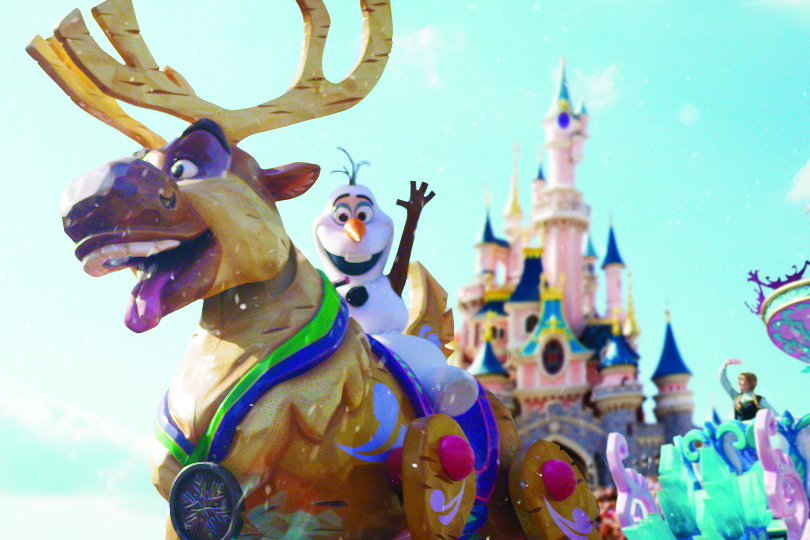 HOME SWEET HOME
With onsite accommodation ranging from the five-star Disneyland Hotel to the more modest Hotel Santa Fe, there are plenty of options to suit all budgets, and come 15 June agents will also have a new property to book.
Disney's Hotel New York – The Art of Marvel is billed as the world's first hotel dedicated entirely to the franchise, featuring 300 pieces of comic book art, storyboards, original sketches and film illustrations. Highlights include the opportunity for guests to meet their favourite characters at the Super Hero Station, and the Marvel Design Studio – a dedicated space for children to learn how to draw them.

Having the Disneyland Hotel so near was a massive relief – spending a day at the park is tiring, even without having to looking after young children. It's also nice to be able to freshen up or grab a bite to eat before the nightly Illuminations light show.
It's a short walk to the Sleeping Beauty Castle, where crowds gather to see the palace light up with scenes from the films before the firework finale. It's a fitting way to end a weekend of acting like a six-year-old, and a spectacle that proves Disneyland Paris is still one of Europe's best theme parks.
BOOK IT: Disney offers a three-day package for a family of four including Eurostar travel, two nights at Disney's Hotel Cheyenne, park hopper tickets with unlimited access to Disneyland Park and Walt Disney Studios Park from £1,687pp. Based on 1 April 2020 departure.
Essential information
Getting there: Eurostar departs from London St Pancras International, calling at Ebbsfleet and Ashford before arriving at Disneyland Paris Marne-la-Vallee. The direct service runs once a day on Mondays, Wednesdays, Fridays and Sundays.

A Frozen Celebration: The series of attractions and events runs until
 3 May 2020.

VIP guides and fast passes: To book a guide, email dlp.viptours.experience@ disney.com for rates and availability. The Ultimate Fastpass, which offers unlimited skip the line access, is priced from £105pp.
More Frozen fun to come
Fans visiting Disneyland Paris will have plenty more Frozen-themed magic to look forward to in the next few years. The park has announced plans to open a Frozen- themed area in its Walt Disney Studios Park, Frozen Land. Slated to open in 2023, the land will be set around a seven-and-a-half acre lake, with the kingdom of Arendelle on one side and Elsa's royal palace on the other. The area will also include character encounters, a new restaurant and shop.