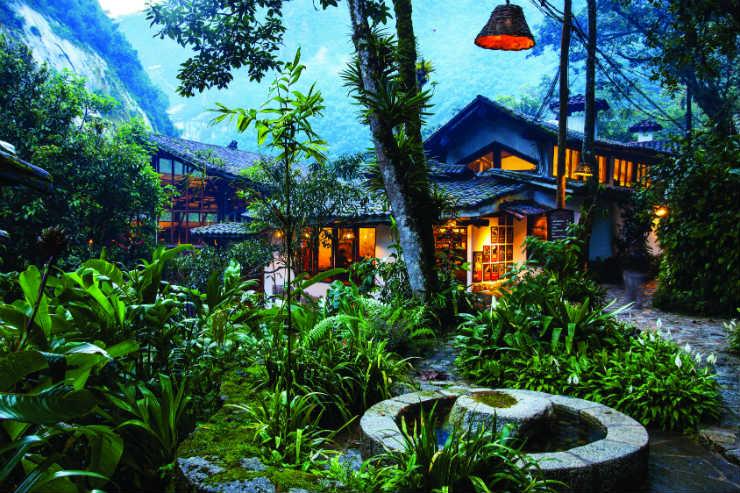 Inkaterra Machu Picchu Pueblo Hotel EcoCenter
Nature-loving Jose Koechlin grew up in a small fishing town in southern Peru, and after a community-focused school trip to areas including the Amazon, he became captivated by the people, wildlife and biodiversity of his country.
In 1975, Koechlin established Inkaterra's first lodge in the Amazon rainforest, Madre de Dios. Its design was inspired by the local Ese'Eja culture and built with native materials, in harmony with the environment, and later became Peru's first eco lodge.
Today, the Inkaterra brand has five luxury hotels in its portfolio: Inkaterra La Casona in Cusco, Inkaterra Machu Picchu Pueblo Hotel in Machu Picchu; Inkaterra Hacienda Urubamba in the Sacred Valley; and Inkaterra Reserva Amazonica and Inkaterra Hacienda Concepcion, both in the Madre de Dios region of the Amazon.
All have the same ethos and aim: to create ecologically responsible,luxurious and authentic hotels that protect Peru's flora and fauna, as well as local communities and their customs.
Inkaterra conducts its own scientific research to protect and restore the diverse flora and fauna within the hotels' surroundings.
So far the studies have recorded 903 bird species – which is roughly equivalent to Costa Rica's total bird diversity – a world-record 365 ant species, 313 species of butterfly and 100 mammal species.
The numbers include 29 endemic species, made up of 20 orchids, as well as amphibians, butterflies, flowers and vines.
Koechlin is also determined to work with and safeguard the community, training more than 4,000 locals since the company's launch.
Inkaterra also gives back to local communities through charitable efforts, such as donating five hectares of land to the village of Machu Picchu, which now houses the town's railway station, school, market and medical centre.
What's next?
Inkaterra is planning its first marine hotel on the fishing cove of Cabo Blanco in northern Peru. It hopes to create Peru's first marine reserve in the surrounding waters, where 70% of the country's ocean diversity is found.
Inkaterra plans to work with locals to encourage sustainable fishing techniques and develop ecotourism activities to help restore the oceans around Cabo Blanco to their former glory.
What's new?
The Inkaterra Guides Field Station lodge in the Amazon began as a training area for Inkaterra's guides and for its NGO, Inkaterra Asociacion, to host scientists and run conservation projects.
This summer it opened to eco-conscious travellers, students and volunteers wishing to learn more about conservation.
Interactive excursions include trips to a palmetum to see a diverse sample of native palms; a visit to a bio-orchard nurtured with ancient agroforestry techniques; and a bird banding station.
Inkaterra Hacienda Urubamba also has a new excursion led by expert guides. The tour includes a hike up the 5,200-metre-high Vinicunca – known as Rainbow Mountain thanks to its mineral-rich and multi- coloured soil – and ends with a picnic at the foot of the Vilcanota mountain range.
How can agents sell it?
Inkaterra works with UK tour operators including Abercombie & Kent, Cox & Kings, Rainbow Tours and Audley Travel.
It is looking to work more closely with trade partners to promote Inkaterra Guides Field Station, which appeals to clients who don't require such a luxurious experience.