How agents can use TikTok to market travel
TikTok has significant potential for agents looking to appeal to millennial and Gen Z customers. Here is an
introduction to the popular social media app.
If you think you're hip, trendy, and down with the kids, think again. Unless you're already using a digital platform named TikTok, that is.

The social media app was launched in 2017 and, according to DataReportal, now has 500 million active users
around the world – a statistic that ranks it higher than its better-known counterparts LinkedIn, Twitter, Pinterest and Snapchat.

But what exactly does TikTok do? It describes itself as "the leading destination for short-form mobile video", providing users with a platform to create 60-second – or shorter – videos, adding music and filters, and sharing the clips with their followers on public profiles (although there is the opportunity to make accounts private).

With approximately 40% of TikTok's users aged between 16 and 24, the platform has untapped potential for agencies to promote travel to Gen Z and millennial markets.
---
---
Tips from the top
At BorderlessLive, a recent event hosted by the WTM London team, TikTok travel content producers Tom Hooker and Nick Robertson shared insight into how to produce successful travel content for the platform.

The duo outline "telling a story" as the key ingredient to a successful TikTok video and shared that a 15-second post has the best chance of good exposure, with content that's "very short" and "very punchy" proving to be the most popular.

But it's music that's at the heart of TikTok: "Music helps with discoverability like a hashtag does on Instagram," says Hooker. So choosing tunes that are in the charts or currently trending on TikTok is imperative if an account is looking to gain traction.

The pair also suggested posting four or five times a day to grow an account and then, once it has a decent following, posting three times per day – at breakfast time, during a lunch break and in the evening.
Growing potential
TikTok is finally seeing big brands switch on to its potential for marketing travel.
One example is Booking.com, which has curated more than 660 videos on the platform, with the majority dedicated to browsing for holidays, booking travel and taking trips abroad.

The OTA's account is a good place to start for travel content inspiration. With the app available to download for free on iOS and Android devices, there's no reason you can't take away these tips and start marketing on TikTok today.
Busting the myths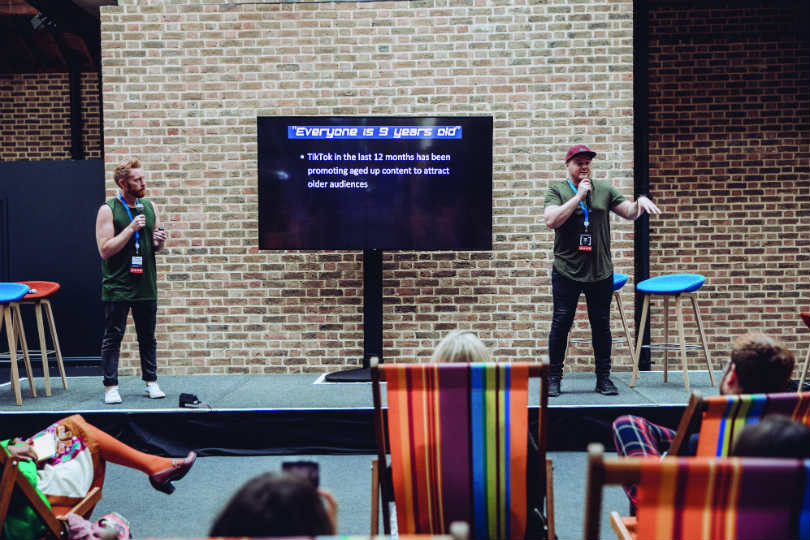 Tom Hooker and Nick Robertson, travel content producers, on using TikTok.

"It's all lip-syncing": While TikTok as we know it originally evolved from lip-syncing app Musical.ly, the platform now offers opportunities to utilise edits such as stop motion, time-lapse and more.

"Everyone is nine years old": TikTok is currently looking to "age up" its user database, starting by partnering with The Tonight Show Starring Jimmy Fallon.
The show featured a series of TikTok challenges, which grew US adult users by more than five times in less than 18 months.

"It's too short to host sponsored posts": A lot can be achieved in a minute, especially when TikTok is designed to be an attention- grabbing attack on the senses.
For agents who are willing to work with influencers to promote content, TikTok can be a good platform.