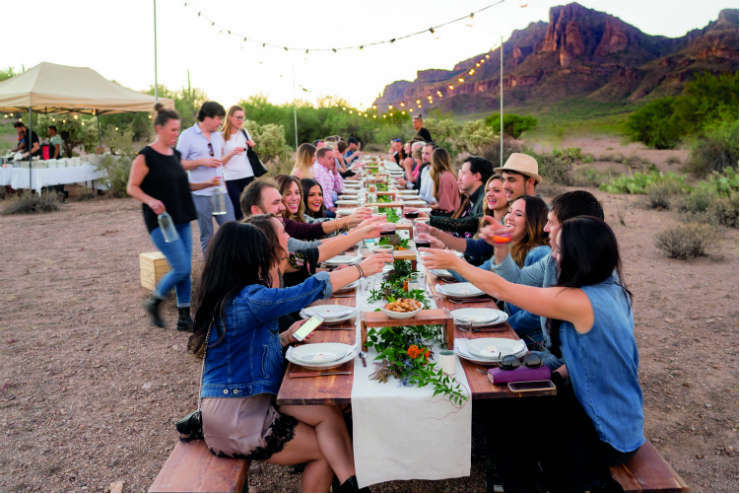 Group of friends eating outdoors in Arizona
The fast food chain might have had its day in the US – today, the trend for healthy farm-to-table cuisine is quickly taking over. Though the term "farm-to-table" has become overused – and is sometimes misused – real farm-to-table cuisine is cooked with organic, locally sourced ingredients, and has an eco-conscience.
From award-winning restaurants to local foodie tours, we round up the top experiences to recommend to clients who like their food fresh from the farm.
Tours, trails and events
Portland has been named America's best food city by The Washington Post, and the hip destination is brimming with creative chefs embracing the farm-to-table movement. The surrounding Willamette Valley isn't just famed for its world-class wineries – its wealth of ingredients provides its chefs with plenty of fresh choices for dishes too.
"Many of the restaurants in Portland are leading the way when it comes to working directly with local farms," says Malcolm Davies, product destination manager for Funway Holidays. "As a foodie myself, this is definitely one of my favourite places to visit in the US."
Davies suggests clients combine a stay in the city with a food and drink festival, such as the annual Feast Portland, taking place from September 13-16 this year. Tickets are available online and start from £22pp.
The operator also offers a range of food tours around the city, including the Foodie Field Trip by Bike, during which clients can visit one of Portland's first food cart pods and sample locally made chocolate, coffee and ice cream.
For oenophiles, the Urban Winery and Farm to Table tour from Cordilleran Tours is a thirst-quenching day out that also showcases the city's burgeoning food scene. The tour visits three hand-picked urban wineries, with the chance for clients to taste resident artisanal wines alongside small plates of seasonal, vegetable-rich farm-to-table cuisine in a relaxed setting.
In Arizona, clients can take a road trip to enjoy delicious home-grown produce as part of the Fresh Foodie Trail. The trail winds through Mesa – which benefits from a year-long harvest – and beyond into the towns of Gilbert and Queen Creek. Pit stops include the solar-powered True Garden Urban Farm and the Queen Creek Olive Mill, where clients can take an Olive Oil 101 daily tour to see how the fruit is pressed. A Fresh Foodie Guide can be downloaded at visitmesa.com
For clients opting for an escorted tour, Trafalgar's Western Discoverer trip, which visits California, Arizona and Nevada, is a good option. It includes a "Be My Guest" farm-to- table dining experience in Monterey, where clients will meet Todd and Jordan, creators of Happy Girl Kitchen.
After working on farms for years, the pair now host parties and pop-up dinners, and clients have the chance to spend an evening with them learning about the local ingredients they use.
Yolo County in north California is a vanguard of the farm-to-fork movement. The town of Woodland is home to Yolo Farm to Fork, an organisation that works with schools to educate children about the movement, and features an "edible learning" garden. Meanwhile, nearby Davis is famed for its agricultural college and zero-waste farmers' market, which takes place on Saturday mornings and Wednesday afternoons in downtown.
From March to October, the Wednesday market turns into Picnic in the Park, a community gathering with live music as well as food and drink.