How to spend 24 hours in Santiago
Santiago is a city of sprawling neighbourhoods, each with its own distinct personality and highlights. It's impossible to visit them all, so Jo Kessel picks the unmissable to-dos for visitors who've only got 24 hours.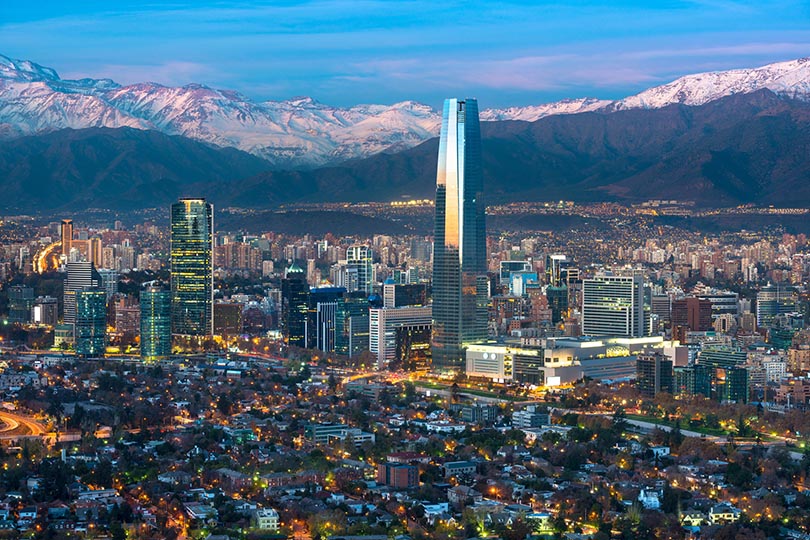 Too often Santiago is overlooked for neighbouring Buenos Aires, but the Chilean capital is a vibrant city in its own right. Encircled by the Andes, its setting is evocative and dramatic with the Constanera Center – the tallest building in Latin America – piercing through its skyline. From its buzzing barrios and world-class museums to its beautifully-manicured parks and foodie scene, there's something here for every client. And with Chilean vineyards a stone's throw away as well as the colourful port of Valparaiso, there's plenty to keep visitors happy here for a week, let alone a day.
08:00
For views of the Andes wake up on the fourteenth floor (or higher) at the new Mandarin Oriental hotel in the posh Las Condes neighbourhood. Linger over breakfast – or take a dip in the pool – before heading to downtown's Centro district and the city's symbolic heart: Plaza de Armas. Here ancient and modern architecture sit side-by-side and culture vultures must decide between the Museo Nacional de Bellas Artes or the pre-Columbian museum – both nearby, both excellent.
11:00
From Plaza de Armas take a slow amble along the crowded Paseo Puente – a pedestrianised street bordered by cheap clothes shops and abuzz with stalls selling everything from trinkets to fruit and veg. Turn right at the end to find the Mercado Central, an authentic market where locals barter for fish and tourists buy lapis lazuli, an intense-blue semi-precious Chilean stone.
12:00
Hungry visitors should grab a table at one of the bijou eateries in the fish market and order the specialty Paila Marina – seafood stew. Alternatively around the corner is award-winning Emporio Zunino (Puente 801) which makes the best empanadas in town. This savoury pasty can be enjoyed hot or cold and is filled with meat or vegetarian fillings. Eat one on-site with a coffee or pack it for a picnic lunch at the next stop.
13:30
Every great city has its highpoint and the Cerro San Cristobal – a hill-hugging park – is Santiago's. Gondolas whisk visitors to the summit where there's a gargantuan statue of the Virgin Mary and exceptional views over the capital. Alight earlier to enter a public swimming pool or stunningly landscaped gardens, including a botanical and Japanese one. Top tip: suggest clients buy a one-way gondola ticket at the park entrance closest to the sky-scraping Constanera Center.
17:00
Depending on energy levels, visitors can either walk down the other side of Cerro San Cristobal or ride the funicular. At the bottom is the funky Barrio Bellavista, a neighbourhood packed with graffiti-covered walls and lively bars. Pick any one you fancy to sit down, relax and order a pisco sour. It's that time of day and well deserved!
20:00
For a dinner that will linger on the taste buds long after visitors have returned home, look no further than the Mandarin's reasonably priced fusion Japanese/South American Matsuri restaurant. The tuna ceviche starter and teriyaki chicken with quinoa main course explode with flavour and are out of this world. If it's a hot day wash it down with a bottle of the Mandarin's own-label Chilean sauvignon blanc – it's a fabulous way to say adios to Santiago.