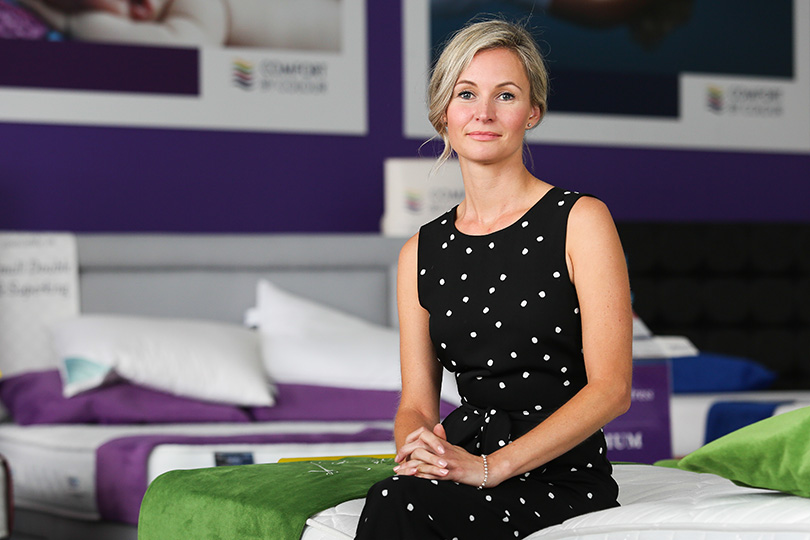 The Insomnia Clinic founder Kathryn Pinkham. Photograph by Shawn Ryan.
Before we look at ways to improve sleep during these stressful times, we need to recognise the reasons why sleep is currently being impacted by the coronavirus crisis:
Anxiety

Sleep and anxiety don't go well together at the best of times and at the moment everyone is under so much more stress. So if we wake up in the night, we are far more likely to struggle to get back to sleep again.
We're also busy during the day and we can try to ignore what we are worrying about by distracting ourselves or pushing thoughts to one side. Then when we get into bed and it's silent and dark, it's the perfect time for these worries and thoughts to come flooding back.
If we start to spend time awake in bed worrying, it becomes a habit and we eventually connect our bed to anxiety so it's really important to stop that happening.
Lack of routine

Our bodies thrive on routine – we usually eat at the same time every day or exercise at the same time, for example. At the moment people don't have to set their alarm clocks for the usual time and they don't have to do school runs. Their entire day is different. This impacts on our sleep as in order to sleep well and have good quality sleep, we need a strong "sleep drive". That "drive" is built up by time out of bed. For example if you get up at 6am and go to bed at 11:30pm, you've been out of bed for a long time and you've built up a strong drive, so when you go to bed, you're truly tired, you get a nice quality of sleep, and you naturally wake up early the next day.
At the moment travel professionals may be getting up later as they're not sleeping particularly well, they're probably spending a lot more time in the bedroom maybe watching TV, there's a lot more sitting around generally, and then they're going to bed early so they don't have a drive meaning there's not enough appetite for sleep. If you get into bed and you're not tired enough, you're really vulnerable to your mind kicking in and starting to worry.
Not being able to get outside

Our body needs daylight and fresh air to be able to understand the difference between day and night and to develop the sleep hormone melatonin. More screen time can inhibit our production of melatonin because the blue light confuses your brain into thinking that it's daylight. Lack of daylight and fresh air means we can't give our body the cues it needs to recognise when it's day or night.