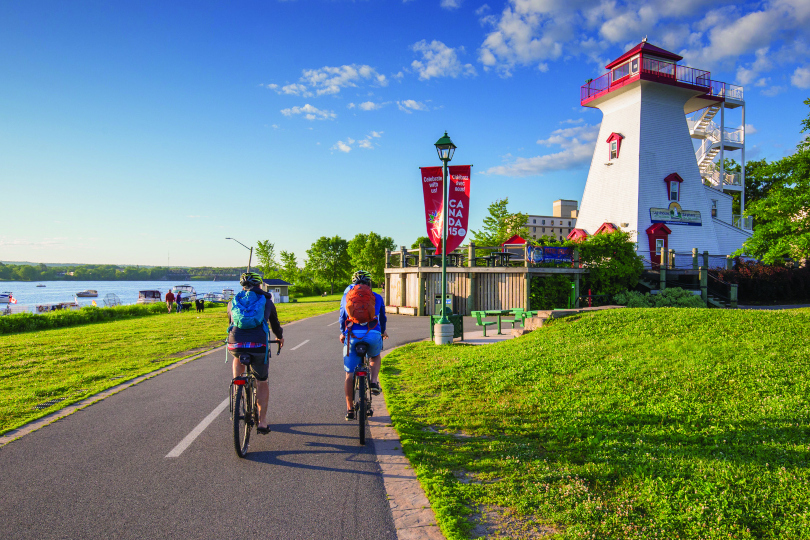 New Brunswick is home to myriad cycling trails.
It's also less visited than neighbouring Prince Edward Island and Nova Scotia, meaning clients will have more room to explore the province in tranquillity.
It's best known for the Hopewell Rocks in the Bay of Fundy – huge monoliths exposed by dramatic tides, offering visitors the chance to spot seabirds feeding.
At a recent Atlantic Canada photography exhibition in London, I had the chance to learn more about New Brunswick.
The province is well known for its seafood, and on an expedition with local outdoor accommodation provider Cielo Glamping Maritime, clients can combine guided oyster-harvesting with stand-up paddle-boarding in the Bay of Saint Simon, collecting and shucking oysters before sampling their catch.
Or if your clients enjoy a more laid-back gastronomic experience, Red Rock Adventure's Savour the Sea Caves' "wilderness dining" concept should be right up their street. Here, they will join a guided nature walk to a cove on the Bay of Fundy coastline to indulge in fresh dishes and local tipples.
For adrenaline junkies, Sugarloaf Provincial Park contains more than 16 miles of hiking and biking routes, with opportunities to ski in winter. It's also home to Atlantic Canada's only lift-serviced mountain bike park, chock-full of obstacles to traverse.
After a day spent enjoying New Brunswick's adventure options, clients can head to the capital of Fredericton to relax at a craft brewery. Popular spots include Grimross Brewing, the Trailway Brewing Co and Graystone brewing, which serves a range of lagers and pale ales.
With a history stretching back 3,000 years, beginning with the aboriginal communities who settled here, New Brunswick has a rich cultural tapestry too. At Metepenagiag Heritage Park clients can sample traditional food, listen to ancient legends and spend the night in a teepee.
From outdoor adventures to a thriving dining scene, New Brunswick offers clients plenty of delicious options to sink their teeth into.