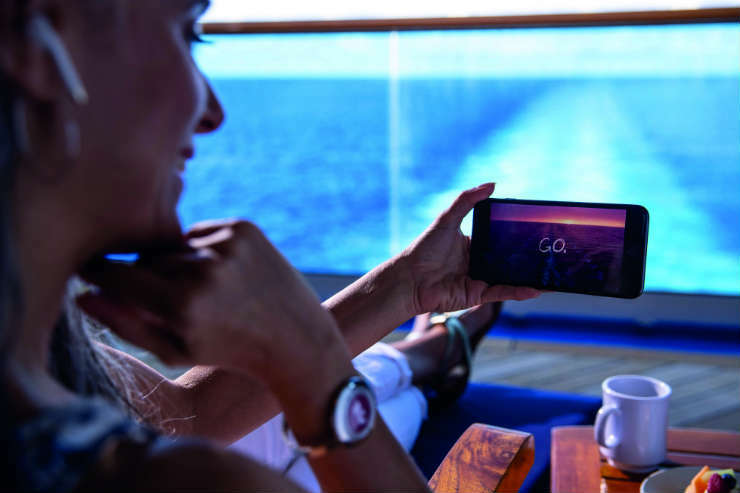 Princess Cruises Ocean Medallion
It's the end of another beautiful sea day and as the fading sun sinks slowly into the horizon, I'm sitting on deck, mesmerised by the white trail of the ship's wake. Yet something's missing. I need a drink to make the experience complete, but I don't want to ruin the moment by getting up and going to the bar.
Then I remember – I have an Ocean Medallion, so I don't have to. Instead, I reach for my smartphone, tap in an order for a rum punch, and soon a waiter appears with it on his tray.
Success is sweet, and it's thanks to the latest new piece of kit, the size of a 10p piece, that is appearing on Princess Cruises' ships in place of traditional key cards.
Ocean Medallion is Princess' new wearable technology that promises to transform the cruise experience for passengers.
Having debuted on Caribbean Princess last September after a delayed start due to developmental issues, my chance to try it came in January as I sailed from Fort Lauderdale to St Thomas.
From my few days onboard, it's obvious there is still work to be done, with Princess executives quick to point out that the technology is at the start rather than the finish line – but there is no denying its potential.
While cruise lines including Royal Caribbean International and MSC Cruises have also launched wearables, Princess asserts that Ocean Medallion takes customer service a stage further, as the breadth of features it offers provides a more all-round personalised service for passengers.
At the most basic level, Ocean Medallion simply replaces the room key card by unlocking the cabin door and doubling as a payment device around the ship, but it comes into its own when combined with six related apps that can be downloaded to a mobile device.
Even better, passengers don't need to pay for internet access, as it is served via the ship's own intranet system. Moreover, Princess Cruises claims Medallion Net internet is the best Wi-Fi at sea, with speeds matching land connectivity.