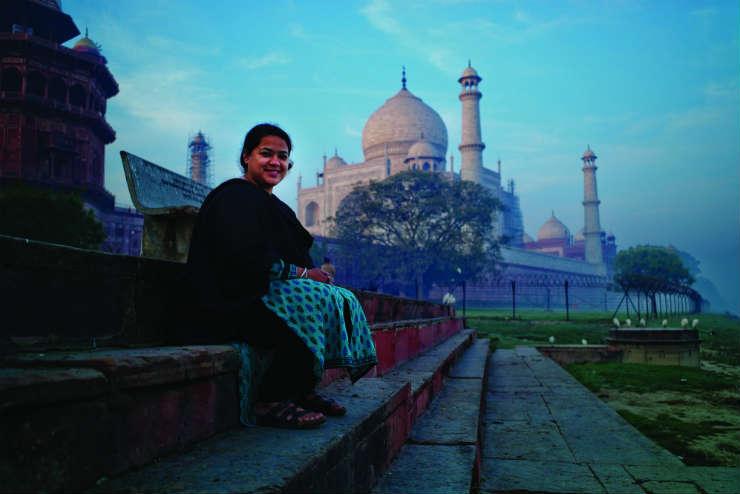 Woman in front of Taj Mahal
In 2016, Peak DMC's Indian division began a project to encourage more women to apply for jobs as female tour leaders. Two years on, the destination management company has won an award for its pioneering work.

"When we began the initiative two years ago, we were receiving more than 100 applications each year for the role, but only 5% came from women – and out of 67 tour leaders working with us, just two were women," explains general manager Pravin Tamang.

"Now we have 23, and last month we had another eight potential female leaders at a training session. There's also been a large increase in the number of women applying to work with us from all different backgrounds – so far in 2018 we've had 50 applications.

"When it comes to finding tour leaders, we want to create an equal opportunity for everyone – regardless of gender or socio- economic status."

Tamang says the company is "genuinely thrilled" to have won the Pata Gold Award 2018. "Our project really is changing lives. Awards like this create more awareness that women can be great tour leaders, and encourages other travel companies in India to consider diversity in recruitment."
Changing perceptions
Challenging the status quo in India has been a tough task, explains Tamang. "Indian society is still very gendered, and while travelling across the country for work is acceptable for men, that's not the case for women.
"Being a tour leader requires you to be away from home for long periods of time, as well as interacting with new people. This lifestyle is more readily accepted for men, while women are expected to go home to their families at the end of the day. That's why women don't usually apply for tour-leading roles."
The destination management company got in touch with the families and friends of current staff and also used advertising to encourage women to apply for its tour leader jobs. Once employed, women at Peak DMC have access to training, security and support, adds Tamang.
"We provide women with the required training for the role and arm them with skills and support, as well as pairing them with a more experienced leader to mentor them during their first few trips."
"We create a safe working atmosphere for female leaders by engaging with our suppliers, such as accommodation providers. We also always have a senior operations team member on call 24/7 to help leaders deal with any issues that arise."
Positive effects
Tamang hopes that encouraging more women to work at the company will have positive knock-on effects for the country. "We see changing the status quo regarding female tour leaders as challenging wider perceptions about women and work," he says.

"A lack of female tour leaders is symptomatic of a much bigger issue in India, which has low female workforce participation overall. It's estimated that just 27% of women in India are in paid employment, which is far behind other Asian countries including Cambodia and Nepal."

Women recruited are flourishing at the company, with average customer feedback scores for female tour leaders now higher than the average score for men.

Reaction from UK tour operators has also been "overwhelmingly positive", says Tamang. "Passengers have really enjoyed the different perspective on life in India that a female leader brings."

He and his team continue to have high hopes for the project. "Our goal is to achieve a 50/50 ratio of male to female leaders by 2020," he says. "The initiative has also inspired our parent company, Peak DMC [part of the Intrepid Group], who in March 2017 set a goal to double their number of female leaders globally by 2020."

Tamang says that agents have an important part to play in helping to champion and safeguard women in India.
"Ensuring that trips are run in a way that benefits local communities is becoming increasingly important to agents and tour companies, and booking through a responsible destination management company is the easiest way to do this."