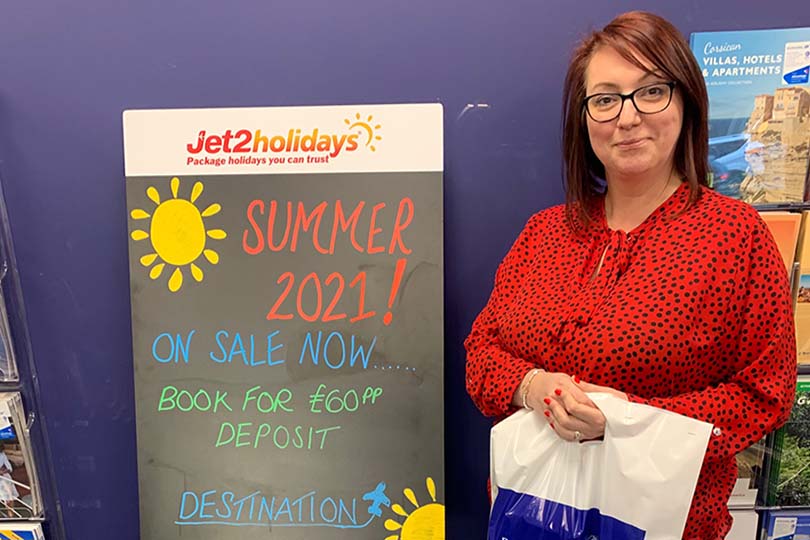 Shevaun Joy, director of Destination travel agency
As businesses and individuals battle through the coronavirus pandemic, travel agents across the country are stepping up to help their clients and communities. One such agency is Destination in Silsden, which decided to give its elderly clients a warm welcome home when they had to be swiftly repatriated due to FCO travel advice.
"When this all started happening, we had a certain number of older clients abroad for winter stays who had to cut their holidays short and come back on repatriation flights," explains Shevaun Joy, director at the agency.
"We knew they'd be coming back to a really uncertain situation, so we decided it would be nice to go shopping for essentials such as bread and Yorkshire tea for them.
"The suppliers were really fantastic and helpful, so we knew exactly which flights they'd be on. Our apprentice and I bagged everything up into individual packages and we delivered them to their doors once we knew they were home."
In total the agency was able to help 32 of its older clients with food packages, generating an overwhelmingly positive response across its social media feeds, with clients also ringing up to say thank you. Joy maintains that if a similar situation were to happen again, the agency wouldn't hesitate to offer help to those in need.
"People remember companies that handle a crisis correctly and help people stay calm amid all the hysteria," says Joy.
She also adds that her team are keeping in contact with customers by phone during the lockdown. "We have shared our mobile numbers on social media and are ringing all our clients to reassure them that we are here for them."
Supportive clients

During what has been a tough period for the agency, it has been heart-warming to see that clients are being very supportive of the business, says Joy.
Staff have been kept busy as lots of customers try to rebook their holidays, with a massive 93% of the agency's clients opting to do this. "It's all about using your skills and relationships to get clients to rebook rather than cancel and retain your customers," she says.
"People have also been very understanding of the credit note situation and that they are not losing money, but helping the travel industry to survive. We even had a customer come in a few days ago who told us he didn't want a refund and that he'd rather we keep our commission."
Despite the lockdown, agencies can still take care of their clients and staff, advises Joy. Despite closing the shop, staff have been assured their jobs are safe and the agency is taking government help wherever it can.
To other agents working through this difficult time, Joy advises: "Make sure you're readily available for your clients and that you're getting yourself out there in any way that you can manage.
"It's also important to make your staff aware of how grateful you are to them – once everything is back to normal they will be the ones taking care of your customers.